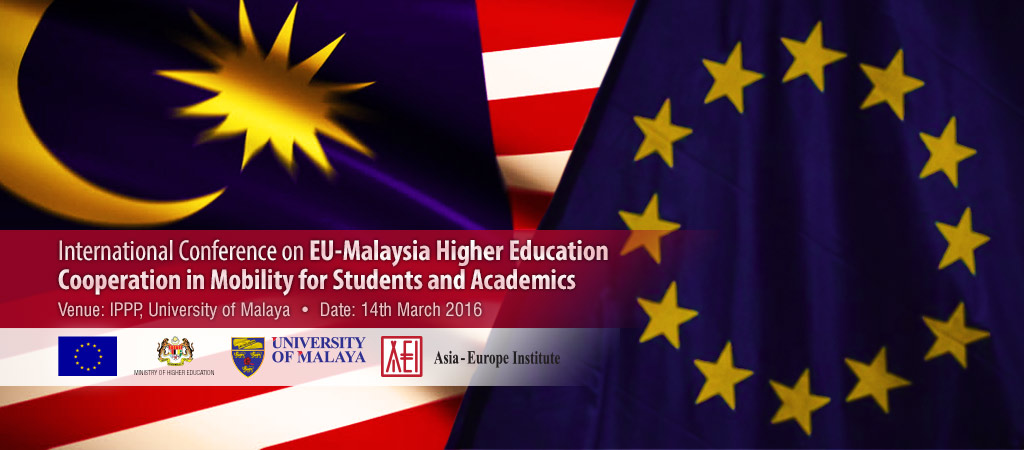 The convening of the 3rd EU-Malaysia Higher Education Conference (EMHEC 2016) is a continuation of a series of conferences between the EU and Malaysia and is organized by the European Union, with the support of the EU Delegation to Malaysia. The objectives of this conference are as follows:
To promote mobility of students and academics between Malaysia and the EU to attract more student enrollments in the EU and Malaysian universities.
To build awareness of financial support and grants offered by the EU.
To bring together academics, policy makers, public and private universities, officials of the Malaysian government and the EU to share ideas and experiences on the higher education sector.
To increase bilateral cooperation between Malaysia and the EU.
This year, EMHEC 2016 and its theme 'EU-Malaysia higher education cooperation in mobility for students and academics' will provide an avenue for speakers and participants from Europe and Malaysia to discuss international mobility, student and academic exchange, and the European experience in higher education.
This event provides Malaysia with an opportunity to learn from the European experience and to apply it to the local context and in Southeast Asia. In addition, the workings of the 'Bologna Process' in EU higher education, as well as the availability of financial support and EU grants will also be highlighted.
Asia-Europe Institute (AEI) of the University of Malaya is co-organizing this third conference in the series at the Research Management and Innovation Complex (RMIC), University of Malaya.
AEI plays a significant role in this event because the institute has, as its aims, to creating and diffusing in a variety of ways knowledge about Asia-Europe interface in a global environment and deepening the relations between Asia and Europe.
This conference consists of a one-day programme divided into several sessions:
Roundtable discussion
Presentation by representatives of selected universities from Malaysia and Europe
Parallel Workshops
Matchmaking Sessions'
Details
Date: 14th March 2015
Time: 8:30 am
Venue: Institute of Research & Monitoring (IPPP), University of Malaya