Abstract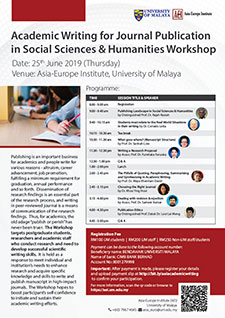 Publishing is an important business for academics and people write for various reasons - altruism, career advancement, job promotion, fulfilling a minimum requirement for graduation, annual performance and so forth.
Dissemination of research findings is an essential part of the research process, and writing in peer-reviewed journal is a means of communication of the research findings. Thus, for academics, the old adage "publish or perish" has never been truer.
The Workshop targets postgraduate students, researchers and academic staff who conduct research and need to develop successful scientific writing skills. It is held as a response to meet individual and institution's needs to enhance research and acquire specific knowledge and skills to write and publish manuscript in high-impact journals.
The Workshop hopes to boost participant's self-confidence to initiate and sustain their academic writing efforts.
Note: Certificate of completion will be given to those who have successfully attended and completed this workshop.
Programme
Date: 25th June 2019 (Tuesday)
TIME
SESSION TITLE
8.00 - 9.00 am
Registration
9.00 - 9.40 am
Publishing Landscape in Social Sciences & Humanities
by Distinguished Prof. Dr. Rajah Rasiah
9.40 - 10.15 am
Students Must Relate to the Real World Situations in Their Writing
by Dr. Corrado Letta
10.15 - 10.30 am
Tea break
10.30 - 11.30 pm
What Goes Where? (Manuscript Structure)
by Prof. Dr. Sarinah Low
11.30 - 12.30 pm
Writing a Research Proposal
by Assoc. Prof. Dr. Fumitaka Furuoka
12.30 - 1.00 pm
Q & A
1.00 - 2.00 pm
Lunch
2.00 - 2.45 pm
The Pitfalls of Quoting, Paraphrasing, Summarising and Synthesising in Academic Writing
by Prof. Dr. Maya Khemlani David
2.45 - 3.15 pm
Choosing the Right Journal
by Dr. Khoo Ying Hooi
3.15 - 4.00 pm
Dealing with Revision & Rejection
by Assoc. Prof. Dr. Sameer Kumar
4.00 - 4.45 pm
Publication Ethics
by Distinguished Prof. Datuk Dr. Looi Lai Meng
4.45 - 5.00 pm
Q & A