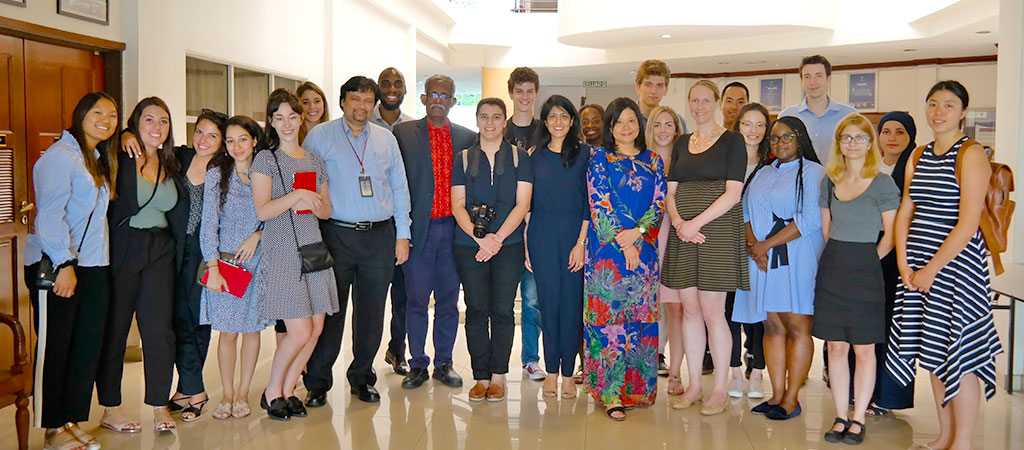 On 26 June 2018, the Asia-Europe Institute (AEI), University of Malaya welcomed the delegation of the Campus Abroad Program from HEC Montréal, Quebec, Canada. The delegation consisted of 20 students and was led by Assoc. Prof. Jahan-Ara Peerally and Assistant Professor Aude Le Cottier.
Prof. Dr. Azirah Hashim, the Executive Director of AEI welcomed all the delegates and gave an introductory presentation about the Asia-Europe Institute. This was followed by a lecture on Malaysia's Leading Industries delivered by Prof. Dr. Rajah Rasiah, Distinguished Professor at AEI. Prof. Rajah presented some comparative statistics on the industrial development in Malaysia and some countries in the region such as Singapore, Indonesia, Thailand and others. Before leaving the University of Malaya, the delegates were invited to go on a campus tour guided by one of the staff at the AEI.
HEC Montréal is a French-language institution solidly rooted in its community and open to the world. It is an international-caliber university business school that contributes to the society's prosperity by providing leadership in all its spheres of activity, i.e. teaching at all levels, research and serving the community. Since 2006, HEC Montréal and its International Business Department organize Campus International (Campus Abroad Programs in English) for its students. It is a three-credit course in which a professor leads a group of students abroad for about two weeks to experience immersion in international business through meetings with business executives and specialized seminars.
For more information on HEC Montréal, do visit its website at http://www.hec.ca/.
Reported by: Rivaldy Sandika Putro
Edited by: Aliyyah Nuha