We are pleased to announce that Professor Dr Low Wah Yun, Deputy Executive Director (Research and Internationlization, Asia Europe Institute) and also from the Faculty of Medicine, University of Malaya has been appointed as the new President of the Asia-Pacific Academic Consortium for Public Health (APACPH) in the recent General Assembly held in conjunction with the 51st APACPH Conference in Amari Watergate Bangkok, Thailand on 20th November 2019. She succeeded Professor Dr Masamine Jimba from the University of Tokyo, Japan who held the presidency from 16th August 2017 until 20th November 2019.
APACPH is an international non-profit organization registered in Honolulu, Hawaii USA, comprising many of the largest and most influential schools of Public Health in the Asia-Pacific region and dedicated to improving professional education for public health. Launched in 1984 with just five members, APACPH now has over 81 member institutions in 23 countries throughout the Asia-Pacific region with Regional Offices in Bangkok, Beijing, Brisbane, Colombo, Jakarta, Kuala Lumpur, Los Angeles, Taipei and Tokyo. Through its activities, the members aim to tackle the unique public health challenges of the Asia-Pacific region.
Professor Low is also the Editor-in-Chief of the Asia-Pacific Journal of Public Health (APJPH), the official journal of APACPH.
Our heartiest congratulations Professor Low!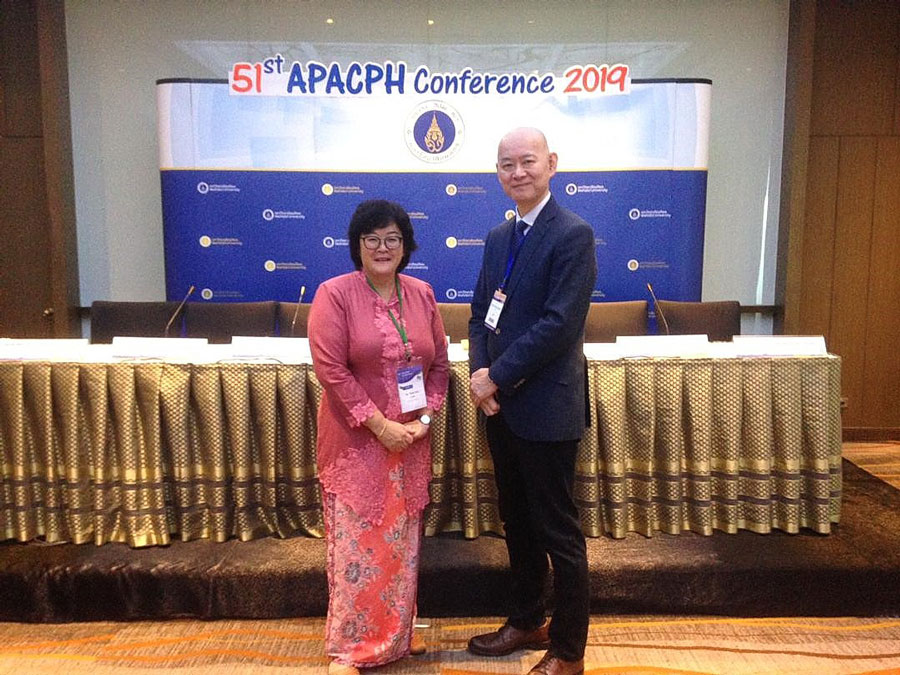 The new President of APACPH, Professor Wah Yun Low (left) with the Immediate Past President of APACPH, Professor Masamine Jimba, University of Tokyo at the General Assembly of APACPH on 20th November 2019 at the Amari Watergate Bangkok, Thailand