Friday, 14 July 2017, 10.00am • AEI Auditorium, Asia-Europe Institute, University of Malaya.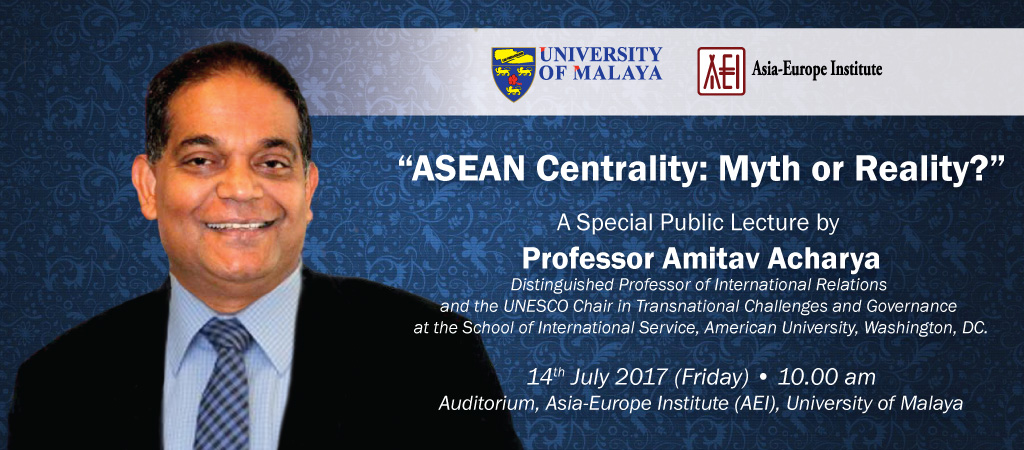 Amitav Acharya is Distinguished Professor of International Relations and the UNESCO Chair in Transnational Challenges and Governance at the School of International Service, American University, Washington, DC.
Among his major works on Southeast Asia are The Making of Southeast Asia (Cornell and ISEAS, 2013); Constructing a Security Community in Southeast Asia: ASEAN and the Problems of Regional Order, 3rd edition (Routledge 2014), Whose Ideas Matter: Agency and Power in Asian Regionalism (Cornell and ISEAS, 2009), and East of India, South of China: Sino-Indian Encounters in Southeast Asia(Oxford 2017).
He was elected to the Christensen Fellowship at Oxford University and held the Nelson Mandela Visiting Professorship in International Relations at Rhodes University, South Africa.
He is the first non-Western scholar to be elected as the President of the International Studies Association, the most respected and influential global network of scholars in International Relations.
14 July 2017 (Friday)
10:00 AM
AEI Auditorium,
Asia-Europe Institute,
University of Malaya
RSVP by 12th July 2017
Please RSVP here:
bit.ly/aei-amitav
Contact person: Ms. Noor Yusrina Hashim
Tel: 03-7967 7823
Fax: 03-7954 0799
Email: ryena_84@um.edu.my