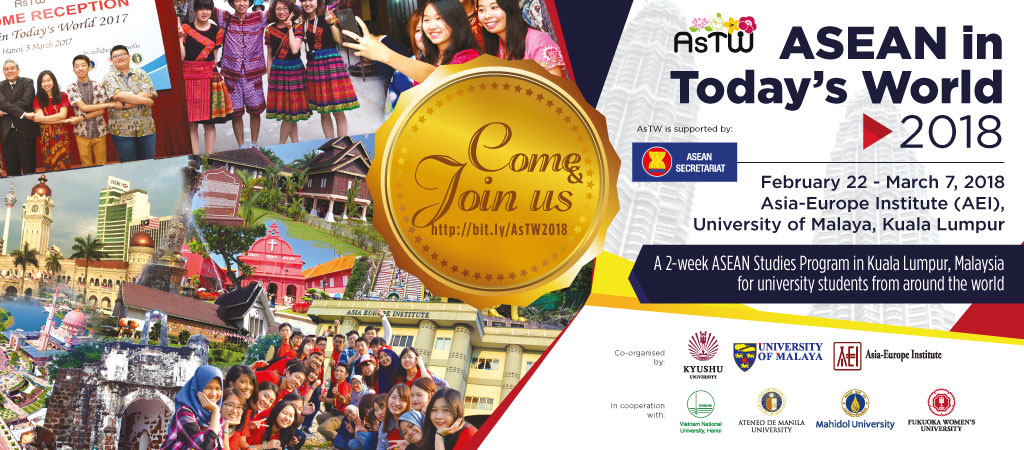 Kyushu University and University of Malaya launched a new project together entitled ASEAN in Today's World (AsTW) 2018 in cooperation with the Vietnam National University, Hanoi, Ateneo de Manila University, Mahidol University and Fukuoka Women's University.
ASEAN in Today's World (AsTW) 2018 is a two-week international study program focusing on ASEAN and East Asian affairs. It is designed for university students from around the world. The medium of instruction is English. AsTW was launched in March 2009 in Thailand. From 2009 to 2011, AsTW was co-organized by Kyushu University (Japan) and Mahidol University (Thailand). From 2012 to 2014, Kyushu University worked together with Ateneo de Manila University (the Philippines) and hosted AsTW in the Philippines. From 2015 to 2017, AsTW has been held at Vietnam National University, Hanoi. The AsTW 2018 will be co-organized with a new AsTW partner, University of Malaya.
Those five prestigious universities in the ASEAN region and Japan, namely Mahidol University, Ateneo de Manila University, Vietnam National University, Hanoi, Fukuoka Women's University and Kyushu University, have collaborated in the AsTW program with the strong support from the ASEAN Secretariat and AUN.
Structure of AsTW:
The AsTW curriculum consists of ASEAN Studies (AS) and Asian Languages & Cultures (ALC) courses, supplemented by co-curricular Study Trips, providing students with rich and unique learning opportunities.
The AS component gives AsTW its distinction as a rigorous introduction to selected ASEAN issues that increasingly affect global and regional "ASEAN+3" relations. Students will broaden their knowledge and gain deeper understanding of ASEAN and "ASEAN+3" cooperation through the AS courses. A valuable part of the program is the opportunity to approach ASEAN and East Asian topics from different perspectives.
The ALC component provides students with an intensive Asian language study experience designed to build proficiency in the language chosen and to help with acquisition of basic knowledge of the related culture in an integrated approach. Students will gain a general understanding of the culture and sociolinguistic context of each language. By the end of each course, students are expected to have developed some fundamental skills in listening and speaking as well as an understanding of daily conduct in the appropriate cultural setting.
The combination of AS and ALC studies will contribute to the students' synthetic understanding of the ASEAN and East Asia communities.
A series of cultural study trips is another attractive part of the program. Each excursion is intended to allow students the chance to increase their awareness and enhance their appreciation of the history, culture, and social life of the country where AsTW is held.
To complete the AsTW program, students must enroll in two courses (one each from the ALC and AS offerings) for credit and participate in all official events. Students who meet all AsTW requirements will be awarded a certificate issued jointly by Kyushu University and a partner university.
The 2018 session will convene from February 22 to March 7, 2018, at the Asia-Europe Institute (AEI), University of Malaya, Kuala Lumpur, Malaysia.
Registration for the AsTW 2018 is now open.
Application deadline: October 25, 2017 (Wednesday)
Limited number of scholarships are available to students from ASEAN countries.
Do check our official website for further information: http://www.isc.kyushu-u.ac.jp/astw/