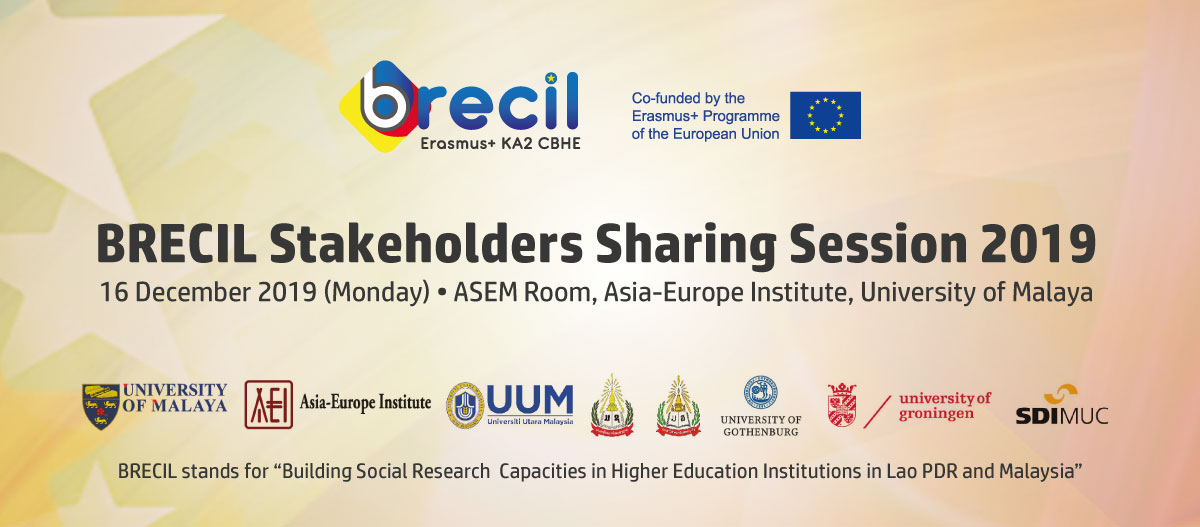 Introduction
BRECIL is a multi-country Erasmus+ CBHE joint project involving higher education institutions from both the EU and ASEAN countries. It focuses on the development of research and innovative capacities for good research governance and management through capacity building in higher education systems. This project commences from October 2017 to October 2020. The Asia-Europe Institute, University of Malaya is leading this project with three EU partners (Netherlands, Germany and Sweden university each), two Laos partners and another Malaysian partner higher education institutions.
BRECIL aims to build research capacities in Laos universities, enhance research governance in Malaysia and Lao PDR and innovate new research developments through ICT technologies. The project will also expand the knowledge economy agenda and build a higher education area linking Asia and Europe by supporting the assimilation of knowledge between the EU and ASEAN partners to address conditions for research, competitiveness and cooperation.
Aim
The stakeholder sharing session is a platform where the project outputs and results as well as the on-going collaboration within the consortium are shared with various stakeholders. Impact of the project and benefits for target groups at the national, regional and international level will be elaborated on.
Event Programme
Internal Shareholders Sharing Session
Monday, 16 Dec 2019
9:30 am - 11:50 am
ASEM Room, AEI
Time
Programme
Speaker
9:30am - 9:50am
Registration
-
9:50am - 10:00am
Welcoming Address
Dr. Jatswan Singh, AEI UM
Acting Director of AEI
10:00am - 10:20am
Brief introduction to the BRECIL Project
Project background, partner institutions, aims, different work packages, and current status
Prof Azirah Hashim,
BRECIL Project Coordinator
10:20am - 10:40am
BRECIL Quality Management and work package 2 (DEV1)
Quality Management in BRECIL and training experiences in Lao Institutions
Prof Low Wah Yun,
UM Quality Management Lead and master trainer
10:40am - 11:00am
BRECIL Work package 3 (DEV2)
Research governance in BRECIL
Prof Noor Hayaty Abu Kasim,
UM Research Governance Lead
11:00am - 11:20am
The Training of Trainers process in Laotian Institutions
Teaching experiences in Laotian Institutions
Assoc. Prof. Faridah Noor Mahd Noor,
UM Faculty of Languages and Linguistics
11:20am - 11:4Oam
BRECIL project management and financial management
Project management, financial management and dissemination: challenges and measures undertaken
Prof Azirah Hashim,
BRECIL Project Coordinator
11:40am - 11:50am
Q&A Session
Prof Azirah Hashim &
Prof Low Wah Yun
External Shareholders Sharing Session
Monday, 16 Dec 2019
1:00 pm - 3:30 pm
ASEM Room, AEI
Time
Programme
Speaker
1:00pm - 1:30pm
Registration
1:30pm - 1.40pm
Welcoming Address
Dr. Jatswan Singh, AEI UM
Acting Director of AEI
1:40pm - 2:00pm
Brief Introduction to the BRECIL Project
Project background, partner institutions, aims, different work packages, and current status
Prof Azirah Hashim,
BRECIL Project Coordinator
2:00pm - 2:20pm
BRECIL Quality Management and Work Package 2 (DEV1)
Quality Management in BRECIL and training experiences in Lao Institutions
Prof Low Wah Yun,
UM Quality Management Lead and master trainer
2:20pm - 2:40pm
BRECIL Work Package 3 (DEV2)
Research governance in BRECIL
Prof Noor Hayaty Abu Kasim
UM Research Governance Lead
2:40pm - 3:00pm
BRECIL Work Package 4 (DEV3)
Sustaining research capacity building by utilising ICT technologies
Dr Hariharan N. Krishnasamy,
UUM Coordinator
3:00pm - 3:2Opm
BRECIL Project Management and Financial Management
Project management, financial management and dissemination: challenges and measures undertaken
Prof Azirah Hashim,
BRECIL Project Coordinator
3:20pm - 3:30pm
Q&A Session
Prof Azirah Hashim &
Prof Low Wah Yun