Date: Tuesday, 3 July 2018 • 3.00 pm • Asia-Europe Institute, University of Malaya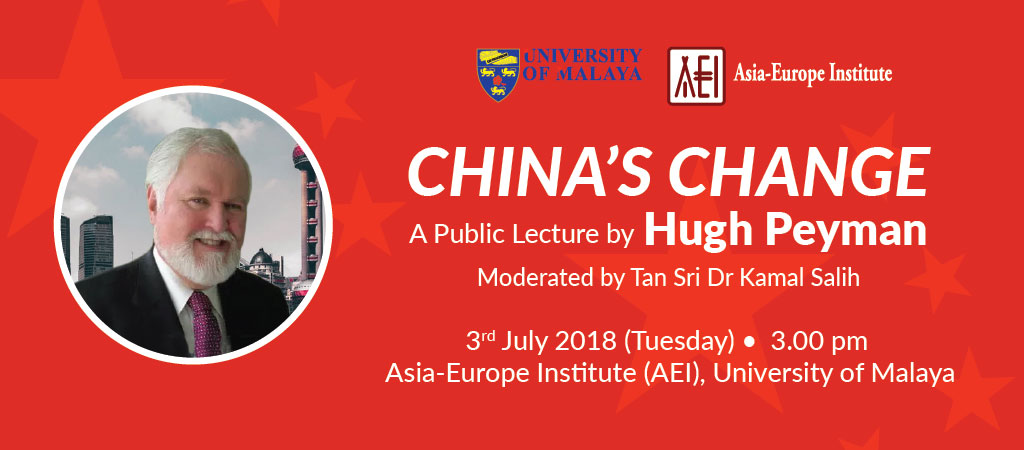 Abstract
China's Change reveals the key to China's record-breaking economic transformation: its traditional philosophy, China's X-Factor. Harnessing two millennia of history and thought to create a process that manages change, this roadmap enables any society, firm or individual to handle today's accelerating global disruption. Ironically, Chinese thinking has similar approaches to those that powered the West's economic dominance for two centuries, using such now-ignored ideas as long-term thinking, clear priorities, gradualism and nonideological pragmatism.
It is rare for a foreigner to understand China from the ground up. Hugh's advantage is that he got to understand China's diaspora before working in China, going through numbers at the ground level and meeting people engaged in both business and officialdom. This book gives one of the best insights into how China is changing, as she grapples with globalization, one of the truly momentous changes in the 20th and 21st centuries.
China's Change is of course about China and its recent record-breaking economic change. However its most important idea is that China has used a process that enables anyone, anywhere to manage change. This is especially useful in our era of accelerating global disruption. China is only the latest country to do this, though it has done so successfully several times in its past; and has had the Yi Jing (Book of Change) for over two millennia, based on ideas that had been around for at least two millennia before that.
Many of the 20 Essential Ideas for managing change that I identify in China's Change are illustrated by examples not just from China but also other countries, including Malaysia. Such as:
Goals: creating goals that society can support. This way, people can accept change because they broadly agree on the long-term goal. This is most important when change may be painful or slow.
Means: vision, long-term thinking and taking a 360-degree view all help. So too do having very clear priorities, ranking them, ensuring they are understood and followed. Furthermore, China has many practical, logical and non-ideological thoughts about implementation, including pragmatism, gradualism, sequencing, yanjiu, prior research, pilot schemes and weixin, constant review.
People: key people, education
Examples should prompt people to remember what has worked for Malaysia in the past but now is forgotten or ignored. The West is the same: much of its spectacular economic performance since 1800 until the late 20th century was based on very similar ideas. Ditto the East Asian Economic Miracle of the last half century. A Malaysian discussion of the process for managing change at today's historic juncture is very relevant, as it is to those from the West.

Buy a copy of the book at the event.
About Hugh Peyman
After reading Politics, Philosophy and Economics at Oxford and co-authoring The Great Uhuru Railway: China's Showpiece in Africa (Gollancz London 1976), Hugh Peyman moved to Hong Kong in 1977 with Reuters before working in 1979 for the Far Eastern Economic Review in Kuala Lumpur as financial and business correspondent.
In 1981, he began over 35 years of investment research for global fund managers. An emerging markets pioneer throughout Asia, Peyman headed Asian research ex-Japan for Merrill Lynch and Dresdner Kleinwort Benson before founding Research Works in 1999 to provide independent, long-term analysis for investors in Asia. Peyman was the first to predict several major turning points: China's renminbi revaluation, its demand doubling world oil prices and residential property prices falling 30% in 2007-08 before their 2015-17 recovery.
In global commodities, he forecast the decade-long bull market, then the end of the Super Cycle and the sharp fall in commodity prices after 2011, in what is likely to be a two decade decline in real commodity prices. Peyman moved to Shanghai in 2002 to observe what for anyone interested in economics, business and social development was clearly going to be The Greatest Show on Earth.
Some 16 years later he is still in Shanghai trying to fathom China's change. Looking for what anyone in today's increasingly disrupted world can adapt from China, be they from post-Economic Miracle Asia, post-Brexit Europe or culture wars-divided US, he discovered that managing change by understanding traditional Chinese philosophy is China's overlooked X-Factor.
3 July 2018 (Tuesday)
3:00 PM
Asia-Europe Institute,
University of Malaya
RSVP by 29 June 2018
Please RSVP here:
bit.ly/aei-peyman
Contact person:
Ms. Noor Yusrina Hashim
Tel: 03-7967 7823
Fax: 03-7954 0799
Email: ryena_84@um.edu.my