Non-Partisan Reflections: First Author's Workshop
28 Sept 2017 • 9.30 am • ASEM Room, Asia-Europe Institute, University of Malaya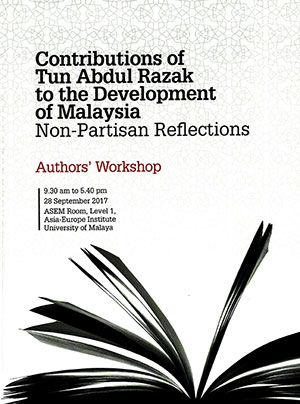 Malaysia's second Prime Minister, Tun Abdul Razak, is widely respected as the father of development in the country for orchestrating successful socioeconomic restructuring in the country. This amazing feat was achieved immediately after the country was torn ethnically following the May 13 ethnic bloodshed in 1969. The reservoir that fueled the crisis had arisen from divide and rule, and ineffective policies of both the colonial and the post-colonial governments. Consequently, unemployment, poverty and inequality was rising sharply. While unemployment had risen to 8% in 1970, large sections of rural Bumiputeras were isolated from basic infrastructure markets. Overall poverty at the national level had reached 49% of the households in 1970 with the rural incidence at 86%. Heavy dependence on tin and rubber exports exposed the country to the vicissitudes of volatile price swings.
The Tun Abdul Razak government targeted poverty reduction and the removal of ethnic identification by occupation following the launching of the New Economic Policy through the Second Malaysia Plan in 1971. Rural development programmes, (including land tenure systems, and construction drainage and irrigation systems) and the creation of parastatals to integrate rural folks with markets helped lift the living standards of the Bumiputeras. Initiatives were taken to diversify the economy and to promote export-oriented manufacturing as the engine of growth. Massive expansion in education and health facilities, including into rural locations galvanized improvements in educational and health indicators. Reflecting now in 2017, it can be said that the Tun Abdul Razak regime had indeed placed Malaysia solidly on the path to become one of the most successful development experiences from the Third World - having drastically reduced absolute and relative poverty, unemployment, and lowering ethnic and rural-urban socioeconomic disparities in the country.
This workshop seeks to critically examine the contributions of Tun Abdul Razak to Malaysia's development with a view towards elucidating implications not just for Malaysia's future development but also to draw lessons for other latecomer economies.
Attendees
Prof. Dr. Jomo Kwame Sundram
Prof. Khaeruddin Sudharmin
Dr. Cheong Kee Cheok
Dr. Viswanathan Selvaratnam
Emeritus Professor Dato Prof Dr Rahman Embong
Tan Sri Datuk Dr. Kamal Salih
Prof. Rajah Rasiah
Prof. Dr. Azirah Hashim
Dr. Muhammad Ikmal Mohd Said
Adam Wong Abdullah
Yayasan Cemerlang:
Dato' Mohamed Nizam bin Abdul Razak
Tan Sri Abdul Halim Ali
Datuk Heliliah Mohd Yusof
Prof. Datuk Seri Dr. Md Zabid Haji Abdul Rashid
Dr. Hafriza Burhanudeen
Organizer: University of Malaya Press
Co-organizer: Asia-Europe Institute, UM