A Public Lecture by Professor Brendan Mark Howe from Ewha Womans University, Seoul, Korea.
Date: 16 April 2018 (Monday), 2.30pm at ASEM Room, Asia-Europe Institute, University of Malaya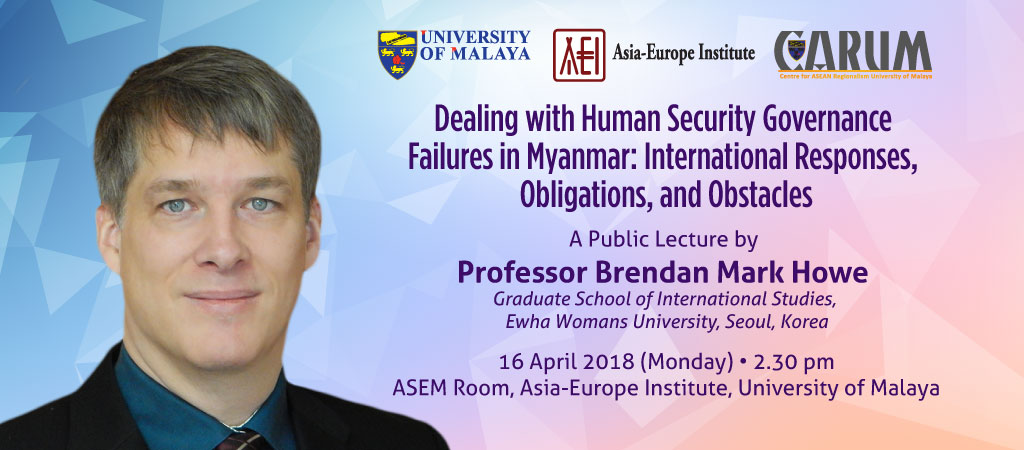 Abstract
Myanmar is a resource rich emerging economy in Southeast Asia, but remains one of the poorest countries in the region. Since independence from Britain in 1948, Myanmar has experienced a complex set of conflicts between governments and people. For Martin Smith the country stands out as 'a pre-eminent example of a post-colonial state subsumed in what development analysis describes as a "conflict trap"'. Facing diverse challenges, including ethnic insurgencies and remnants of colonial experience, successive governments have emphasised national sovereignty, territorial integrity and the national unity of diverse ethnic nationalities. Myanmar is also vulnerable to natural disasters, of which Cyclone Nargis was the deadliest ever faced by the country, and one of the most devastating storms recorded anywhere in the world. Much has been expected of the new NLD administration, yet its leader, Nobel Peace Prize laureate Aung San Suu Kyi, has found herself the subject of international criticism for allowing the continued persecution of one of the most vulnerable groups of people in the country, the Muslim Rohingya.
Human security and the Responsibility to Protect (R2P) have been at the centre of debates concerning how best to engage successive government administrations, and best provide safe havens for the people of Myanmar, but the differences between "Asian" and "Western" understandings of related concepts have led to radically different policy proposals. Essentially the "West" holds a narrow view of human security, but an interventionary interpretation of R2P, with the two being closely linked, whereas in Asia the linkage between the two is rejected, and a broad understanding of human security, along with a non-interventionary understanding of the R2P dominates. During the military junta, the West advocated sanctions, whereas Japan (and other Asian countries) continued to give development assistance. In the face of governance failure in the immediate aftermath of Cyclone Nargis, Western politicians talked of R2P-mandated "aid invasions" whereas in Asia commentators recoiled from the image of Western troops being inserted once more into Southeast Asian cities and countryside. The West points to ethnic cleansing or even genocide of the Rohyinga as justifying intervention, whereas in Asia the talk is more of the governance difficulties faced by Aung San Suu Kyi. This presentation, therefore, uses engagement with Myanmar in the face of humanitarian challenges to highlight the different interpretations of Asia and the West.
About Professor Brendan Mark Howe
Professor Brendan Howe is a Professor at the Graduate School of International Studies, Ewha Womans University, Seoul Korea. He is an international theorist from the Southwest of England, trained at Oxford University (B.A./M.A. Modern History); the University of Kent at Canterbury (M.A. International Conflict Analysis); and the University of Dublin, Trinity College (Ph.D. Political Science).
He joined GSIS in 2001 and lectures primarily on international relations, international security, governance, and human security. Previous posts include Visiting Professor at Beijing Foreign Studies University, and lecturer at University Malaysia Sarawak. His research leave (2014-2015) took him to Freie Universität Berlin, and (2007-2008) Korea National Defense University and the University of Sydney. He has published extensively in the fields of governance, human security, Northeast Asian security, foreign policy decision-making, post-conflict development, and humanitarian intervention. Recent publications include, (2017) National Security, State-centricity, and Governance in East Asia (ed.) (London: Palgrave Macmillan); (2016) Peacekeeping and the Asia-Pacific (with Boris Kondoch eds.) (Leiden: Brill); (2015) Democratic Governance in Northeast Asia: A Human-Centred Approach to Evaluating Democracy (ed.) (London: Palgrave Macmillan); (2014) Post-Conflict Development in East Asia (ed.) (London: Ashgate); (2013) The Protection and Promotion of Human Security in East Asia (Basingstoke: Palgrave).
He is President of the Korean International Studies Association (KISA), and former President of the Asian Political and International Studies Association (APISA). He is an advisor to the South Korean Ministry of Foreign Affairs, and to the Irish Department of Foreign Affairs and Trade. He is the Chief Editor of the Asian International Studies Review, and a book series editor for Palgrave Macmillan.
16 April 2018 (Monday)
2:30 PM
ASEM Room,
Asia-Europe Institute,
University of Malaya
RSVP by 12 April 2018
Please RSVP here:
http://bit.ly/brendanhowe
Contact person:
Ms. Noor Yusrina Hashim
Tel: 03-7967 7823
Fax: 03-7954 0799
Email: ryena_84@um.edu.my
Tentative Itinerary
2.15 pm - Arrival of guests
2.30 pm - Welcoming remarks by moderator
2.40 pm - Lecture by the speaker
3.40 pm - Q & A session
3.40 pm - End of event/Refreshments