University of Malaya Convocation Ceremony 2017 - 21st October 2017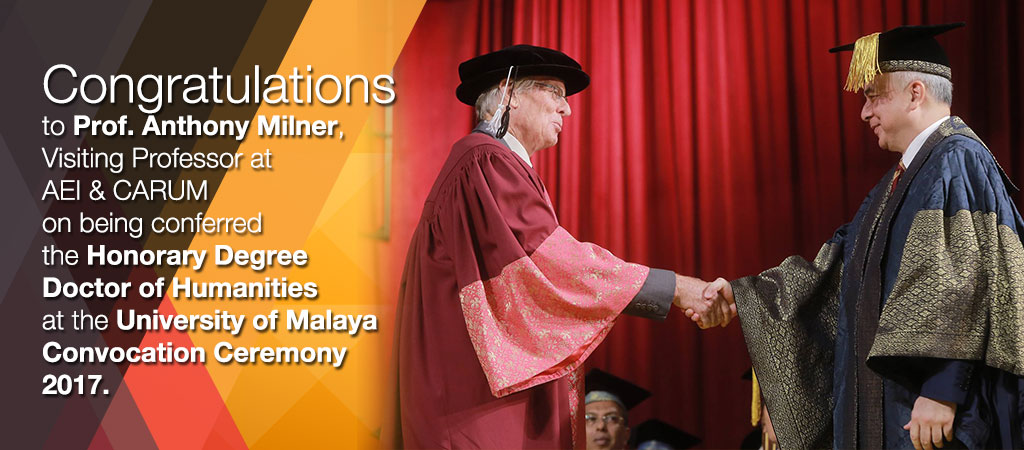 In a recent biography, the great 18th-century painter Thomas Gainsborough was described as having "lived as if electricity shot through his sinews", revealing as well "a lifelong sense of unease, and a way of seeing things that he may not always have anticipated". To a certain extent, these words might also be applied to Anthony Milner.
Professor Milner was born in Melbourne, Australia, on his family-owned farm in Western Victoria. When not in Malaysia he lives on a cattle and sheep property in New South Wales, managed by his wife Claire.
Professor Milner started his studies at Monash University, topping the History Honours Class. After a short period in the History Department at the University of Malaya, he enrolled in the Southeast Asia Program at Cornell University in the United States, obtaining a Master's degree and PhD under the renowned historian Oliver Wolters. In Wolters' view it was necessary to understand early Southeast Asia 'from the inside', through the eyes of a Malay chronicler, a Vietnamese official, or a ruler of Ayudhya.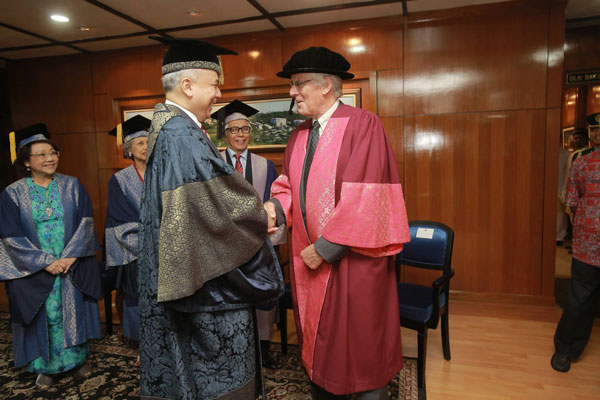 In writing against the forms of analysis still dominant in the 1970s and 1980s, Professor Milner was also influenced by his Australian teacher, the leading Indonesianist John Legge, who urged his students to explore ways in which the discipline of history can benefit from models and insights developed by social scientists. No social scientist attracted Professor Milner more than the anthropologist Clifford Geertz - with his brilliant cultural investigations in Bali, Java and Morocco – and he later spent a year with Geertz at the Institute for Advanced Study, Princeton.
After leaving Cornell Professor Milner joined the Centre of South East Asian Studies at the University of Kent at Canterbury – working there with the legal scholar M.B.Hooker and the anthropologist John Bousfield. After five years he returned to Australia – to the History Department at the Australian National University in Canberra, and eventually was appointed to the Chair of Asian History in the Faculty of Asian Studies – the Basham Chair. From 1996 to 2005 he was also Dean of Asian Studies, and in that period spent lengthy periods as Acting Chair of the Board of the Faculties and Pro Vice Chancellor - as well as two years as Deans' and Directors' representative on the University Council. He is currently Professor Emeritus at ANU, attached to both the School of History, Culture and Languages and the Department of Strategic and Defence Studies. His other Australian appointments at present include International Director of Asialink and Professorial Fellow at the University of Melbourne, and Co-Chair of the Australian Committee of the Council for Security Cooperation in the Asia Pacific.
Professor Milner's current interests are in Malaysian and Malay political culture (especially with respect to the development of foreign policy), regional relations (especially in security) and Australian-Asian Relations. In all his research and writing over the years he has been concerned to move between disciplines – in his early work his focus was on history and anthropology; currently he is focusing on the potential for closer collaboration between history and international relations. He is especially interested in the way international relations gives insufficient attention to local viewpoints – including specific Southeast Asian traditions of foreign policy. His recent writing on Malaysian foreign policy and ASEAN regionalism have put forward theories and ideas that challenge existing frameworks – and here, as in his earlier research, Professor Milner clearly enjoys the spirit of theoretical debate in academic life, and seeks to encourage younger academics to engage with their profession in this way.
Professor Milner's engagement with Malaysian history and Malaysian studies is undeniable. Having visited Malaysia first as a young student in the 1960s, he returned as a Cornell University PhD student in the 1970s and then many times as an academic based in the UK and Australia. He lived in villages on the East Coast as well as in Kuala Lumpur. In 2009 he was appointed Visiting Professor at Universiti Kebangsaan Malaysia, and then Pok Rafeah Chair in International Studies at the same university. In 2014 he was appointed to a second prestigious position: the Tun Hussein Onn Chair of International Studies at the Institute of Strategic and International Studies. He was also Adjunct Professor at the Humanities Research Cluster, University of Malaya from 2012 to 2014, involved in fostering research on Malay identity among scholars in this university.
Since 2015, he has been Visiting Professor at the Asia-Europe Institute and the Centre for ASEAN Regionalism (CARUM) at UM. CARUM was set up in 2015 when Malaysia was Chair of ASEAN and Professor Milner played a crucial role in this initiative, connecting the centre with scholars in ASEAN Studies and regionalism as well as with diplomats and officials. He has also, in the last few years, actively carried out research activities and teaching at the Asia-Europe Institute, helping to foster the institute's networking and collaborations with external entities both in Malaysia and overseas (especially in Singapore, Indonesia, Thailand, China, Japan and Australia).
Professor Milner's other academic roles in Malaysia and the region include external examiner and external assessor appointments at various universities - such as the University of Malaya, Universiti Sains Malaysia, Universiti Malaysia Sabah, the National University of Singapore, Nanyang Technology University and Universiti Brunei Darussalam. He also supervises PhD students from Malaysia. He has in addition fostered collaborative – Australia-Malaysia – research through such organizations as the Academy of the Social Sciences in Australia, the Australia Malaysia Institute, the Australian Research Council and Asialink. He has had a particular interest in leadership programs involving Australians and Malaysians – at first by supporting the St James Ethics Centre programs and then through helping to build a new Australian government-funded leadership program. In the arts, he is a strong advocate of the innovative Rimbun Dahan residency program.
In his native land, Australia, Professor Milner has been a leader in Asian and international studies beyond his own university. He spent a period as Research Chair and President of the Canberra Branch of the Australian Institute of International Affairs. In the Asian Studies Association of Australia he was editor of the journal – Asian Studies Review – and of the Southeast Asian Publications Series, and also Council Member. In 1991 he was appointed Director of the Academy of the Social Sciences's major national project – the Australia Asia Perceptions Project – which recruited some 100 researchers in a variety of disciplines from Australia and the Asian region. From 1998 Professor Milner served for a decade on the Australian Government's Foreign Affairs Council. He also served for two periods on the Board of the Government's Australia Malaysia Institute of Malaysia, and one period on the Board of the Australia Thailand Institute; he spent four years as a Panel Member for the Australian Research Council. Earlier in his career, in England, he was Chair of the Southeast Asian Library Group for Western Europe and Council Member of the Association of Southeast Asian Studies in the UK (ASEASUK).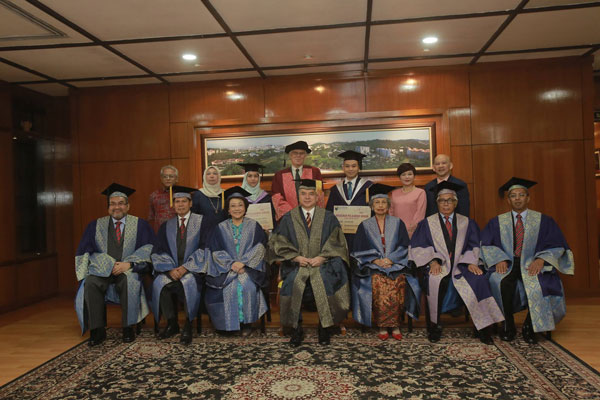 Professor Milner's work has already been recognized in several ways. He was elected a Fellow of the Academy of the Social Sciences in Australia in 1995 and gave the Academy's annual lecture in that year. In 2016 he was made a Fellow of the Royal Historical Society in Great Britain. In 2007 he was awarded the Member of the Order of Australia under the category "for services to education in the field of Asian studies as an academic and an author and in international relations through the development of cross-cultural education and outreach activities". In 2008 he became "National Life Member" of the Australian Institute of International Affairs (along with the Duke of Edinburgh).
In terms of international recognition – and also international networking and collaboration - Professor Milner has been a Visitor (on a MacArthur grant) at the Institute for Advanced Study, Princeton; Raffles Visiting Professor in the Department of History at the National University of Singapore; and Visiting Professor at the Tokyo University of Foreign Studies, Kyoto University, and Humboldt University.
Most recently, in August 2017, Professor Milner received the prestigious national Merdeka Award for "outstanding contribution to research and education in Malaysian history that has shaped and promoted the understanding of the Nation's identity, heritage and culture, and for his role in fostering international collaborations". In his speech accepting the Award, Professor Milner said that he hoped his research and writing had "helped to show that Malay and Malaysian history is not only about power struggle and commerce. There has also been a contest of ideas and a genuine degree of intellectual creativity". Professor Milner also suggested that the "serious study of history" almost always "promotes tolerance rather than bitterness".