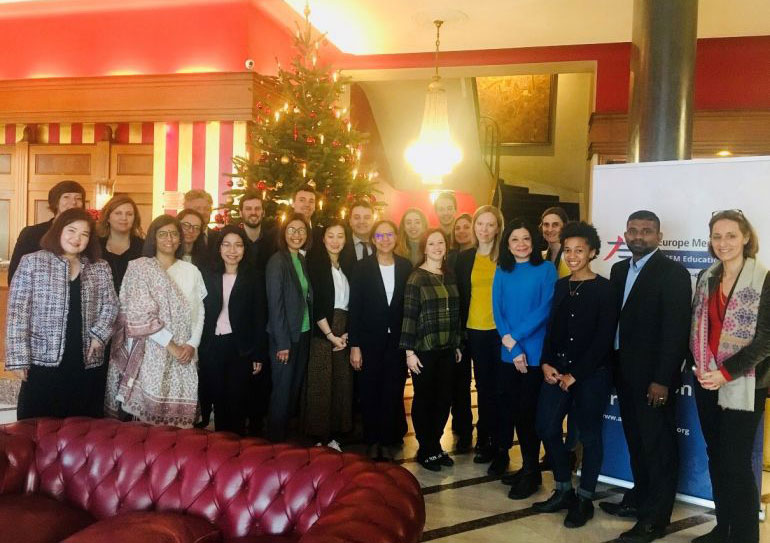 The ASEM Education Secretariat Belgium hosted the Kick-Off Meeting of the Standing Group (SWG) on 9 and 10 December 2019 in Hotel Savoy, Berlin, Germany. The establishment and the role of the Standing Working Group was approved by the Ministers during ASEMME7 in Bucharest, in May 2019. In July 2019, the AES invited all ASEM Partners and Stakeholders to become a member of the SWG and the following partners and stakeholders have accepted the invitation: Austria, Belgium (French and Flemish Community), France, Germany including representative of German Academic Exchange Services (DAAD), India, Latvia, Malaysia, the Netherlands Thailand and European Commission, the ASEAN University Network (AUN), the Asia-Europe Foundation (ASEF), Asia-Europe Institute (University of Malaya), European Students Network (ESN), European Training Foundation (ETF), the European University Association (EUA), the International Association of Universities (IAU) and the South-East Asian Ministers of Education Organization – Regional Centre for Higher Education Development (SEAMEO-RIHED).
Starting from a preliminary online questionnaire and some interactive brainstorm exercises during the meeting, the participants formulated their expectations on the ASEM Education Vision & Strategy 2030 and its aims. Also the tasks and the roles of the Standing Working Group and its Chairs (the 3 next hosts: India, Germany and Thailand) had been further elaborated and integrated in the Terms Of References.
The next step was the discussion on the structure and the different building blocks of the Vision & Strategy 2030 based on examples and formats of existing strategies.
Click here to read more of this article and view some photos. This news was published by ASEM Education Secretariat.