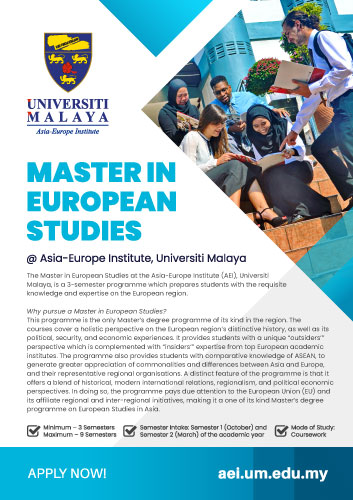 Download brochure (PDF 4.25MB)How to ApplyThe Master in European Studies (MES) aims to provide a holistic understanding of the modern Europe and its major representative regional organisation – the European Union. The courses taught in this programme provide a holistic perspective on Europe's distinctive history and how it began to transform during the twentieth century and witnessed several new political, security, and economic changes. Another interesting feature of this programme is that it offers perspectives on Europe both from within and from outside. This is facilitated by academic collaborative exercises offered by the AEI in-house experts and Europe-based professors, scholars, and policy makers. A distinct feature of the Master in European Studies programme is that rather than being deeply embedded in history alone, it offers a blending of historical, modern international relations, regionalism, and political economy perspectives. In doing so, the programme pays due attention to the European Union and its affiliate regional and inter-regional initiatives, thereby presenting itself as a one of its kind Master's degree programme on European Studies in Asia.
The main aim of this program is to produce graduates that have advanced knowledge of political security, economic and strategic issues on the European region.
As a post graduate programme, the educational objectives (PEO) that AEI hopes to prepare its graduates for are as follows:
PEO 1: Graduates will be employed in relevant positions pertaining to the EU Europe and other related fields.
PEO 2: Graduates will engage in the lifelong pursuit of knowledge and interdisciplinary learning appropriate for government, organizations, industry, and academia.
PEO 3: Graduates will contribute to sustainable development and the well-being of society.
General Information
Programme Duration:

Minimum – 3 semesters
Maximum – 9 semesters

Semester Intake:

Semester 1: October
Semester 2: March

Academic Session Calendar:
Mode of Study:
Entry Requirements
Academic Qualification: Bachelor's degree (CGPA 3.00 and above)
For international candidates whose degree is from a university where the medium of instruction is not English, a minimum score in one of the following standard language tests is required:
TOEFL test (paper-based) - 550 or higher
TOEFL test (computer-based) - 213 or higher
TOEFL test (internet-based) - 80 or higher
IELTS test (Academic) - Band 5.5 or higher
List of Courses and Curriculum Structure: MES
(Academic Session 2021/2022)
Semester 1
Code
Subject
Credits
QQX7007
Regionalism and Regionalisation
3
QQB7007
Regionalism in Europe
3
QQB7008
Modern Europe
3
Elective Courses **
QQD7008
The Making of Modern Southeast Asia
(3)
QQD7009
ASEAN and Regional Security
(3)
QQD7010
ASEAN and Economic Integration
(3)
Total Credits for Semester 1
9
Semester 2
Code
Subject
Credits
QQX7001
Research Methodology
3
QQX7006
Political Economy of Asia-Europe Relations
3
QQX7008
Comparative Regionalism
3
QQB7009
Regional Security in Europe
3
QQB7010
Economic Integration in Europe
3
QQB7011
Research Project
6*
Elective Courses **
QQD7007
ASEAN Regionalism
(3)
Total Credits for Semester 2
21
Semester 3
Code
Subject
Credits
QQB7011
Research Project
6*
Elective Courses **
QQX7009
Internship
6
Total Credits for Semester 3
6
Total All Credits (Sem. 1 + Sem. 2 + Sem. 3 + Elective Courses)
Elective Courses = 6 credit hours
42
Note:
* 12 credits divided into 2 semesters: 12/2 = 6 credits
** To choose 6 credit hours of elective course from either Sem. 1 / Sem.2 / Sem.3