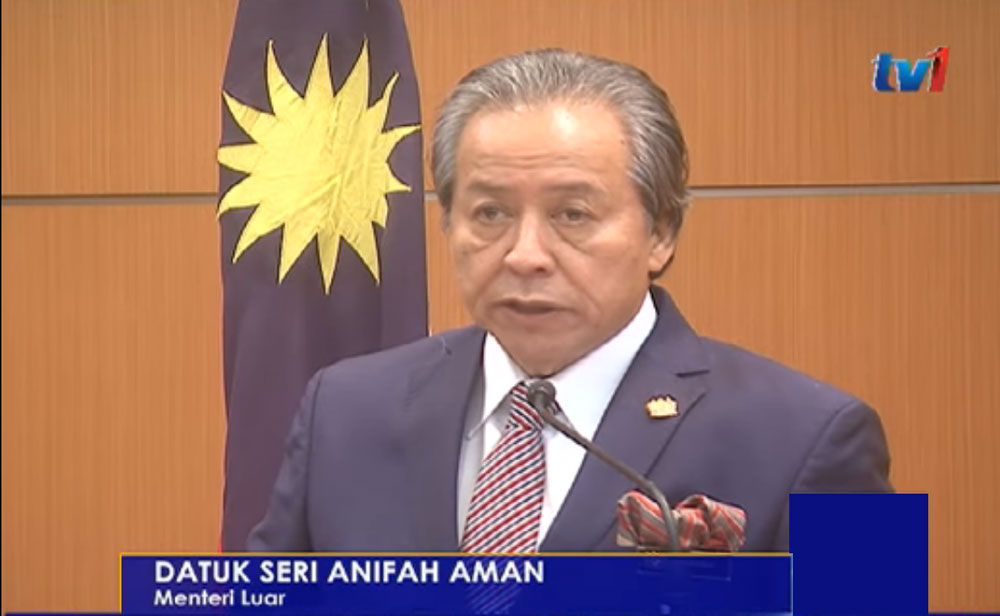 OPENING REMARKS BY
THE HONOURABLE DATO' SRI ANIFAH AMAN,
MINISTER OF FOREIGN AFFAIRS OF MALAYSIA
AT THE EXTRAORDINARY SESSION OF THE OIC COUNCIL OF FOREIGN MINISTERS
ON THE SITUATION OF THE ROHINGYA MUSLIM MINORITY IN MYANMAR
KUALA LUMPUR, 19 JANUARY 2017
The Honourable Dato' Sri Mohd Najib Tun Abdul Razak; Prime Minister of Malaysia;
The Honourable Dato' Seri Dr. Ahmad Zahid Hamidi; Deputy Prime Minister of Malaysia;
His Excellency Dr. Yousef bin Ahmad Al-Othaimeen; Secretary-General of the OIC;
Excellencies, Distinguished Guests,
Fellow Muslim brothers and sisters,
Members of the media,
Ladies and Gentlemen,
Assalamu'alaikum warahmatullahi wabarakatuh.
Alhamdulillah, praise be to Allah, the Almighty and the Most Merciful, and by whose Grace and Blessings have permitted us to gather here today, as we seek to address an important issue facing us as an Ummah.
On behalf of the Government and people of Malaysia, I warmly welcome all of you to this Extraordinary Session of the OIC Council of Foreign Ministers in Kuala Lumpur, today, to deliberate on the situation of the Rohingya Muslim Minority in Myanmar.
I would also like to express my profound appreciation to the Honourable Dato' Sri Mohd Najib Tun Abdul Razak, Prime Minister of Malaysia, for his steadfast support that has enabled the convening of this Extraordinary Session.
Malaysia is greatly honoured to host this meeting. I am pleased with the positive response and strong support from OIC Member States and the OIC Secretariat. Our presence here today demonstrates our resolve and commitment to address this issue.
Excellencies, Ladies and Gentlemen,
For many years, the Rohingya Muslim Minority in Rakhine State has endured hardship and suffering. They have suffered discrimination and violations of their human rights.
For many years too, many left Myanmar to seek refuge and secure a better future for themselves in other countries in the region including Malaysia and elsewhere. The continuous influx of Rohingyas poses immense economic costs and social challenges. However, when they landed on Malaysian shores, sympathetic to their plight, we were moved to provide them with temporary shelter on humanitarian grounds.
As the influx continues, it is no longer a domestic matter. It is a regional concern. Left unaddressed, this issue will undoubtedly impact peace and stability in the region.
It is therefore, imperative for the international community to come together and discuss ways on how we could join hands to alleviate the dismal situation faced by the Rohingyas. Given their dire situation, there is an urgent need for the international community to extend humanitarian assistance to them. In this respect, we call upon the Myanmar Government to ensure unhindered delivery of humanitarian assistance by the donor community to those in need.
Our ultimate goal is for all relevant parties to find a just and sustainable solution to this issue. Malaysia strongly believes that addressing the root causes to the plight of the Rohingya Muslim Minority should be an integral part of that solution.
This extraordinary meeting should provide a sharper focus on the plight of the Rohingya Muslim Minority. The OIC Charter compels us to safeguard the rights, dignity, religious and cultural identity of Muslim communities and minorities in non-Member States. Therefore, this meeting is about demonstrating our support and solidarity with our Muslim brothers and sisters in Myanmar. It is also about alleviating their suffering.
My sincere hope is that, in our deliberations, we shall collectively find a just and sustainable solution that benefits all parties involved in this issue, for the sake of humanity.
Thank you.
---
Source: Ministry of Foreign Affairs, Malaysia