Date: Tuesday, 3 April 2018 • 3.30 pm • ASEM Room, Asia-Europe Institute, University of Malaya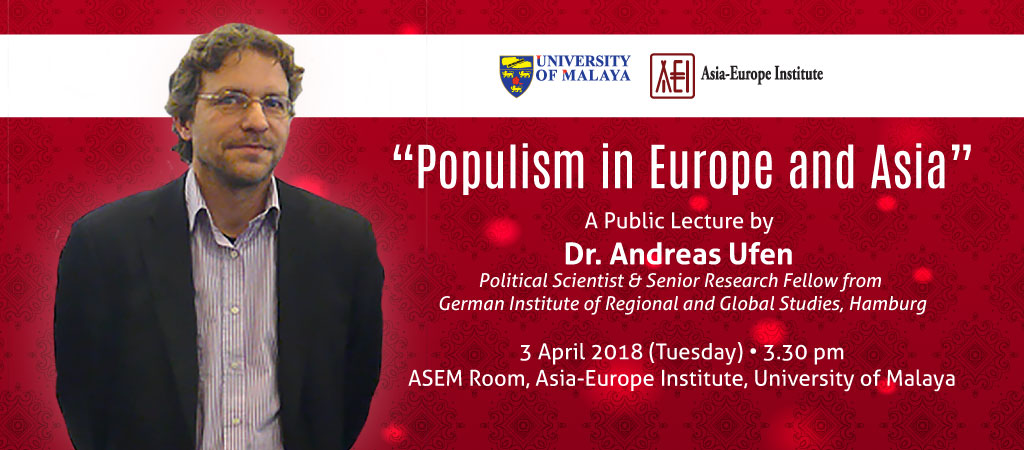 About Dr. Andreas Ufen
Dr. Andreas Ufen is a political scientist and Senior Research Fellow at the German Institute of Regional and Global Studies (GIGA) in Hamburg, Germany.
He has written his PhD dissertation on democratization in Indonesia and his habilitation on "Ethnicity, Islam and Reformasi in Malaysia".
He has published in Journals such as Pacific Review, Democratization, Asian Survey, Critical Asian Studies, Contemporary Politics, and South East Asia Research.
His main focus is on democratization, political parties, and populism in Southeast Asia.
3 April 2018 (Tuesday)
3:30 PM
ASEM Room,
Asia-Europe Institute,
University of Malaya
RSVP by 30 March 2018
Please RSVP here:
bit.ly/andreasufen
Contact person:
Ms. Noor Yusrina Hashim
Tel: 03-7967 7823
Fax: 03-7954 0799
Email: ryena_84@um.edu.my