University of Malaya Convocation Ceremony 2017 - 21st October 2017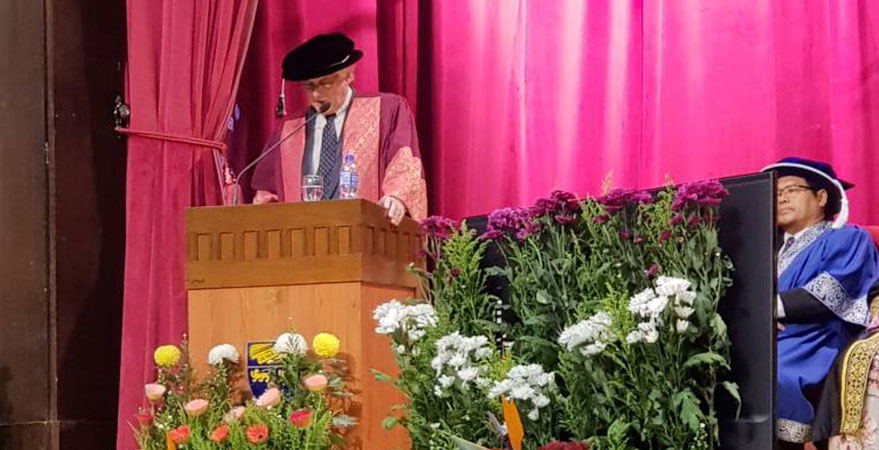 His Royal Highness Sultan Nazrin Muizzuddin Shah, Honourable Guests, Ladies and Gentleman.
A very good morning
This is an extraordinary honour. I have been involved with Malaysia since the 1960s, when I visited here on a student exchange scheme, and heard a talk by Tunku Abdul Rahman in this university. Over the years – coming as an academic researcher and visiting professor, often with my wife Claire and a few enthusiastic children – I have watched with respect the way the University of Malaya has developed, seeking to be an institution of high academic quality and one that is also sharply relevant to Malaysia's nation-building objectives.
The Honorary Doctorate the university has awarded me is in 'the Humanities', and quite a few of you here will be receiving postgraduate degrees in Humanities areas. Some people view the Humanities as a luxury – of only minor relevance to the urgent tasks of our time. I would like to take this opportunity to say what a mistaken view this is. I think immediately of two of Australia's best defence analysts – two people who think hardest about Australia's security in today's dangerous world. One was trained in philosophy, the other in English literature. I think too of Bilahari Kausikan, the eloquent former head of the Singapore Foreign Ministry. In a recent book, he says that the "study of history, literature and philosophy" might even be preferable to a training in the discipline of international relations as preparation for a career in international affairs.
In my own case, when I first began to think about Malaysia – as a young Australian wanting to learn about the new nations emerging in the region close to my country – I quickly saw the need for Humanities knowledge. Most writing on Southeast Asian countries at that time was preoccupied with 'development' – with how these societies were modernizing or not modernizing. The arrogant question seemed to be: how quickly were they becoming 'like us' – and I felt this was the wrong approach. I wanted to know about perspectives – about what things meant to Malaysians and other Southeast Asians - and then how their views might challenge (or even add to) the dominant perspectives in my own country. Historians ask such questions – historians I admire (including Wang Gungwu at this university) have explored local contexts, local narratives. But I was also excited by the work of anthropologists - particularly Clifford Geertz, who analysed the categories which shape the way particular people in particular places understand the world. Geertz studied two Islamic societies – Indonesia and Morocco. He knew he had to try to understand these societies in their own terms. It was not enough to talk about power and domination, capitalism and world system – about "elevated banalities" such as "common humanity". Morocco and Indonesia were different – no one who visits them, he said, will confuse one with the other. The scholar needs to get at the difference between them – and this is primarily a Humanities task.
I felt if I wanted to understand what makes Malaysia different or distinctive I needed to think about the country's history – right back to the pre-British sultanates. Investigating that history helps to explain the plural society of modern Malaysia – in which Malays monopolised political power, and Chinese and others predominated in the economy. Historical research throws light too on the divisions in Malay society (including differences in approach to religion) and also on the continuing preference for top-down leadership. Most of all, a Humanities approach highlights that Malaysia has not just been about struggle for power and money – it has also witnessed a contest of ideas, in some ways quite creative.
My current interest is foreign policy, and here knowledge of historical heritage certainly helps to explain Malaysia's international behaviour – your international activism, your preference for making friends with everyone (avoiding taking sides between major powers) and your energetic region-building (especially in ASEAN). For a start, it seems to me, the renowned Hikayat Hang Tuah – made available in a modern romanized edition by the late Kassim Ahmad - can be read as a diplomatic manual. It is a text which, like many other pre-modern Malay writings, is full of insights - some of which remain relevant today.
In this university, in both the Asia Europe Institute and the Centre for ASEAN Regionalism, we are addressing foreign policy issues of urgent importance to Malaysia. Many of you receiving degrees today will find your training prepares you to help Malaysia in its great ASEAN project – making ASEAN one of the most successful regional communities in the world. Graduates in Humanities fields will also be pleased to know that in our University of Malaya research on regionalism a Humanities training provides vital benefits.
Finally, let me say, my deepest gratitude is due to this foremost academic institution – the University Malaya --- for graciously awarding me this Honorary Doctorate in Humanities.
Vice Chancellor, members of the senate and council, I accept your prestigious honour with all humility and I thank you for the trust and belief in my life's work.
Thank you.