Your Royal Highnesses,
Honourable Members of the Merdeka Award Selection and Nomination Committees,
Recipients of the Merdeka Award,
Honoured Guests,
Ladies and Gentlemen,
I am amazed as well as honoured to receive this Award. I think Malaysia has done much more for me than I have contributed to Malaysia.
My first visit here was in the 1960s as a young student, keen to learn about the emerging nations that would be of critical importance to my own country - Australia. I was immediately excited by Malaysia, and I have returned here many times - as an academic researcher, a professor and a member of both government and non-government organisations concerned to enhance Malaysia-Australia relations. I have lived not only in Kuala Lumpur but also in rural areas - including spending a period with my family in the kampong Kuala Besar, in Kelantan.
I have been driven by a desire to understand Malaysian society, especially Malay perspectives - and I have worked on the assumption that a knowledge of history is vital. When I first visited Kuala Terengganu and Kota Baru - arriving on the East Coast on a small cargo vessel from Bangkok - these towns still fitted descriptions by visitors in the nineteenth century. I got a hint of the world of the old Sultanates - and concluded that to analyse present-day Malaysia it would be necessary to comprehend something of the way these Sultanates operated. Only on this basis, I thought, would it be possible to investigate productively more recent developments - such as the growing emphasis on racial classification, the consolidation of a plural society and the emergence of a modern system of government and a distinctive political culture.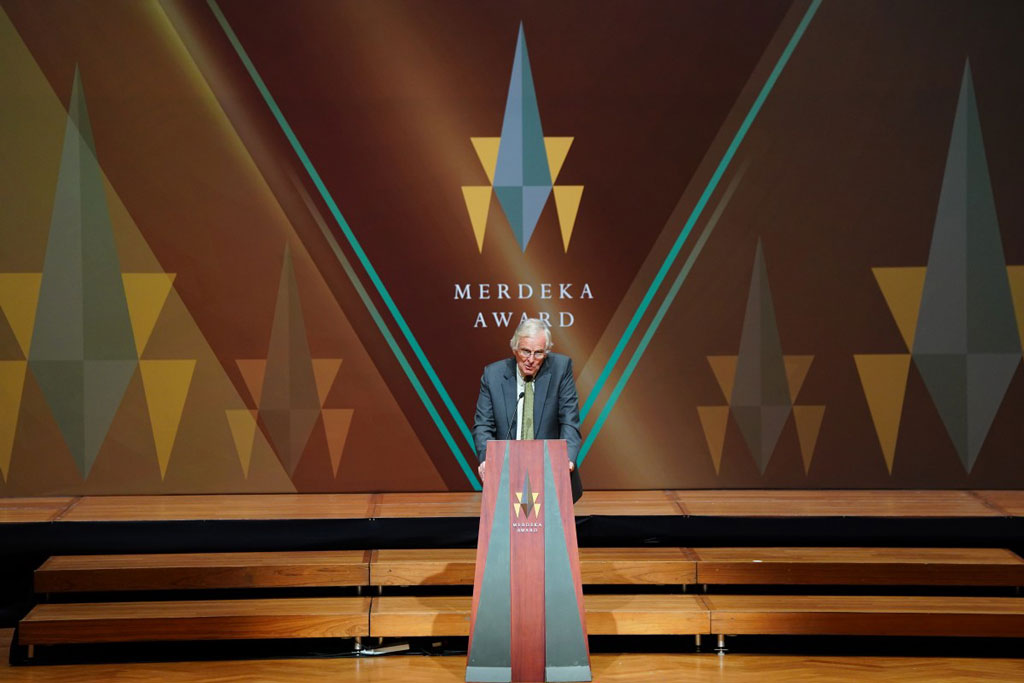 Milner giving his acceptance speech at the Merdeka Awards, Sept 11, 2017. Source: Merdeka Awards
I would like to think that my research and writing has helped to show that Malay and Malaysian history is not only about power struggle and commerce. There has also been a contest of ideas and a genuine degree of intellectual creativity. We have heard a lot about creativity in science tonight, but it also takes place in political and social thought. The serious study of history, I should add, is in my view almost always something that promotes tolerance rather than bitterness within the society concerned.
The Malaysian experience, however, also brings lessons to the wider world - to paraphrase the theme of tonight's event. This country has faced enormous challenges - a radically divided society; the need to accommodate a deep and growing Islamic tradition; the constructing of a state that is strongly monarchical as well as democratic; the building of a broad-based and socially-fair economy; and the forging of a foreign policy that can promote Malaysia's prosperity and security in a dangerous region of the world.
Today Malaysia continues to struggle with problems - some very serious - but the way they have been discussed deserves careful attention. Malaysia's multi-cultural challenge, for instance, is far larger than that facing Australia at present - and Australians may eventually benefit from learning about the Malaysian experience. The stress on engagement and relationship-building in Malaysian foreign policy - and the preference for openness and ideological balance rather than taking sides - also deserves closer analysis in the new geo-strategic context of the Asia Pacific. One undeniable feature of Malaysia is the extreme vigour of political debate here, with a willingness to dispute the most profound issues - and we cannot be sure yet how other countries, including my own, will stand up to such a comprehensive politics.
It is widely accepted, I think, that the architecture of Malaysia is of global significance. But Malaysia's identity depends not only on some remarkable buildings - and on an array of cultural artifacts (the keris, the kampong lifestyle, peranakan Chinese art and culture, and so forth) - but also on the energetic and sometimes highly innovative way in which the Malaysian people have deliberated on the problems that threaten to divide them.
In closing I would like to thank not only the Merdeka Award Trustees and Committees but also the various institutions which have given me the opportunity to engage closely with Malaysia. Today I work most of all with Professor Azirah Hashim at the Asia Europe Institute and the Centre for ASEAN Regionalism at the University of Malaya - where we are focusing on Malaysia's contribution to the building of ASEAN. But I am also grateful for the opportunity to express my very sincere gratitude to the Institute of Strategic and International Studies - ISIS Malaysia - and the Institute of Malaysian and International Studies - IKMAS - at Universiti Kebangsaan. IWorking with the leaders and staff of these different institutions has been great. Close collaboration with colleagues is one of the joys of academic life, and it can also deepen relations between countries - including between Malaysia and Australia.