Professor Tan Sri Dato' Dzulkifli Abdul Razak is a senior advisor at Asia-Europe Institute (AEI), University of Malaya.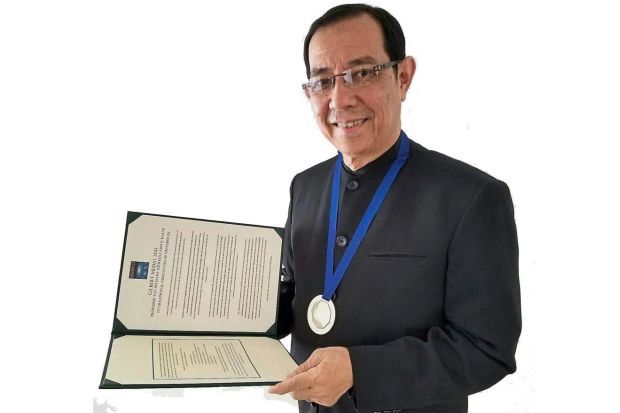 THE International Association of Universities immediate past president Prof Tan Sri Dzulkifli Abdul Razak (pic) has been awarded the Universitas 21 2017 Gilbert Medal.
Prof Dzulkifli who is Universiti Sains Islam Malaysia board of directors chairman, is the seventh recipient and the first from Asia to receive the medal.
"I am humbled by the acknowledgement by my international peers from Universitas 21 in particular, especially in giving new meaning to international education based on values of equality, justice and inclusiveness.
"They also recognised the need to challenge the status quo in shaping the future of education, which from my perspective includes the importance of decolonising knowledge as part of the new discourse in shaping a sustainable future for all," said the former Universiti Sains Malaysia vice-chancellor.
He was presented with the Gilbert Medal during a gala dinner at the University of Nottingham on May 4. The medal features the winning design from a competition among students at Lund University. Sweden.
When the name of this year's recipient was announced, Universitas 21 chair Prof Sir David
Eastwood said: "Awarded annually by Universitas 21 to honour our founding Chair, Alan Gilbert, the recipients have been those who have made the sector stop, reflect, think and move forward more informed and more enriched for the challenges of the future."
"Both within Malaysia and beyond, Prof Dzul is recognised as a thoughtful and reflective leader. We are delighted to acknowledge this through the award of the Gilbert Medal 2017," he said in a statement.
Universitas 21 is a network of 25 research-led universities around the world. It aims to promote and achieve collaboration, co-operation and comprehensive work, drawing on a strong bond of collegiality found between similarly-minded universities all of whom occupy a highly-regarded status in their respective global regions and among the global league tables.
The membership comprises University of Amsterdam, University of Auckland, University of Birmingham, University of British Columbia, Pontificia Universidad Católica de Chile, University of Connecticut, University of Delhi, University College Dublin, University of Edinburgh, Fudan University, University of Glasgow, University of Hong Kong, University of Johannesburg, Korea University, Lund University, University of Maryland, McGill University, University of Melbourne, Tecnológico de Monterrey, University of New South Wales, University of Nottingham, Ohio State University, University of Queensland, Shanghai Jiao Tong University and National University of Singapore.
---
Source: The Star