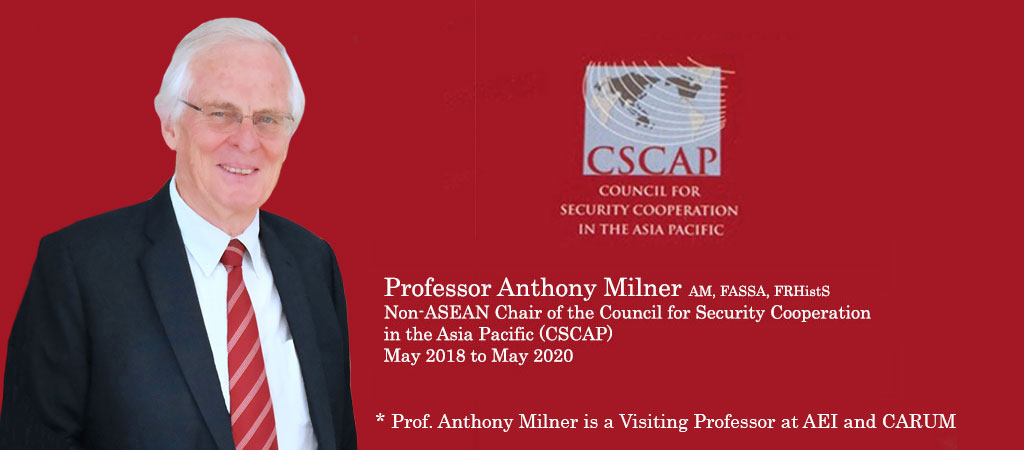 Professor Anthony Milner AM, FASSA, FRHistS, Visiting Professor at AEI and CARUM, has been elected non-ASEAN Chair of the Council for Security Cooperation in the Asia Pacific (CSCAP) for the period May 2018 to May 2020.
Tony, who is Co-Chair of the Australian Committee of CSCAP (along with Mr Richard Smith AO, PSM), takes over the position vacated by Ambassador Yoshiji Nogami of Japan, and will work with Professor Suchit Bunbongkarn of Thailand (the ASEAN co-chair) to guide CSCAP forward with its Track 2 agenda.
CSCAP is the leading regional Track 2 organisation reaching across 21 countries of Asia and the Pacific and has driven debate on a wide range of strategic and security issues affecting the region. The organisation makes an important contribution to regional confidence building and preventive diplomacy in Asia. Through its working groups and study groups, Track 1 (government-to-government regional processes) is presented with alternative recommendations and solutions that may help foster better regional co-operation. Australia last held the position of CSCAP co-chair in 2000-2002 with Professor Des Ball of ANU. Tony will retain the position, along with Mr. Richard Smith, of co-chair of the Australian Committee of CSCAP (AusCSCAP).
Current CSCAP priorities include cyber-security, the concept of the 'Rules-based Order', strategic trade controls (of nuclear materials), and non-proliferation. There are currently also a number of bilateral initiatives, including AusCSCAP collaboration with CSCAP Singapore and CSCAP India.
The Secretariat of CSCAP is in Kuala Lumpur, at ISIS Malaysia.
With AusCSCAP in the chair, Australia plans to hold a Standing Committee Meeting (SCM) of CSCAP in Perth at the end of November 2018.