A Public Lecture by Prof. Gerhard Leitner (Emeritus Professor at the Freie Universität Berlin) - 21 Nov 2017 10:00am - ASEM Room, Asia-Europe Institute (AEI), University of Malaya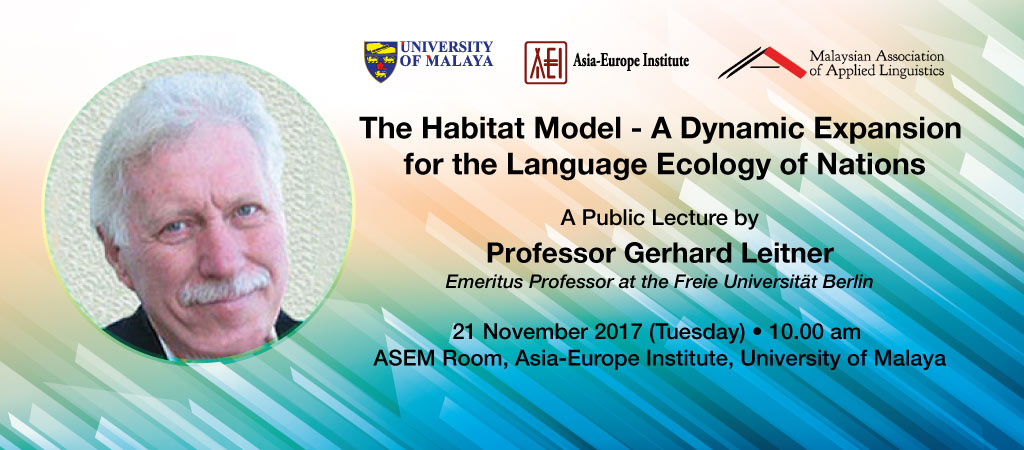 Lecture Title: The Habitat Model - A Dynamic Expansion for the Language Ecology of Nations
Abstract:
Disciplines like linguistic anthropology and strands of sociolinguistics embed languages inside the social, cultural and temporal space of a given society or nation in which they are used. Concepts like national language, official language or second language are commonly employed for the various function(s) of a language at the top level of a polity. Malay, to give one example, would be national language in both Malaysia and Singapore. In the latter polity this would be a mere symbolic function and the official language Mandarin would be much more 'powerful' and would guarantee more communicative uses.
All these concepts look inside the political sphere of a polity as if polities did not have communicative needs with the outside world. The concept of Foreign Language is typically missing though it would turn to the outside or at the interaction of a polity with others where the national language may not be used.
While these concepts describe functions at the top of a polity, the languages that occupy a particular one interact with one another and tend to expand their communicative space or their space is encroached by others.
This talk will elaborate on the background,, uses and development of the Habitat Model that goes well beyond widely known ones like Schneider's Dynamic Model or the older 3-Circles one. It will show its applications to European and ASEAN language habitats and illustrate linguistic features it has been used to account for.
About Professor Gerhard Leitner
Background:
Prof. Gerhard Leitner is emeritus professor of English Linguistics at the Freie Universität Berlin, Germany, an honorary member of the Australian Academy of the Humanities, adjunct professor of the University of Fidji. He has been chairman of the German Association of Wilton Park, a British institution for international relations and diplomacy and, formerly, of Anglo-German relations. He has convened and taken part in major conferences on many EU and international issues. He has worked as Visiting Professor at the University of Malaya, at Nanyang Technological University, Singapore, the University of Naples and Salerno, Italy, and as Research Professor at Monash University, Melbourne, amongst others.
He has published widely on matters of English such as its political and linguistic role as an international and global language, its impact on Asian and Australian regional habitats. He has written on political, economic, media, and educational implications of English in Asia, Australia and the European Union, and has published on anthropology and the history of Australia. He has often worked collaboratively with colleagues in Malaysia or elsewhere.
Selected Books by Professor Gerhard Leitner