A Public Lecture by Prof. Sunghack Lim (University of Seoul) - 17 Nov 2017 10:00am - ASEM Room, Asia-Europe Institute (AEI), University of Malaya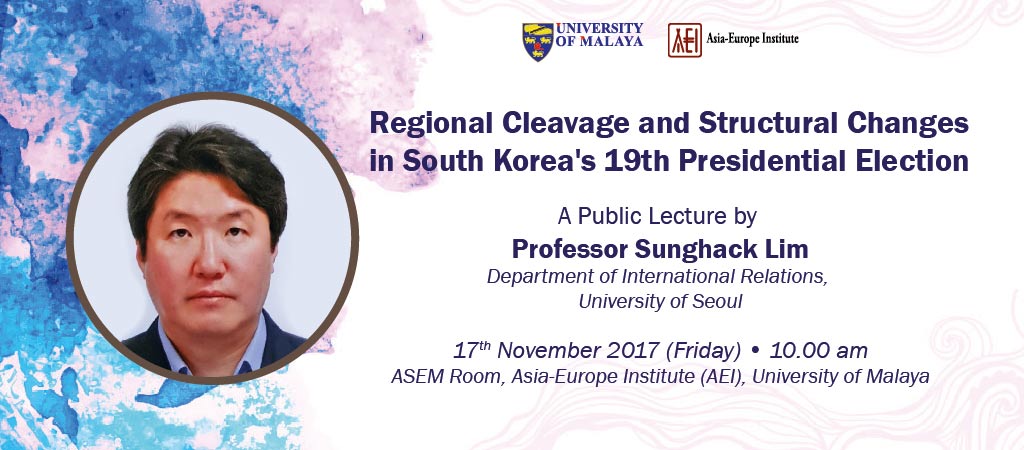 Lecture Title: Regional Cleavage and Structural Changes in South Korea's 19th Presidential Election
Abstract: Regional cleavage has been the most determining factor of election outcome in South Korea since 1987 democratization. But after 30 years new cleavages such as ideological and generational ones are getting influential in Korean elections. The structural changes in cleavage which seem to be now under way will influence party system in Korea.
About
SUNGHACK LIM is a Professor at the Department of International Relations, University of Seoul.
A graduate of the Yonsei University (Korea) in Political Science, he was born in 1965. He obtained a Doctorate Degree from Penn State University (U.S.). Previously, he was the General Secretary at the Korean Political Science Association.
His research area is Political Economy, Political Process, Governance, Korean politics and Economy.
17 Nov 2017 (Friday)
10:00 AM
ASEM Room,
Asia-Europe Institute,
University of Malaya
RSVP by 16 Nov 2017
Please RSVP here:
bit.ly/PL-SLim
Contact person: Ms. Noor Yusrina Hashim
Tel: 03-7967 7823
Fax: 03-7954 0799
Email: ryena_84@um.edu.my