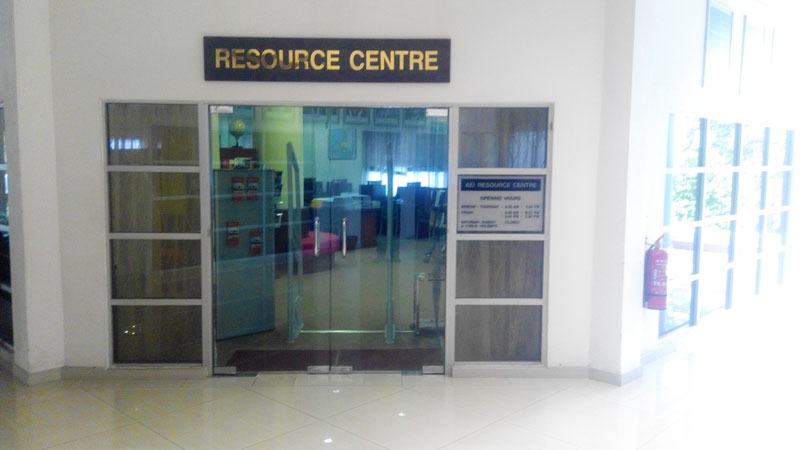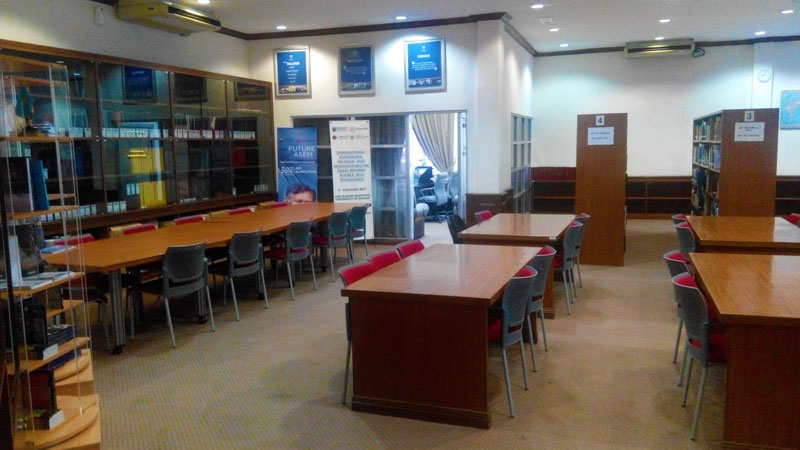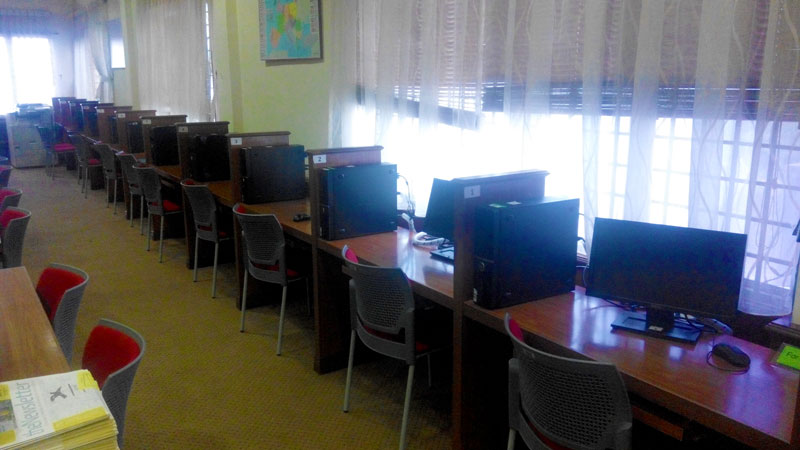 The AEI Resource Centre has a collection of materials on the European Union with emphasis upon European integration, politics, economics, business and law, in the form of monographs, textbooks, periodicals, newsletters, magazines, brochures, maps, video recordings, microforms and CD-ROMs. You can find materials in several languages of the European Union, especially in English, French, German and Italian. Also, European dictionaries are available at the Centre for reference.
A. Loan Entitlement
General books and Academic Reserve Items are charged at the service counter.
Borrowing Privileges
| Category of user | EDC Collection | AEI Collection | Loan Period |
| --- | --- | --- | --- |
| Lecturers | 8 books | 8 books | Two weeks |
| Postgraduates | 4 books | 4 books | Two weeks |
Note: Books marked as RUJUKAN can be borrowed for a maximum of three days per application.
Loan Regulations
Members wishing to borrow library materials must produce their matriculation card at the Service Counter
Borrowers are not permitted to borrow or renew on behalf of others member
Renewals
Books except for Free Range Collection and Academic Reserve Collection can be renewed three (3) times unless they have been reserved by others users. Renewals can be done by telephone, email or online.
How to Renew Your Book Online
Please follow these steps for renewal:
Go into http://www.pendeta.um.edu.my
Click on MY ACCOUNT
Click on Renew My Materials
Enter your Library Barcode Number or Student ID number and your PIN [Your PIN number is the last 4 digits] of the library barcode or student ID number. If you have problems with the PIN, contact your librarian.
The items charged out to your account appears.
Choose Renew All and click Renew Selected Items or choose Renew Selected Items and mark the books to be renewed then click Renew Selected Items.
The new due date will be automatically displayed against each item renewed.
The item will be renewed provided there are no reservations for the new item; item is not due or has not been renewed more than 3 renewals.
Reservations
Books on loan may be reserved. Reservations are made at the Service Counter.
Fines
Category
Rates
Open shelf/books
Academic Reserve Items
All students
10 cent/day
50 cent/hours
Lecturer
20 cent/day
50 cent/hours
Charges for Books Items Not Returned
Lost items or items not returned upon expiration of membership will be the responsibility of members. Members will be required to replace or pay twice the cost of replacing the books (based on the current market value of lost items) or subject to a minimum charged RM50/- per book for local publication and RM120/- per book for foreign publication or whichever is higher.
If you have any problem, please ask the Librarian or call 03-7967 6911 for help.
B. Facilities: Resource Centre
No
Facilities
Remarks
1
Book

EDC: EDC stands for European Documentation Centre. The books in this collection are about the European Union with special emphasis on business, economics, history, law and politics.

AEI: The AEI collections consists of the following categories of books:

Texts and reference for AEI courses on information management, regional integration, small and medium enterprises and ASEAN Studies.
Book for AEI research on economic history, lifelong learning and civil society.
Selected titles on Asian history, economics, politics, sociology and literature.

2
Journal
ASEAN Economics Bulletin, Asia Europe Journal, Contemporary Southeast Asia, International Journal of Asian Studies, Journal of Southeast Asian studies, Sojourn and Southeast Asian Affairs.
3
Electronic Journal
JSTOR is an online archival database of scholarly journals in the humanities, social sciences and the sciences. This database may be accessed from workstations located in AEI.
4
CD-ROM
CDs are kept at the Service Counter. Books with CD-ROM bear noted at the end that give the CD-ROM numbers. CDs must not be taken out of the Centre.
5
Magazine and newspaper
The Economist, TIME and The Star.
6
Photocopy Service (Self Service)
Photocopy service is privatised and all users are charged 10 cents per/page. Card operated self-service photocopying facility is also available at the Resource Centre Asia-Europe Institute only. Cards may be purchased at the Service Counter with the value of RM5.30 and RM10.60 per card including GST 6%.
7
Lockers
There are lockers available to use. Students are required to pay RM10 as a rental for the use of the locker.
Rules
Please be properly dressed.
Please leave your bags at the designated area. Do not leave cash and other valuables in the bags.
Please do not eat, drink or smoke in the Resource Centre. You are not allowed to bring any foods or drinks inside the Resource Centre.
Please switch off your hand phone. If you need to use it, please go out to do so.
Please observe silent. If you have to speak with someone, please do so very quietly.
Please do not take out book prior to borrowing them under your name.
Please return the book on time. Fines will be levied upon overdue books.
Books marked RUJUKAN are for general reference and AEI courses. These must be used in the Resource Centre. AEI students may borrow out up to two books for their coursework one hour before closing time. Books marked RUJUKAN can be borrowed for a maximum of three days per application. They must be returned by 9.00 am the next morning or the next working day.
In a case of an emergency in the AEI building, please vacate the Resource Centre.
The Resource Centre and the Institute will not be responsible for any losses, injuries or damage.
C. Facilities: Computer And Printer
| No | Facilities | Remarks |
| --- | --- | --- |
| 1 | Computer | There are 10 computers provided in the Resource Centre. The operating system for each computer is Windows 7 and Windows 8.1. If there any problems, the students may refer to the technician in charge. |
| 2 | Printer | Printing service is also provided in the Resource Centre. Each paper will be charge for RM0.25 including GST 6%. Students are allowed to print only during Resource Centre hours of operation. |
Rules On Computer Usage
The following policies are strictly enforced:
Viewing of pornography or other sexually explicit materials and any other offensive media in the lab is strictly prohibited.
Recreational use of computers is not permitted. Example: Recreational web-surfing, recreational e-mail, chatting, games, etc.
Scan your flash drives and other storage devices before use to protect the Computer stations and your data from computer viruses.
Operate the equipment with respect and care.
D. Operating Hour
Monday – Thursday
:
8.30 am to 5.30 pm
Friday
:
8.30 am to 12.15 pm
2.45 pm to 5.30 pm
Saturday, Sunday & Public Holidays
:
Closed