Thursday, 6th April 2017 • 2.30 pm • ASEM Room, Asia-Europe Institute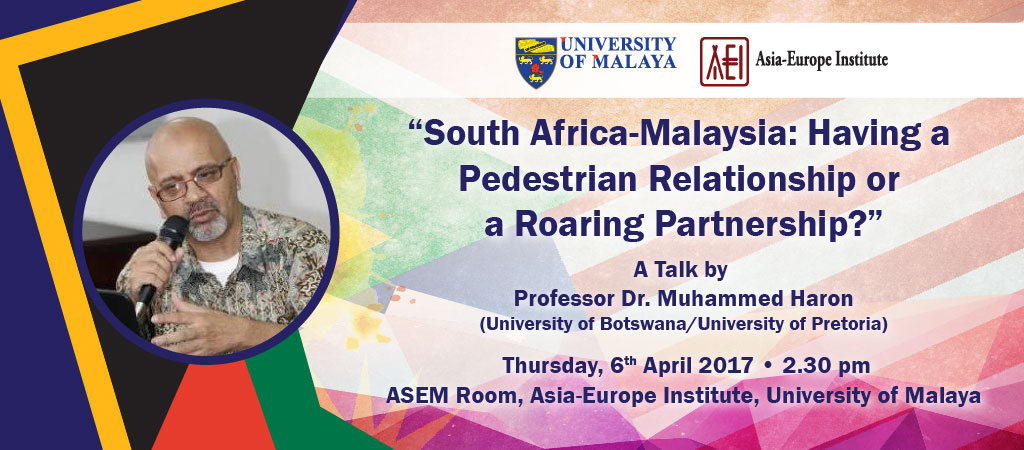 Abstract
The main focus of this presentation is on the bilateral relationship between South Africa and Malaysia. For this presentation it appropriates 'critical theory' as a theoretical frame to give voice to the marginalized/voiceless from the South; and it employs 'Middle Powers' and 'partnership' as two related conceptual tools to explore their respective relations. It thus looks at the politico-economic ties that have been developed since the early 1990s, and it brings into view the socio-cultural elements that brought its respective community organizations together during the apartheid and post-apartheid eras. Its basic purpose was threefold: (a) to examine the relationship at political and economic ties in some detail, (b) to demonstrate its socio-cultural partnership also plays a role in this evolving relationship though on a discreet level, and (c) drawing from these two dimensions it wants to establish their current relationship is a pedestrian one or whether it is a roaring one.
About Professor Dr. Muhammed Haron
Muhammed Haron is a South African who is based in the Department of Theology & Religious Studies at the University of Botswana where he is a full Professor in Religious Studies; in this department he teaches a variery of Religious Studies courses including Religion & Politics. Haron was a visiting lecturer at the Universities of Stellenbosch, Rhodes and the National University of Malaysia. He used to be attached to the University of the Western Cape and the University of Cape Town (UCT) during the 1980s and 1990s. Currently, he is an Associate Researcher at the University of Pretoria and he used to be an Associate Researcher at the University of Johannesburg.
Haron completed his undergraduate studies at the University of Durban-Westville (now known as the University of KwaZulu Natal). He obtained an MA in Religious Studies at UCT and a Doctorandus Degree in Semitic Studies from the Vrije Universiteit te Amsterdam. And Haron finished his doctorate in International Relations at Rhodes University. In addition, he received a postgraduate certificate in 'Teaching Arabic as a Foreign Language' from King Saud University.
Haron is as an executive member of the Centre for Contemporary Islam at the University of Cape Town (UCT) that also hosts the Annual Review of Islam in Africa that he co-edits. He is currently the Editor-in-Chief of the online Research Africa Review Team that is based at USA's Duke University. He edited a special issue on 'Arabo-Islamic Manuscripts [in Africa]' for Tydksrif vir Letterkunde (University of Pretoria 45:1, 2008), and a special issue on 'Muslims in Southern Africa' for BOLESWA: Journal of Theology, Religion and Philosophy (University of Botswana 4:1, 2012).
He authored The Dynamics of Christian-Muslim Relations (Uppsala: UUP & Alqmvist 2006), and edited Going Forward: South African-Malaysia Relations (Kuala Lumpur: LKWUCT 2008). Prior to these Haron compiled/edited South Africa's Muslims: Annotated Bibliography (Cape Town 1997) and South Africa's Truth and Reconciliation Commission: An Annotated Bibliography (New York 2009). During this period he co-authored First Steps in Arabic Grammar (Chicago 2007) and Second Steps in Arabic Grammar (Chicago 2009); and at the same time he co-edited Islamic Civilization in Southern Africa (Istanbul 2009). And recently he co-edited Muslim Higher Education in Postcolonial Africa (London 2016).
6th April 2017
2:30 PM
ASEM Room,
Asia-Europe Institute,
University of Malaya
RSVP by 4th April 2017
Contact person: Ms. Noor Yusrina Hashim
Tel: 03-7967 7823
Fax: 03-7954 0799
Email: ryena_84@um.edu.my
Programme:
2:15 pm: Arrival of guest
2:30 pm - 4:00 pm: Talk by Prof. Dr. Muhammed Haron followed by Q & A session
4:15 pm: Tea / End of event
Dress Code: Lounge Suit / Office Attire