Date: Thursday, 26 October 2017 • 2.30 pm • Department of International and Strategic Studies, Faculty of Arts and Social Sciences, University of Malaya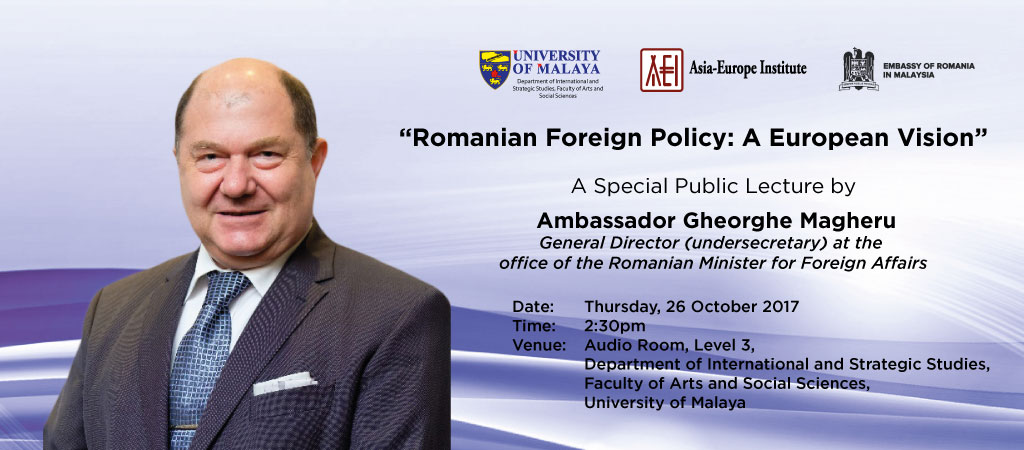 Lecture Title: Romanian Foreign Policy: A European Vision
Lecture points:
Brief historical background, multilateralism and international law - the constant guidelines of Romania's foreign policy.
Romania an active contributor to the foreign and security policy of the European Union and participant in NATO endeavours, regional developments and security environment.
Romania, a partner for South East Asia.
Regional developments and security environment - Romania relations with Russia, in post-Soviet era.
About Ambassador Gheorghe Magheru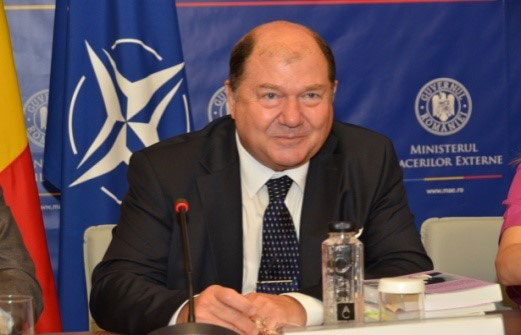 A graduate of the University of Bucharest in English Studies , he was born in 1951.
Currently Advisor to the Minister of Foreign Affairs and previously Director General for Political Affairs (2013 – 2016), Gheorghe Magheru joined the diplomatic service in 1990.
Ambassador, Permanent Representative of Romania to the Council of Europe (2001 – 2006) he has chaired the Committee of the Ministers' Deputies of the Strasbourg organisation during the tenure of the Romanian Chairmanship (2005).
Several times director general or director for global, regional and bilateral affairs, Gheorghe Magheru is the Governor for Romania in the Asia – Europe Foundation (ASEF) since 2009, and, since 2016 , Member of the Scientific Council of the New Strategy Center (NSC), a Romanian foreign policy think tank.
26 Oct 2017 (Thursday)
2:30 PM
Audio Room,
Level 3,
Department of International and Strategic Studies, Faculty of Arts and Social Sciences,
University of Malaya