by Professor Bernhard Truffer - Copernicus Institute for Sustainable Development, Utrecht University & Head of department, Environmental Social Sciences and Cluster Leader, Environmental Innovation and Sustainability Transitions (CIRUS), Swiss Federal Institute of Aquatic Science and Technology (EAWAG), Switzerland.
18th September 2018 (Tuesday) • 2.30 pm • Asia-Europe Institute (AEI), University of Malaya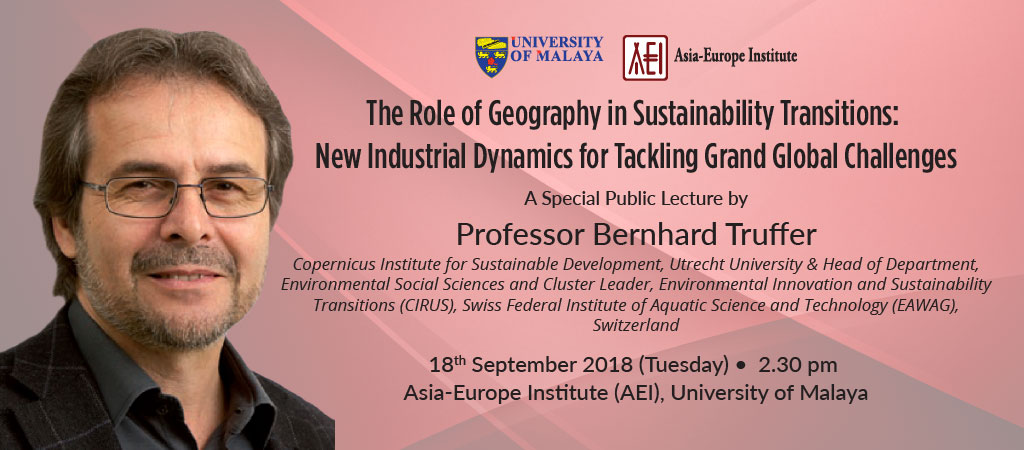 ABSTRACT:
There has been a surge of interest in innovation towards sustainable production and consumption systems in Europe and other Organization for Economic Cooperation and Development (OECD) countries since the 1990s. An emblematic case is the currently ongoing fundamental transformation in the electricity sector from fossil to renewable energy. Scholars in the field of Sustainable Transition Studies have developed a rich set of frameworks to analyze these transformations. With increasing globalization and with the environment long acknowledged as a global common, sustainability has also become an increasingly salient topic in the Global South. The talk will elaborate on the core concepts of this research tradition and explain why geographical contexts are key for understanding the success conditions of these transformations. In particular, we will present the concept of Global Innovation Systems and its implications for catch-up strategies. We argue that catching up policies of emerging economies like Malaysia have to increasingly reflect these new contexts. As an empirical illustration, we will present recent global industrial dynamics in the field of urban water management.
SHORT BIO:
Bernhard Truffer is Professor of Geography of Transitions at the Copernicus Institute for Sustainable Development at Utrecht University in the Netherlands. He also heads the Environmental Social Science department at the Swiss Federal Institute of Aquatic Science and Technology in Zürich, Switzerland. His research focuses on where and by whom more sustainable products and technologies are developed and how entire economic sectors can be transformed to more sustainable future structures. Empirically, he has mostly worked on energy, transport and urban water management sectors. Geographically he conducted studies in Europe, the United States, Australia, China, South-Africa and more recently Malaysia and Kenya. He is the founding editor of the journal, Environmental Innovation and Societal Transitions, and serves on the editorial board of Research Policy.
18 September 2018 (Tuesday)
2:30 PM
Asia-Europe Institute,
University of Malaya
RSVP by 14 September 2018
Please RSVP here:
bit.ly/aei-truffer
Contact person:
Ms. Noor Yusrina Hashim
Tel: 03-7967 7823
Fax: 03-7954 0799
Email: ryena_84@um.edu.my
Programme Schedule:
2.15pm Arrival of guests
2.30pm Welcoming remarks by moderator
2.45pm Lecture by Professor Bernhard Truffer
3.30pm Q & A session
4.15pm End of event/ refreshments