Abstract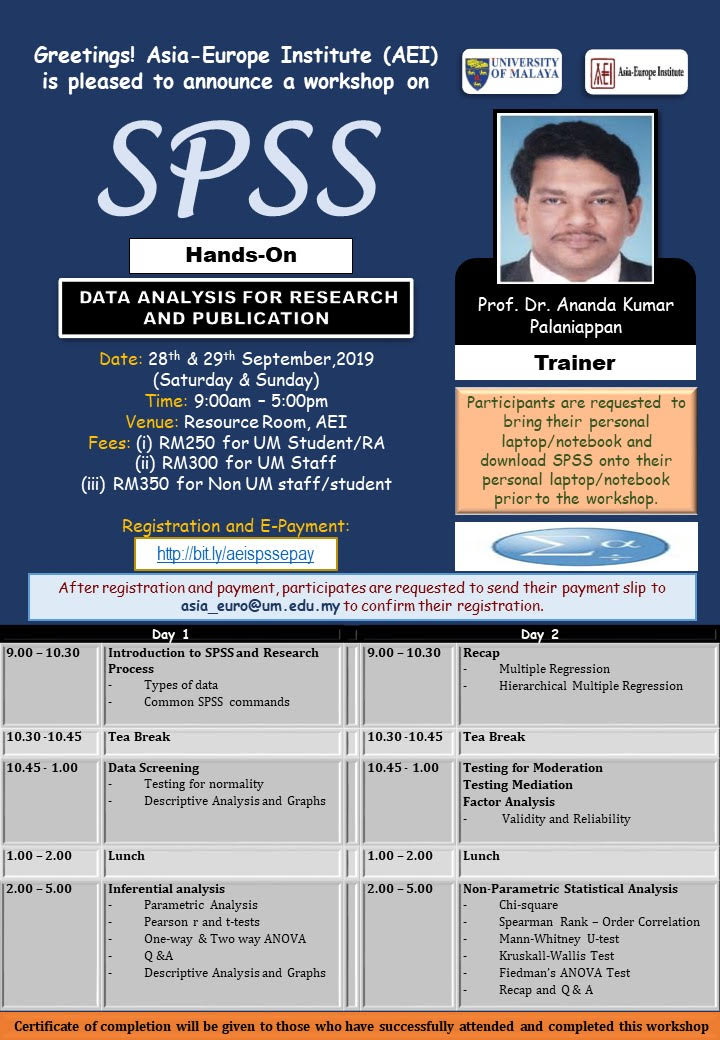 This workshop will focus on the various ways SPSS can be used in research. It will discuss the common statistical analyses and the appropriate use of these analyses to answer research questions and test hypotheses. Using hands-on exercises, participants will learn how SPSS can be used to screen and explore data, test for normality and equality of variance and execute basic commands. Following this, inferential data analyses including parametric tests such as Pearson Product Moment correlation, t-tests and One-way and Three-way ANOVA, ANCOVA as well as linear regression with moderation and mediation analysis. Non-parametric tests such as Chi-square, Mann-Whitney and Wilcoxon, Friedman's ANOVA and Kruskall-Wallis will be also be covered. Discussions and hands-on exercises will include using SPSS to ascertain the reliabilities (Item Analysis, Split-Half, Kuder-Richardson, and Cronbach Alpha) and the various indices of validity of instruments. The workshop will also help participants to interpret correctly the SPSS output of these inferential data analyses, tabulate and report the results in the format acceptable for publication in refereed Web of Science / ISI indexed journals.
Learning Outcomes
At the end of the 2-day workshop, participants will be able to:
enter data in SPSS and carry out data screening.
employ the right data analyses based on the scale of measurement of the variables.
carry out descriptive data analyses and appropriate inferential data analyses and test for mediation and moderation.
employ the right statistical analyses to answer the research questions formulated.
report all results using the appropriate format for refereed / ISI-indexed journals.
Programme
Date: 28th September 2019 (Saturday)
TIME
SESSION TITLE
9.00am - 10.30 am

Introduction to SPSS and Research Process
Types of data
Common SPSS commands

10.30am - 10.45am
Tea Break
10.45am - 1.00pm

Data screening
Testing for normality
Descriptive analyses & Graphs

1.00pm - 2.00pm
Lunch
2.00pm - 5.00pm

Inferential analysis
Parametric analysis
Pearson r, t-tests
One-way & Two-way ANOVA
Q & A
Date: 29th September 2019 (Sunday)
TIME
SESSION TITLE
9.00am - 10.30am

Recap
Multiple Regression
Hierarchical Multiple Regression

10.30am - 10.45am
Tea Break
10.45am – 1.00pm

Testing for Moderation
Testing for Mediation
Factor Analysis – Validity & Reliability

1.00pm - 2.00pm
Lunch
2.00pm - 5.00pm

Non-Parametric Statistical Analyses
Chi-square, Spearman Rank- Order correlation
Mann-Whitney U-test
Kruskall-Wallis Test
Fiedman's ANOVA Test
Recap and Q & A
Profile of Trainer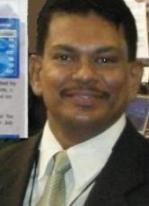 Professor Dr. Ananda Kumar Palaniappan is an Educational Psychologist and former professor at the Faculty of Education, University of Malaya. He obtained his doctorate in Creativity from University of Malaya in 1994. He specializes in Creative & Innovative Thinking, Organizational Creativity and Creative Problem Solving.
Dr. Ananda also lectures in Research Methods, Statistics, Educational Assessments and has been conducting SPSS and AMOS workshops since 1995 for both academic and non-academic researchers in both public and private organizations. He also conducts workshops on 'Publishing in top journals'. He has conducted workshops and presented papers on Creativity and Assessments for numerous groups including managers, magistrates, legal officers and educational administrators in Malaysia, Singapore, Hong Kong, Spain, UK and the United States of America.
He has researched and published internationally on creativity and on the validation of several instruments. He has published in many international journals including Perceptual and Motor Skills, Journal of Psychology and Asia-Pacific Journal of Public Health. Dr. Ananda Kumar Palaniappan is a member of American Psychological Association (APA), American Creativity Association (ACA) and International Association of Cross-Cultural Psychology (IACCP). He can be contacted at ananda4989@yahoo.com or mobile: 019-9310956.
Confirmed Participants
Note: Max. number of participants is 35. All fees paid are strictly non-refundable.
Dr. Hal Swindall
Dr. Noor Haslina Yusoff
Miss R. Kavitha Rasaiah
Hafizah Omar Zaki
Dr. Chong Wu Ling
Darryl Tan Jie Wei
Halimah Jalil
Beh Keng Hau
Goh Chee Chai
Siska Purnama Manurung
Lili Syahani Rusli
Wong Poh Lyn
Dr. Zakaria Alcheikh Mahmoud
Sara Alsheikh Mahmoud
Suresh Raja Manickam
Chong Yoong Min
Nadia Nurdiana Mohd Faizal
Joanne Lau Zhi Han
Ema Marlisa Abdul Malek
Aieshah Abdullah Al-Abboud
Dina El-Sahli
Kye Mon Min Swe
Rina Kolandaisamy
Chen Ying
Tan Xiu Hui
Zhou Ying
Tang Junhong
Dr. Farah Elani Binti Mohamad Sani
Yap Jiunn Wei
Ong Si Juan
Wong Chee Kuan
Lilian Wang Phei Lian
Dr. Goh Yihui
Thevi Subramaniam
Thevi Subramaniam
Siti Qhairunissa Binti Ramli
Nursy Amimi Zawani Binti Mohd Sahid
-- end of list --