Since the ASEM Ministers of Education have agreed on the Proposal of the Ministry of Education Malaysia during the 4th ASEMME in 2013 to organise "AEI-ASEM Summer School", the pilot programme was held in 2015.
In collaboration with the Asia-Europe Institute (AEI), the two-week program discusses sociocultural and socio-economic issues amongst students, academicians, researchers, activists, and company executives from Asia, Europe, and other parts of the world. Participants were involved in educationally oriented field trips, alongside relevant lectures to complement the outdoor experiences.
In collaboration with the Malaysian Ministry of Higher Education, the AEI, which is based in the University of Malaya, was delighted to organise the 2nd AEI-ASEM Summer School which was successfully conducted from 7th until 21st August 2016 in the context of balanced mobility.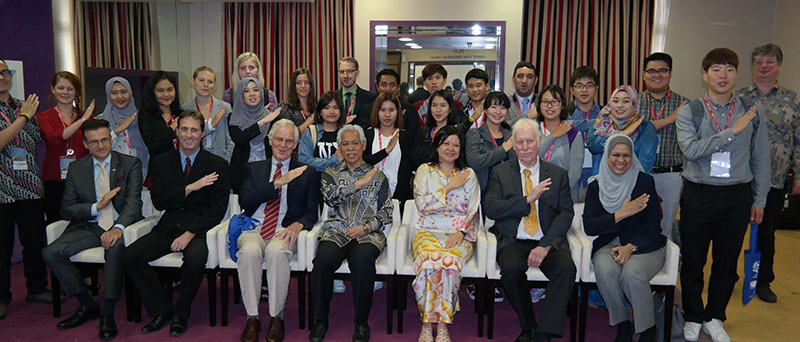 The 2nd AEI-ASEM Summer School 2016 was officially launched by Professor Dr. Azirah Hashim, the Executive Director of AEI, on 8th August 2016. 21 participants from 9 countries made up of 1 each from Korea, Germany, Nigeria and Palestine; 6 from Thailand, 4 from Czech Republic, 3 from Japan, 2 from Indonesia and Malaysia spent two weeks at this summer school that aimed to examine "Multiculturalism and Multiethnicity in Asia and Europe".
The participants were provided with accommodation, local transportation, and meals, save for international airfare. The committee prepared modules on the outlook of Malaysia including its role as an Islamic hub in Asia; business sector; relationship between the two continents; migration issues, and youth involvement. The Summer School provided opportunities and experiences for students to explore various cultures, races and religions, ethnic backgrounds as well as examining political, economic and sociocultural issues through a programme of lectures, field visits, and highly interactive activities.
These included tours and talks by Putrajaya Corporation, Halal Industry Development Corporation, and a visit to the Putrajaya, the administrative capital of Malaysia, to experience the country's federal administrative culture and atmosphere, Melaka as the birthplace of the Malay Sultanate, with a rich history of Asian and European influences, BoDen Edu Farm, local culture experience at Home Stay Kampung Lonek, Kuala Pilah, Teratak Za'ba, etc.
AEI-ASEM Summer School participants were also invited by Higher Education Minister YB Dato' Seri Idris Jusoh for lunch and a dialogue at the Ministry of Higher Education of Malaysia. YB Minister of Higher Education talked about the Malaysian Higher Education Blueprint, discussed higher education issues with the participants and encouraged everyone to be a multilingual, a skill that is vital in a globalized world. The dialogue turned out to be fruitful and enjoyable for the participants.
Throughout the two-week summer school, participants indicated that they really enjoyed this programme and gained lots of new experiences and perspectives about several aspects of multiculturalism and multiethnicity.
AEI has consistently shown its commitment to increase foreign student flow, spurring balanced mobility, and it welcomes further ASEM collaboration for future ASEM Summer Schools and other initiatives.
Parties who made the event a success included the ASEM Education Secretariat, Jakarta that endorsed the 2nd AEI-ASEM Summer School 2016, Malaysian agencies, professors and presenters. AEI extends its gratitude and appreciation for their contribution.
Impressions from the participants:
"I am really enjoying everything in this summer school programme, especially about the culture sharing with other participants on the different background and culture experiences. We learn a lot from each other and we respect our differences in culture. I am also really enjoy having a good relationship with every participants. AEI-ASEM Summer School is one of the best experience in my life." - Kevin Abimanyu Jatmiko, Indonesia -
"Malay people are really friendly and peaceful. Malaysia have lots of nationality like Malay, Chinese and India and they respect each other even though they have different religions. It is very different from Middle East and other countries. In Malaysia, they can live harmoniously next each other without any conflicts." - Veronika Mazankova, Czech Republic -
Source: ASEM Newsletter: August - October 2016 by ASEM Education Secretariat