A Talk by Dr. Patrick Ziegenhain, Visiting Professor, Asia-Europe Institute (AEI), University of Malaya
28th March 2017 (Wednesday) • 11:00 am • School of Economics, Finance and Banking UUM COB, Universiti Utara Malaysia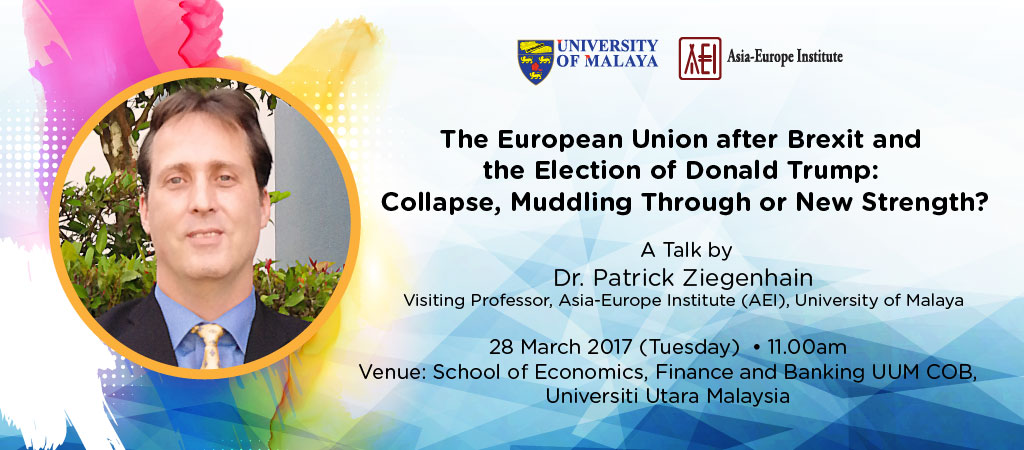 Abstract:
2016 was not a particularly successful year for the European integration. In June, a referendum in the UK led to the upcoming parting of the second biggest European economy from the European Union. Another setback was the election of Donald Trump as the new president of the USA in October. Mr. Trump openly applauded Brexit and criticized the European integration process. His choice for American ambassador to the European Union Ted Malloch compared the EU with the Soviet Union, which he witnessed collapsing. These two recent events added to the already existing major problems of the European Union including the arrival of more than 1 million refugees and migrants in the last two years and the ongoing troubles of the common currency, the Euro, with particular regard to the financial problems of Greece.
In his presentation, Visiting Prof Dr Patrick Ziegenhain will explain the causes and consequences of the multiple crises within the European Union and its member states. He will explain the problems in the current global context of globalisation, regionalism and growing nationalism. Additionally, Visiting Prof Dr Patrick Ziegenhain will present possible scenarios for the further developments in Europe and discuss what kind of reform options are viable for the European Union.
About Dr. Patrick Ziegenhain
PD Dr Patrick Ziegenhain from Germany is Visiting Professor at the Asia-Europe Institute of University of Malaya in Kuala Lumpur/Malaysia since May 2015. Previously, he had been a Visiting Professor at the Department of Business Administration at Atma Jaya University in Jakarta, Indonesia; an Interim Professor at the Department of Southeast Asian Studies at Goethe-University Frankfurt, Germany (2015); a Visiting Professor at the Department of Political Science at De la Salle University Manila, Philippines in 2014 and Assistant Professor (Akademischer Rat) at the Department of Political Science, University of Trier, Germany (2007-2014). Patrick Ziegenhain holds a PhD from Albert-Ludwigs-University in Freiburg, Germany. Beside numerous academic articles, he is the author of the books "Institutional Engineering and Political Accountability in Thailand, Indonesia, and the Philippines" (2015), "The Indonesian Parliament and Democratization" (2008) and co-author of the book "Parliaments and Political Change in Asia" (2005).