The World Bank Group Global Knowledge and Research Hub (WBGKRH) in Malaysia is a unique institution because it does not focus on project development financing as its network around the world does. Indeed, this Hub produces development policy research and analytical work on regional and global issues.
Within this approach the WBGKRH provides Malaysia with access to global knowledge and expertise into high-income and development economy.
Dr. Firas Raad, a Jordanian national, is the Country Manager of this GKRH in Malaysia. He joined the WBG in 2002 and held various management positions, his most recent one assignment being Country Manager for Kuwait.
As a Senior Health Policy Specialist and his many professional experiences around the world, he is a world expert on the maximization of human capital.
About Dr. Firas Raad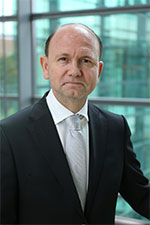 Dr. Firas Raad is a World Bank Country Manager and an international development professional with extensive experience in human development, health systems reform and health equity analysis. He is currently the World Bank Country Manager for Malaysia and manages the World Bank Group's Global Knowledge and Research Hub in Kuala Lumpur. The World Bank Group's Global Hub in Malaysia consist of 52 international and national staff members and focuses on sharing Malaysia's development experience with other countries, conducting innovative economic research with global impact, and supporting the development priorities of the Malaysian Government.
Prior to his post in Malaysia, he served as the World Bank Country Manager in Kuwait overseeing a large Reimbursable Advisory Services (RAS) Country Program focused on supporting Kuwaiti policy reform and development priorities. These priorities included general education reform, land management modernization, competition policy, investment promotion, subsidy reform and public-private partnerships. As Country Manager, Dr. Raad also led a World Bank Country Office consisting of 25 international and local staff members and managed all high-level relationships with Government counterparts.
His work in Kuwait also supported World Bank regional priorities including economic cooperation and reconstruction activities in conflict-affected countries. In February 2018, the World Bank Kuwait Country Office under Dr. Raad's direction supported the organization of the Iraq Reconstruction Conference – a high-level event co-sponsored by the Kuwait, Iraq, the United Nations, the World Bank and the European Union.
Over the period spanning 2009-2013, Dr. Raad served as Advisor, Deputy Head of Mission and Head of Mission in the Office of the Quartet Representative (OQR) in East Jerusalem. As Head of Mission, he managed 30 international and local staff members working to support the economic priorities of the Palestinian National Authority in the West Bank and Gaza Strip; and assumed responsibility for strategy development, stakeholder engagement, finances, operations, human resources, and security management. During his time with the OQR, Dr. Raad led several development portfolios related to education, housing and private sector development in the West Bank and Gaza Strip. As Head of Mission for the OQR during the years from 2012-2013, Dr. Raad worked with the Quartet Representative and the Palestinian Prime Minister in implementing a development plan to promote macro-economic growth, fiscal control and private-sector development in the Palestinian Territories.
In the years between 2002-2008 and later in 2014, Dr. Raad worked as Senior Health Specialist and Human Development Coordinator in the Human Development Sector in the Middle East and North Africa (MENA) Region of the World Bank. He worked on implementing health system and health financing reforms in the middle-income countries of the Mashreq region (Lebanon, Syria, Jordan) and the high-income countries of the GCC region (Saudi Arabia, Kuwait, Bahrain, Oman). In the GCC countries, his work revolved around health financing and health insurance policies, food, drug and medical device regulatory reforms, and private sector participation opportunities in health. He also worked on implementing emergency operations in the West Bank and Gaza Strip and on conducting post-conflict impact assessments in both Lebanon (2006) and in Iraq (2014). As Human Development Coordinator for the GCC countries, Dr. Raad oversaw multi-sector engagements covering the areas of health, education and social protection.
Before joining the World Bank from 1997-2000, Dr. Raad served as Private Secretary to His Majesty for Health Affairs at the Royal Court in Amman, Jordan. During this time, he provided advisory services related to health policy reform issues in close coordination with the Ministry of Health and other key health stakeholders. He also oversaw the special health coverage program provided by the Royal Court for uninsured and low-income Jordanian nationals.
His primary research interests and publications are in the areas of health economics, health equity, health financing, health services trade, hospital autonomy, health systems reform and peace-building. His doctoral dissertation focused on the political economy of health service trade in Jordan. He also focused on macro-economics, international relations, trade economics, and Middle Eastern studies during his undergraduate and graduate work in the United States.
He has served as a board member of multiple organizations (Jordan Society for Sustainable Development, The Neurological Society, the Palestine Hospital, the Middle East Association for the Management of Hearing Loss, the Jordan Sports Federation for the Handicapped) and he is currently the Chairman of Run Jordan and a Board Member of the King Hussein Foundation International. Run Jordan is a Jordanian NGO dedicated to the organization of long-distance races including the Amman Marathon, the Dead Sea Ultra-Marathon and the Red Sea Half Marathon. In 1996, he led the Jordanian Paralymic Delegation to the Atlanta Paralympic Games.
Dr. Raad has a Bachelor's Degree in Economics from the Johns Hopkins University, a Masters and Doctoral Degree in International Health Policy and Economics from the Harvard School of Public Health and a Masters' Degree in international relations from Johns Hopkins School of Advanced International Studies (SAIS).
He is married with three children and his private interests include scuba diving, running, squash, tennis and chess.