Wednesday, 14 June 2017, 9.00 am - 5.00 pm
An initiative of EURAXESS ASEAN with the support of Asia-Europe Institute (AEI), University of Malaya.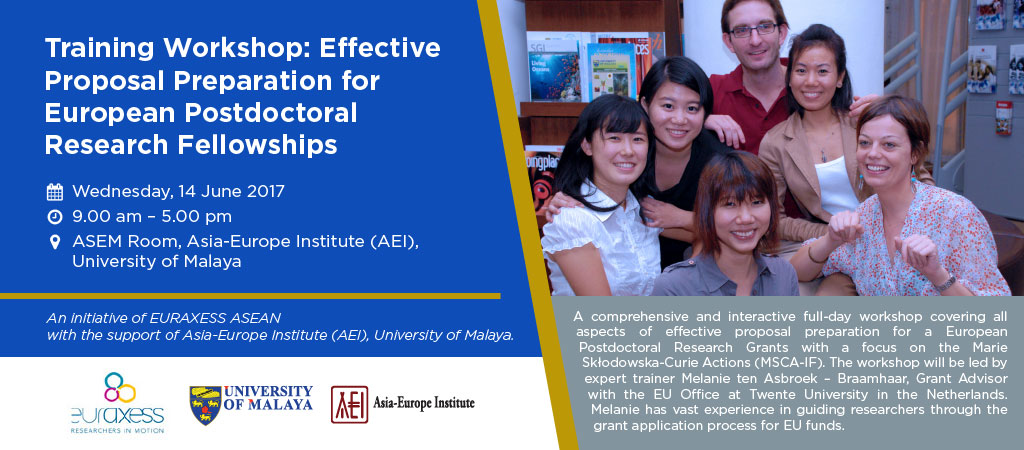 The workshop:
A comprehensive and interactive full-day workshop covering all aspects of effective proposal preparation for a European Postdoctoral Research Grants with a focus on the Marie Skłodowska-Curie Actions (MSCA-IF).
The workshop will be led by expert trainer Melanie ten Asbroek – Braamhaar, Grant Advisor with the EU Office at Twente University in the Netherlands. Melanie has vast experience in guiding researchers through the grant application process for EU funds.
Costs:
Participation in the workshop will be free of charge.
Lunch is included in the programme.
Participants must cover their own travel and/or accommodation costs.
Eligibility:
This event is open to researchers of any discipline and any nationality who are actively engaged at public or private institutions of higher education and research in Malaysia.
Eligible applicants must be holders of a PhD with NO more than 10 years of post-doctoral research experience.
The workshop is limited to 40 pax.
Application process:
Interested candidates are invited to submit the following:
Academic C.V. (no longer than 2 pages)
A ½ page statement detailing your interest and current plans for research collaboration with partners in Europe. Please be as precise as possible.
Application deadline is: 6 June 2017
Applications should be submitted electronically to the following email address:
susanne.rentzow-vasu@euraxess.net
The selection will be conducted by the organisers. The decision is final.
Venue:
ASEM Room,
Asia-Europe Institute (AEI),
University of Malaya,
Kuala Lumpur, Malaysia.
GPS Coordinate: 3.1251587, 101.6590913
---
About the MSCA-IF
What Is it?
Individual Fellowships are an opportunity for researchers of any nationality to work in research labs in Europe for up to two years.
What is the aim of MSCA-IF?
The Individual Fellowships aim at enhancing the creative and innovative potential of experienced researchers (postdocs) through advanced training and international and intersectoral mobility.
Who can apply?
The Individual Fellowships are awarded to the most promising researchers of any nationality who want to benefit from advanced training in Europe. Applicants either hold a PhD degree or have at least four years of full-time equivalent research experience.
Which research topics are supported?
Any research field may qualify for MSCA-IF funding.
How does it work?
Proposals are submitted jointly with a "host" organisation in Europe and you as the researcher. You, the researcher, develop the proposal in cooperation with a European organisation that would be willing to host you. Host organizations can be universities, research centres or companies.
What does the funding cover?
The grant provides an allowance to cover your living, travel and family costs. The research costs and overheads of the host organisation(s) are also supported.
What is the success rate?
The global success rate for the European Fellowships was 18% in the first two calls in Horizon 2020.
Where can I learn more?
https://ec.europa.eu/research/mariecurieactions
---
An initiative of EURAXESS ASEAN with the support of Asia-Europe Institute (AEI), University of Malaya.