Abstract
This talk will analyze U.S. Foreign Policy in the Trump administration. From the perspective of the U.S.-Mexico bilateral relationship, it will provide policy recommendations on how to contain U.S. hegemony and negotiate with the United States in a complicated national and international scenario. The strategies and recommendations presented can be easily replicated by other countries (like Malaysia) in their relations with the United States or other great Powers.
About Prof. Dr. Jorge A. Schiavon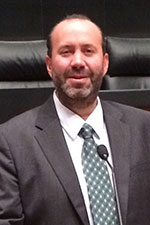 Professor Dr. Jorge A. Schiavon is Professor of International Relations at the International Studies Department, CIDE (Centro de Investigación y Docencia Económicas), Coordinator of the Interdisciplinary Program on Migration at CIDE (CIDE-MIG), and President of CIDE Foundation.
He holds a Ph.D. in Political Science and International Affairs (University of California, San Diego, UCSD); M.A. in Political Science (UCSD); B.A. in International Relations (El Colegio de México); and Diploma in Public International Law (The Hague Academy of International Law, International Court of Justice).
He has authored and edited 17 academic books and 100+ articles and chapters on Mexican foreign policy, history of Mexican international relations, migration, sub-State diplomacy (paradiplomacy); public opinion and foreign policy; regional integration in Latin America and North America; institutions, decentralization, and federalism in Latin America and North America; U.S.-Mexico-Canada relations and Hemispheric Latin American relations; Mexican, North American, and Latin American political systems and foreign policies. His most recent book is entitled Comparative Paradiplomacy (New York, Routledge, 2019).
Programme
2.45pm - Arrival of guests
3.00pm - Welcoming remarks by Master of Ceremony
3.05pm - Address by HE Carlos Felix Corona, Ambassador of Mexico to Malaysia
3.10pm - Lecture by Prof. Dr. Jorge A. Schiavon
4.10pm - Q & A
4.40pm - End of session followed by light refreshments.
8th July 2019
(Monday)
3:00 pm
ASEM Room,
Asia-Europe Institute,
University of Malaya
RSVP by 5 July 2019.
Seats are limited.
Online RSVP:
bit.ly/profschiavon
Contact person:
Mdm. Nurul Syuhada Shamsuddin
nsq86@um.edu.my
Mr. Zahadin Omar
zahadin@um.edu.my
Tel: 03-7967 7823
Fax: 03-7954 0799