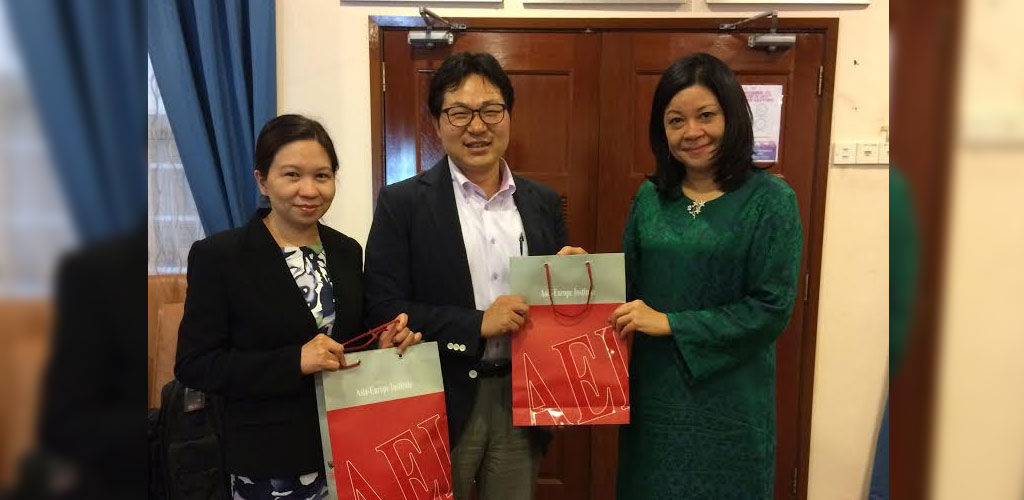 On 12 May, the Director of CARUM and Executive Director of AEI, Professor Azirah Hashim met with representatives from Kyushu University, Japan. The meeting was to discuss planning for the ASEAN in Today's World 2018 (AsTW 2018) program.
Professor Azirah met with Dr. Maria Gracita Cardinal, Coordinator for International Affairs (Office for the Planning and Coordination of International Affairs OPCIA) and Assoc. Prof. Dr. IkJoon KANG (International Student Centre), Kyushu University, Fukuoka, Japan.
The AsTW 2018 is a two-week international study program focusing on ASEAN and East Asian affairs. It is designed for university students from all over the world. The AsTW curriculum consists of ASEAN Studies Courses (ASC) and Asian Languages & Cultures (ALC) courses, supplemented by co-curricular Study Trips, providing students with rich and unique learning opportunities.
The 2018 session will convene from 22 February - 7 March 2018 at the Asia-Europe Institute, University of Malaya. This program is jointly presented by Kyushu University and the Asia-Europe Institute, University of Malaya.