Abstract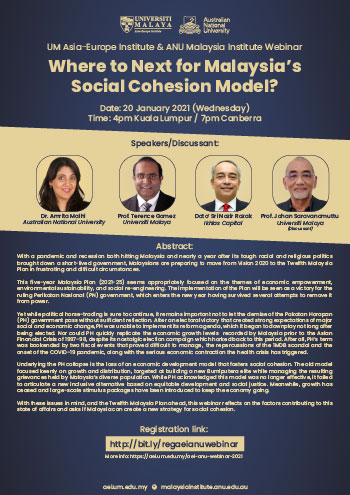 With a pandemic and recession both hitting Malaysia and nearly a year after its tough racial and religious politics brought down a short-lived government, Malaysians are preparing to move from Vision 2020 to the Twelfth Malaysia Plan in frustrating and difficult circumstances.
This five-year Malaysia Plan (2021-25) seems appropriately focused on the themes of economic empowerment, environmental sustainability, and social re-engineering. The implementation of the Plan will be seen as a victory for the ruling Perikatan Nasional (PN) government, which enters the new year having survived several attempts to remove it from power.
Yet while political horse-trading is sure to continue, it remains important not to let the demise of the Pakatan Harapan (PH) government pass without sufficient reflection. After an electoral victory that created strong expectations of major social and economic change, PH was unable to implement its reform agenda, which it began to downplay not long after being elected. Nor could PH quickly replicate the economic growth levels recorded by Malaysia prior to the Asian Financial Crisis of 1997-98, despite its nostalgic election campaign which harked back to this period. After all, PH's term was bookended by two fiscal events that proved difficult to manage, the repercussions of the 1MDB scandal and the onset of the COVID-19 pandemic, along with the serious economic contraction the health crisis has triggered.
Underlying the PH collapse is the loss of an economic development model that fosters social cohesion. The old model focused keenly on growth and distribution, targeted at building a new Bumiputera elite while managing the resulting grievances held by Malaysia's diverse population. While PH acknowledged this model was no longer effective, it failed to articulate a new inclusive alternative based on equitable development and social justice. Meanwhile, growth has ceased and large-scale stimulus packages have been introduced to keep the economy going.
With these issues in mind, and the Twelfth Malaysia Plan ahead, this webinar reflects on the factors contributing to this state of affairs and asks if Malaysia can create a new strategy for social cohesion.