The journal invites articles and opinion pieces (op-eds) related to the ongoing COVID-19 pandemic that have social, economic or political implications on Asia, Europe or both. COVID-19 related papers will be fast-processed and hosted online for immediate dissemination on AEI website as occasional papers. Selected papers from these would then be published in the Jan 2021 issue of AEI Insights - An international journal of Asia-Europe Relations.
AEI-Insights: An International journal of Asia-Europe relations is a refereed journal published annually by the Asia-Europe Institute (AEI), University of Malaya. We are now calling for original article contributions for the Jan, 2021 issue of the journal (Volume 7 Issue 1). The focus of this issue is the COVID-19 pandemic: Challenges and Issues for Asia and Europe. However, other articles that fall within the scope of the journal are also welcome.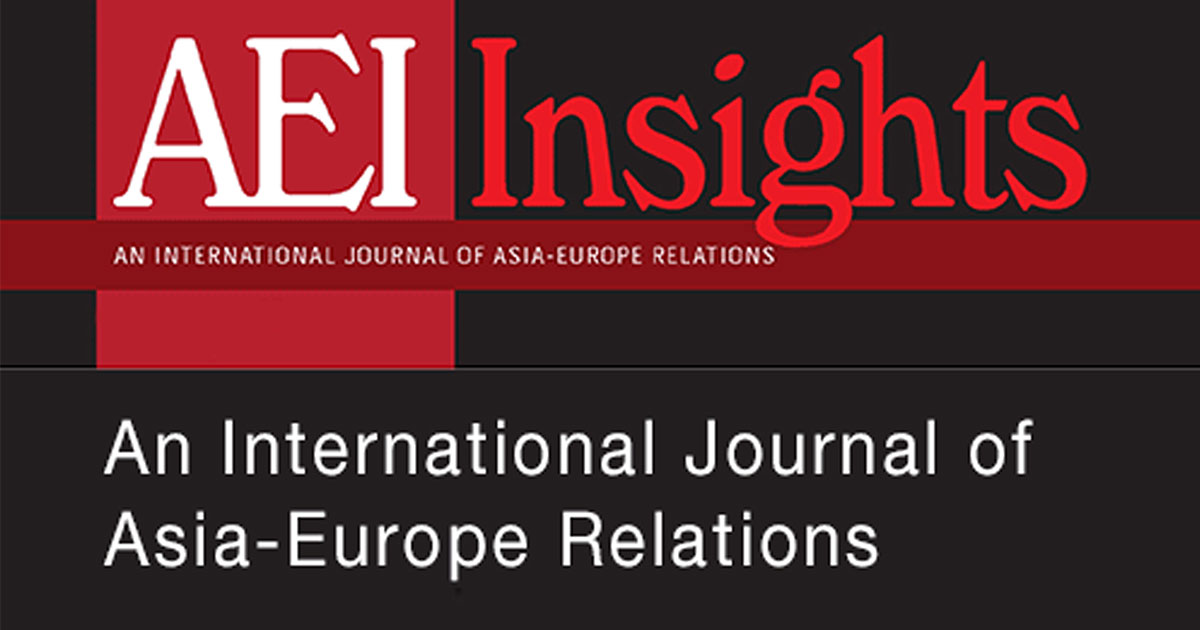 Established under the Asia-Europe Meeting (ASEM) process with a philosophy of enhancing Asia-Europe relations, AEI aims to foster exchange of students and scholars with a view to develop a better understanding of the cultures, histories, politics, institutions, economics, business and legal practices of both regions. The origins of AEI can be traced back to the idea of establishing closer higher education linkages between Asia and Europe under the provisions of the Asia-Europe Meeting (ASEM) initiative in 1996. AEI has been publishing AEI Insights journal since Jan, 2015 in order to contribute further to the achievement of this objective.
General Scope of Journal: Articles of bi-regional interest covering Asia and Europe which may involve topics related to: ASEAN, ASEM, East Asia, EU, geo-politics, geo-strategies, global governance, international cooperation, international organisations, political economy, regional values, regionalism, social issues in biodiversity, and sustainable development.
Manuscript Style: Authors should format submissions in Times New Roman with a 12-point font size and single-spaced. Manuscripts should follow the American Psychological Association (APA) guidelines. For details of the APA style, kindly refer to http://www.apastyle.org/
Manuscript Length and Language: Appropriate article length would be 6,000 – 8,000 words. However, article length out of this range may also be considered on a case-to-case basis. Article should include a concise abstract of 200–300 words and 5 -7 relevant keywords. Papers must be written using UK English.
Other artefacts such as Book reviews and Op-eds of about 1000 – 1500 word length are also considered for publication.
Last date for the submission of full article: 31st August 2020.
*Covid 19 related papers could be submitted immediately for fast processing and online hosting as Occasional papers.
You may also like to extend this invitation to other Professors and Senior Academic Researchers who you may know and may also be interested to contribute.
Past issues of AEI Insights could be assessed by visiting https://aei.um.edu.my/aei-insights. Jan 2021 issue (Vol 7 , issue 1) would be an 'online' issue only.
Please contact us at aei.insights@um.edu.my for submissions or for any other inquiry.
Assoc Prof Dr. Sameer Kumar
Managing Editor
AEI Insights: An International Journal of Asia-Europe Relations (ISSN 2289 - 800X)
Asia-Europe Institute
UNIVERSITY OF MALAYA
E-Mail: aei.insights@um.edu.my
URL: https://aei.um.edu.my/aei-insights
On behalf of Editor-in-Chief, AEI Insights