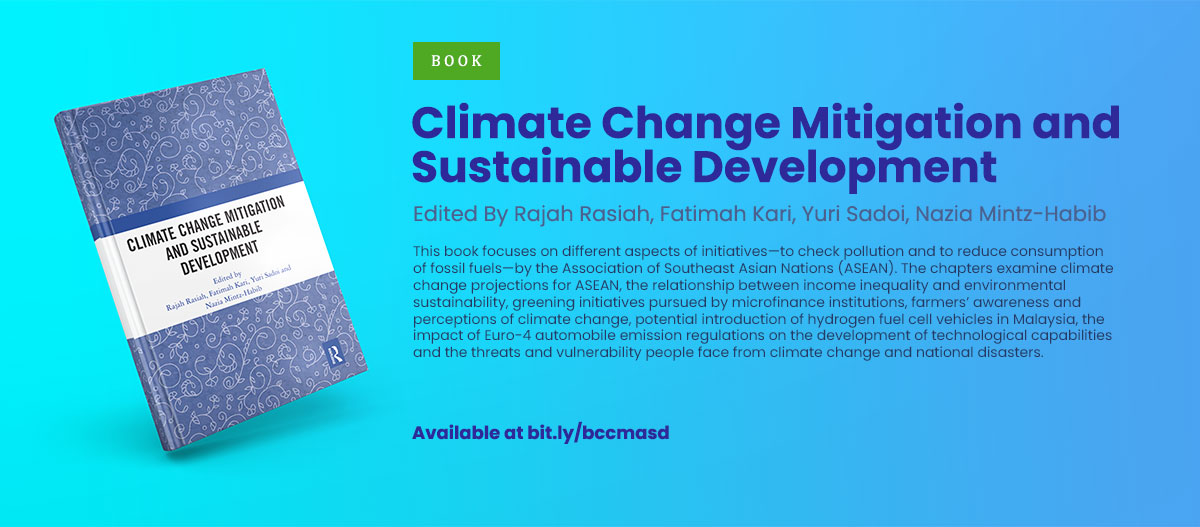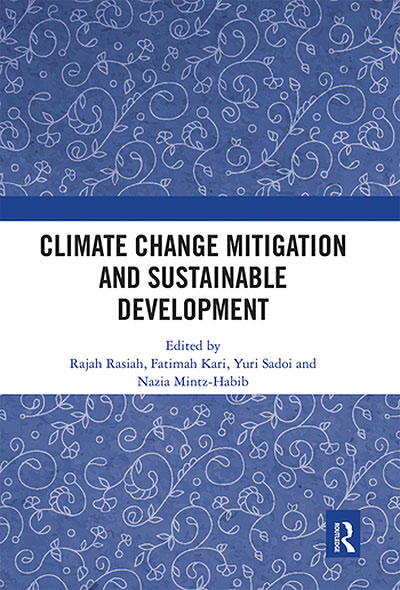 Climate Change Mitigation and Sustainable Development
Edited By Rajah Rasiah, Fatimah Kari, Yuri Sadoi, Nazia Mintz-Habib
eBook ISBN: 9780429029035
Paperback ISBN: 9780367663964
Hardback ISBN: 9780367138868
Pages: 154
Publisher: Routledge
This book focuses on different aspects of initiatives—to check pollution and to reduce consumption of fossil fuels—by the Association of Southeast Asian Nations (ASEAN). The chapters examine climate change projections for ASEAN, the relationship between income inequality and environmental sustainability, greening initiatives pursued by microfinance institutions, farmers' awareness and perceptions of climate change, potential introduction of hydrogen fuel cell vehicles in Malaysia, the impact of Euro-4 automobile emission regulations on the development of technological capabilities and the threats and vulnerability people face from climate change and national disasters.
The United Nations Framework Convention for Climate Change's Conference of Parties meetings to cap temperature rise to 1.5 degrees Celsius over the next century has set the steering and the interventions essential for mitigating global warming. There is increasing recognition that initiatives must be taken across the globe regardless of the state of development of each individual country, and so this book has important practical implications.
This book was originally published as a special issue of the Journal of the Asia Pacific Economy.
About the Authors
Rajah Rasiah is a Distinguished Professor of Economics at Asia-Europe Institute at the Universiti Malaya, Kuala Lumpur, Malaysia.
Fatimah Kari is a Professor of Economics in the Faculty of Economics and Administration at the Universiti Malaya, Kuala Lumpur, Malaysia.
Yuri Sadoi is a Professor and the Director of the Meijo Asian Research Center at Nagoya University, Japan.
Nazia Mintz-Habib is a Senior Research Fellow in the Centre of Development Studies at the University of Cambridge, UK.
Table of Contents
Climate change and sustainable development issues: arguments and policy initiatives
Climate change mitigation projections for ASEAN
Does income inequality affect environmental sustainability? Evidence from the ASEAN-5
Are microfinance institutions in South-East Asia pursuing objectives of greening the environment?
Farmers' perceptions, awareness, attitudes and adaption behaviour towards climate change
Introducing hydrogen fuel cell vehicles in Malaysia
The impact of Euro 4 automobile emission regulations on the development of technological capabilities in ASEAN
Threats, vulnerability, resilience and displacement among the climate change and natural disaster-affected people in South-East Asia: an overview