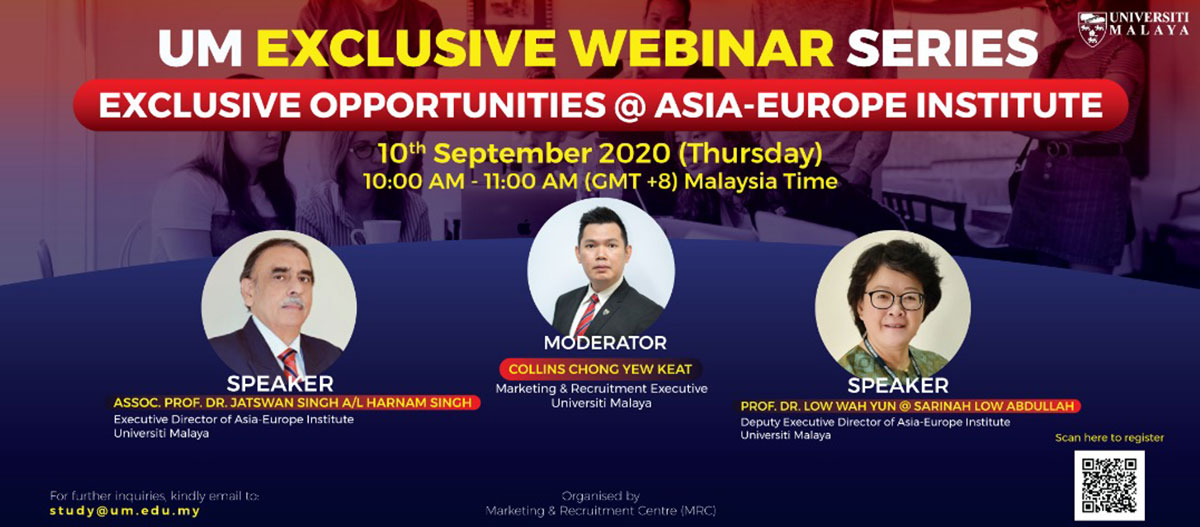 Registration: https://bit.ly/umwebinaraei
Greetings to all.
Have the intriguing yet highly interesting affairs and inner workings of Asian and European politics, economics and socio-cultural developments ever managed to amaze you and ignite the quest to learn and understand more?
At Asia Europe Institute, University Malaya, the spectrum and landscape of the great Asian and European historical, political and socio-cultural establishment, connotation and integration are widely analysed and dissected from a compendium of a holistically constructed academic platform that is futuristic, integrated and analytical.
Students will be exposed to world-class academic learning, supported by a team of prominent and highly esteemed experts and scholars, complemented by the fully comprehensive course structure, modules and programmes that are geared towards in-depth and strategic understanding, knowledge and mastery of the intended learning content.
Wait no more to get to know about these phenomenal opportunities and equip yourselves with the exclusive insight on the platform to enrol and be part of our community of excellence here in UniversitI Malaya.
You are very much welcome to join us for our upcoming webinar session on 10th September 2020 (Thursday) from 10:00 am to 11:00 am (GMT +8) Malaysia Time. The Executive Director of Asia Europe Institute himself, Associate Professor Dr Jatswan Singh as well as Executive Deputy Director Professor Sarinah Low will be the honourable guest speakers for this event. Do not miss out on this rare opportunity!!
Click the link down below to register or scan the QR code.
Registration: https://bit.ly/umwebinaraei