AEI/CARUM Online Lecture
Presented by Prof. Johan Saravanamuttu , Professor Emeritus, USM & Adjunct Professor, AEI, UM
Video lecture premiering on 4 Dec 2020 at 12:00 pm
---
Abstract
Reviewing the history and trajectory of Malaysia's foreign policy, this lecture highlights national role conceptions (NCRs) during the Tunku's period of 1957 to 1968 and the first and second Mahathir tenures of 1981-2003 and 2018-2020 respectively. Malaysia's foreign policy and its fundamentals have remained reasonably stable over prolonged periods but NCRs, which define foreign policy, have witnessed shifting nuances and noticeable changes under different premierships. Foreign policy under succeeding Malaysian governments have seen major shifts occurring in the transition of foreign policy in tandem with changing national role conceptions. Malaysian foreign policy articulated within the constraints posed by the global and regional environment and that of a highly politicised, often divided domestic landscape. In the Tunku era Malaysia was decidedly a Western ally, symbolised by NRCs of being "pro-West" and "anti-communist". Since then, Malaysia's relations with major powers and regional countries have shown a stable, neutral and non-aligned stance and it emerged as a "regional neutral strategist" under the premiership of Tun Razak. The lecture suggests that the shifts and revisions in Malaysia's NRCs under Mahathir as a "global champion of the South", exemplar of "Looking East" and "champion of moderate Islam" were not all just outcomes of elite preferences but reflected political agendas of elites and political agents within the domestic political "game". The lecture draws on some examples domestic contestations over NRCs and foreign policy to show the re-definition and even the abandonment of policy directions which were not consonant with the imperatives of the domestic political game.
(This lecture is based on a revised version paper written together with Eugene Mark and Nawaljeet Singh (my co-researchers in the project). The original paper was entitled "Revisiting National Role Conceptions under Mahathir Governments: Contestations and Transitions in Malaysian Foreign Policy". While gratefully acknowledging the substantive contributions of my co-researchers to the original paper, they should not be held responsible for errors, ommissions and the arguments of this current version)
Biodata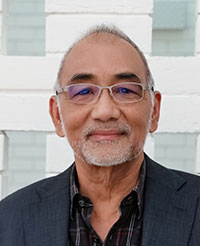 Johan Saravanamuttu is Professor Emeritus of Universiti Sains Malaysia (USM), Adjunct Professor at Asia-Europe Institute, University of Malaya and Adjunct Senior Fellow, RSIS, Nanyang Technological University. He was Visiting Senior Research Fellow at the Institute of Southeast Asian Studies, Singapore from 2007-2014. He has published extensively on Malaysia, its foreign policy, the middle class, general elections, the New Economic Policy and political Islam. His publications include: (ISEAS, 2010), Power Sharing in a Divided Nation: Mediated Communalism and New Politics over Six Decades of Elections in Malaysia (ISEAS-Yusof Ishak Institute, 2016), The Dilemma of Independence: Two Decades of Malaysia's Foreign Policy 1957 1977 (USM Press, 1983), The New Economic Policy in Malaysia: Affirmative Action, Ethnic Inequalities and Social Justice (NUS Press 2012, co-editor), Islam and Politics in Southeast Asia (Routledge, 2010, editor).
---