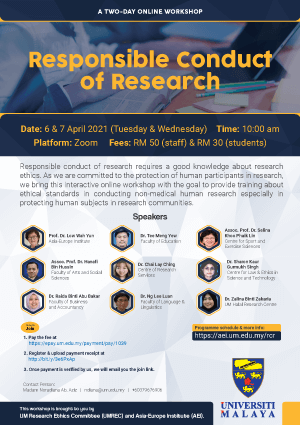 Title: Responsible Conduct of Research
Date: 6 & 7 April 2021 (Tuesday & Wednesday)
Time: 10.00 am
Fees: RM 50 (staff) & RM 30 (students)
This workshop is brought to you by UM Research Ethics Committee (UMREC) and Asia Europe Institute (AEI). Responsible conduct of research requires a good knowledge about research ethics. As we are committed to the protection of human participants in research, we bring this interactive online workshop with the goal to provide training about ethical standards in conducting non-medical human research especially in protecting human subjects in research communities.
Our two-day workshop combines lectures and small group discussions to provide practical information on protection of the rights and interests of human participants based on different case studies, specifically in the social and behavioural domain. These training materials are intended to be an educational resource for researchers. At the end of the program, the participants will be able:
To understand the importance of promotion of the highest of the ethical standards in non-medical human research
To recognise the key concepts in informed consent including respect for autonomy, voluntariness, decision-making capacity, disclosure of information, and understanding
To evaluate potential risk and its management especially in vulnerable populations
Contact person:
Madam Noradiana Ab. Aziz (ndiana@um.edu.my) +60379676906
Speakers
Programme Schedule
Day 1: 6 April 2021 (Tuesday), 10:00 am
Lecture
Introduction to UMREC - Prof. Dr. Low Wah Yun
Fundamental Principles of Research Ethics (mini case study) - Dr. Raida Binti Abu Bakar
Confidentiality and Right to Information (mini case study) - Dr. Sharon Kaur Gurmukh Singh
Informed Consent (mini case study) - Dr. Ng Lee Luan
Q&A
Day 2: 7 April 2021 (Wednesday), 10:00 am
Panel
Engaging with communities and understanding vulnerability

Evaluating risk and benefits
Active learning
Panellists: Dr. Chai Lay Ching, Dr. Tee Meng Yew & Dr. Zalina Binti Zakaria

Circumstances that might lead to conflict of interest affecting the independent judgement of researchers

Active learning
Panellists: Assoc. Prof. Dr. Selina Khoo Phaik Lin, Dr. Chai Lay Ching, Assoc. Prof. Dr. Hanafi Bin Hussin & Dr. Tee Meng Yew
How to join
Contact person:
Madam Noradiana Ab. Aziz (ndiana@um.edu.my) +60379676906