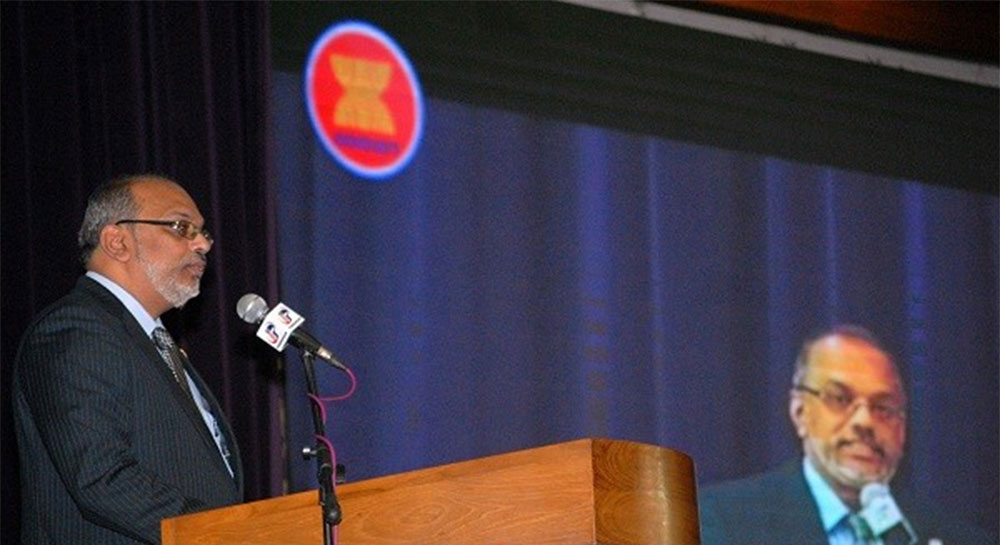 SPEECH BY
AMBASSADOR JOJIE SAMUEL
DIRECTOR-GENERAL, ASEAN-MALAYSIA NATIONAL SECRETARIAT (AMNS)
AT THE ASEAN INTERNATIONAL FILM FESTIVAL & AWARDS
(AIFFA) LAUNCH
TAYLORS UNIVERSITY LAKESIDE, SELANGOR
17 MARCH 2017
Yang Berhormat Datuk Lee Kim Shin
Assistant Minister for Tourism Sarawak
Yang Berbahagia Datuk Ibrahim Abdul Rahman
Director-General, Information Department Malaysia
Tuan Azmir Saifuddin Mutalib
Deputy Director-General, Perbadanan Kemajuan Filem Nasional Malaysia (FINAS)
Professor Michael Driscoll
Vice Chancellor and President, Taylor's University Lakeside Campus
Datin Paduka Shuhaimi Baba
Deputy President, Film Producers Association Malaysia
Mr. Jaffri Amin
AIFFA Executive Director
Ms. Livan Tajang
AIFFA Festival Director
Distinguished Guests, Ladies and Gentlemen,
Good Morning and Salam Sejahtera,
It gives me great pleasure to be with you here today. Let me express my appreciation to AIFFA 2017 for inviting me here today to the launch of the ASEAN International Film Festival and Awards 2017.
As you know, 2017 marks the 50th anniversary of ASEAN since its establishment in 1967. Over five decades of existence, there have been many milestones along the way.
One of the many notable milestones is the establishment of ASEAN Community in 2015 which is very significant as it signals to the rest of the world how far and how well we have achieved in coming together as one community.
ASEAN Community will bring new opportunities to the people of ASEAN and the broader global community. These include continued peace, stability and harmony in the region that will allow our people to pursue their dreams.
Excellencies,
Ladies and gentlemen,
With ASEAN's efforts to fostering a sense of belonging and ASEAN identity among our peoples, film is seen as a powerful medium to realise these goals. Film will break down unforeseen barriers and unite people from diverse cultures.
With a collective population of 630 million, being the seventh largest economy in the world, youthful demographics and a steadily expanding middle-class, ASEAN is set to become a hotspot for film-goers and filmmakers.
I believe AIFFA 2017 will offer a diverse range of film choices from the region. It will become a window for people inside and outside of the region to understand ASEAN and its peoples, and as an important platform to enhance the cultural exchange and cooperation between the ASEAN Member States.
Excellencies,
Ladies and gentlemen,
This year, as ASEAN celebrates its golden jubilee of establishment, it is a moment for both reflection and creation. The situation in the region at the time of ASEAN's founding has totally changed today. ASEAN is facing altogether a different set of ever-evolving challenges which must be addressed to ensure ASEAN's effectiveness and perpetuity.
With the power and influence of films, they become very accessible educational tools to inform ASEAN Member States communities about the diverse ASEAN religions, cultures, traditions and values, while building the sense of "belongingness" to come up with a "collective identity" that will make the individual members of the community proud to be an ASEAN person.
ASEAN films are well positioned to bring to the peoples the awareness and understanding of the very ASEAN Community we are building, not only its opportunities to seize but also its challenges to overcome as this will, in turn, encourage them to engage and participate in our mutual efforts. In line with the Kuala Lumpur Declaration on a People-Oriented, People-Centred ASEAN Community, ASEAN has been undertaking various initiatives to bring ASEAN closer to the peoples.
I am confident that AIFFA 2017 will not only raise public awareness of the diverse cultures of ASEAN, it will also help facilitate cooperation between the film industries within the region. I wish to commend the organisers of the AIFFA 2017 for furthering the art and craft of ASEAN filmmaking by inspiring and championing the work of screenwriters, filmmakers and all artistes.
I wish AIFFA 2017 all the success and I hope that you will all enjoy the Film Festival that will run from 4th to 6th of May 2017.
Thank you.
---
Source: ASEAN - Malaysia National Secretariat