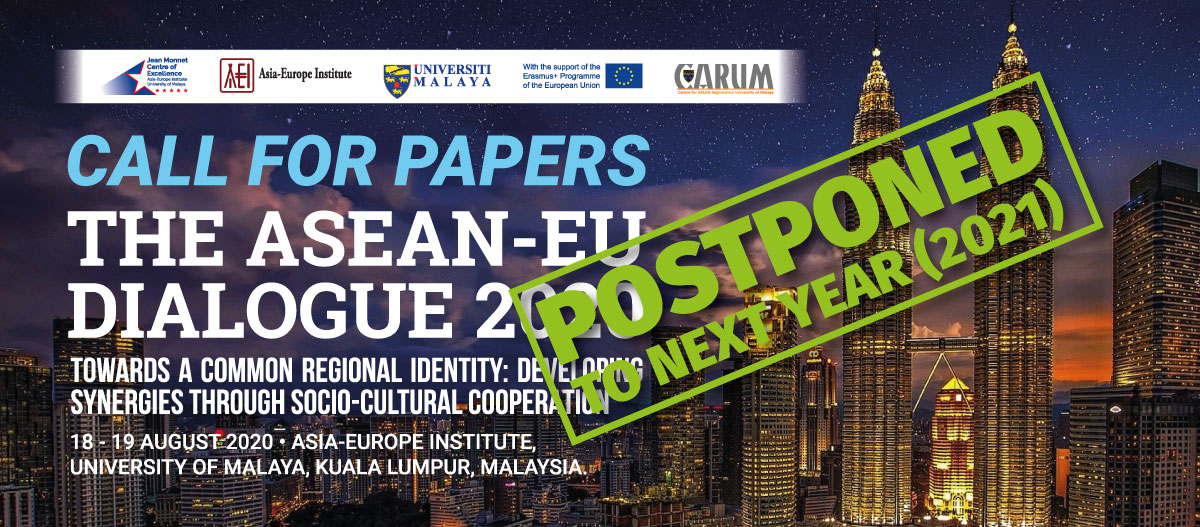 Call for Research Papers
The ASEAN-EU Dialogue 2020:


Towards a Common Regional Identity:
Developing synergies through Socio-Cultural Co-operation

The Asia-Europe Institute as part of its annual activities as a Jean Monnet Centre of Excellence is pleased to announce the ASEAN-EU Dialogue 2020 will be held tentatively in 18-19 August 2020. This year's conference will focus on socio-culture cooperation in the EU and ASEAN.

This conference aims to explore issues in building a common regional identity: Developing synergies through socio-cultural co-operation, and discussing possible solutions guided by distinct regional experiences and regional comparatives. The presenters will include academics, policy-makers and government representatives from ASEAN and the EU, with keynote speakers from each region.

The conference will bring together scholars, experts and officials from both Asia and Europe. It will contribute to an important dialogue which aims to promote mutual learning on regional integration approaches championed by ASEAN and the EU.

The AEI would like to invite academicians, practitioners, researchers, students and administrators from the private and public sectors to participate and submit papers to be considered for presentation.

We welcome both oral and poster presentations with a regional focus on either ASEAN or the EU or both on the following topics:
culture and heritage
education,
youth and sports,
health, social welfare and development,
women and gender
labour and civil service improvement,
rural development and poverty eradication,
environmental issues/concerns
Selected papers will be published in an edited volume.
Please submit an abstract of about 250 words along with your full name, institutional affiliation and contact details to asiaeuropeconference@um.edu.my
Important Dates:
Deadline for abstract submission: 6 May 2020
Acceptance notification: 29 May 2020
Deadline for full paper submission: 15 July 2020
Early bird registration deadline: 30 June 2020 (Fee: RM 350 / USD $100)
Registration deadline: 17 July 2020 (Fee: RM 450 / USD $130)
Conference date: 18-19 August 2020
Conference location: Auditorium, Asia-Europe Institute, University of Malaya
Contact persons:
Assoc. Prof. Dr. Sameer Kumar (sameer@um.edu.my - +603 7967 6929)
Dr. Nurliana Kamaruddin (nurliana.k@um.edu.my - +603 7967 4679)
Official website: https://aei.um.edu.my/aed2020