3 December 2020 (Thursday) • 3pm MYT (UTC+08)
Abstract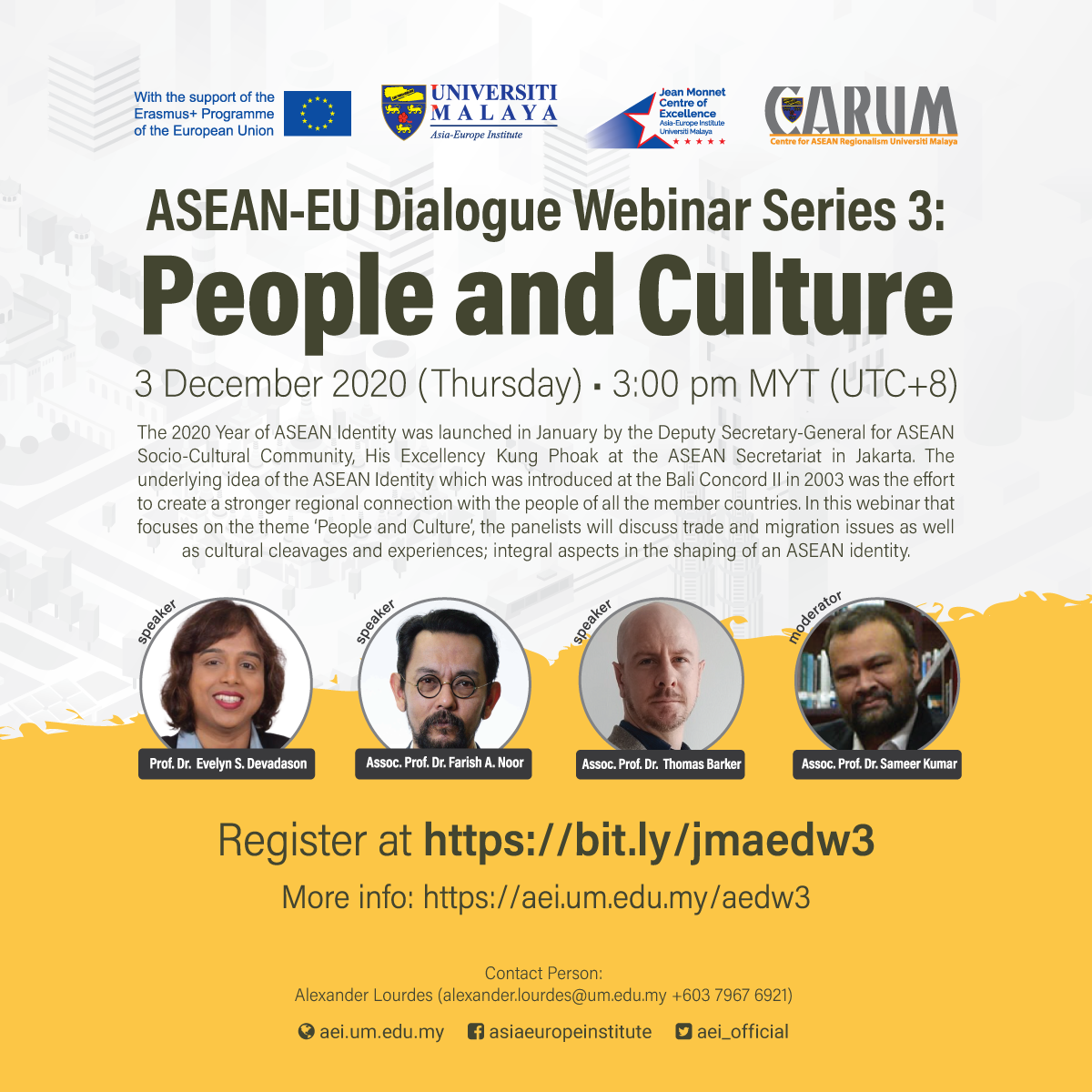 The 2020 Year of ASEAN Identity was launched in January by the Deputy Secretary-General for ASEAN Socio-Cultural Community, His Excellency Kung Phoak at the ASEAN Secretariat in Jakarta. The underlying idea of the ASEAN Identity which was introduced at the Bali Concord II in 2003 was the effort to create a stronger regional connection with the people of all the member countries. In this webinar that focuses on the theme 'People and Culture', the panellists will discuss trade and migration issues as well as cultural cleavages and experiences'; integral aspects in the shaping of an ASEAN identity.
Speakers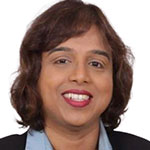 PROF. DR. EVELYN S. DEVADASON
Evelyn S. Devadason is Professor at the Faculty of Economics and Administration, University of Malaya, and Vice President of the Malaysian Economic Association (MEA). Her research focuses on international trade and regional integration. She currently serves as Associate Editor to the International Journal of Social Economics, and member to the Editorial Boards of the Journal of Contemporary Asia and Institutions and Economies. She has been engaged in several international research projects, ICFTU-APRO, ADBI, ADB, World Bank, ERIA-UNCTAD, FIA, UNEP-DTU, and more recently, the EU H2020 Research and Innovation Framework Programme on Competing Regional Integration in Southeast Asia.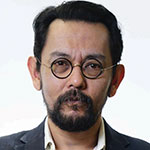 ASSOC. PROF. DR. FARISH A NOOR
Farish A Noor is associate professor at the S. Rajaratnam School of International Studies and guest professor at the School of History at Nanyang Technological University, Singapore. He has written extensively about nineteenth-century colonial Southeast Asia, and his latest works include Racial Difference and the Colonial Wars of 19th Century Southeast Asia (co-edited with Peter Carey, Amsterdam University Press, 2021) and Before the Pivot: America's Encounters With Southeast Asia 1800-1900 (Amsterdam University Press, 2018).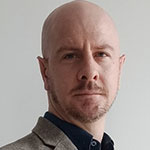 ASSOC. PROF. DR. THOMAS BARKER
Thomas Barker is Associate Professor of Film and Television and head of the School of Media Languages and Cultures at the University of Nottingham Malaysia. He is the co-editor of Southeast Asia on Screen: From Independence to Financial Crisis (1945-1998) (AUP, 2020) and the author of Indonesian Cinema after the New Order: Going Mainstream (HKU Press, 2019). He is a programmer for MIFFEST 2020 and has assisted Festival Film Dokumenter (Yogyakarta) and Freedom Film Festival (Petaling Jaya).
Moderator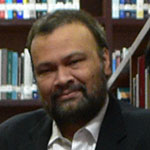 ASSOC. PROF. DR. SAMEER KUMAR
Dr. Sameer Kumar has a PhD in Social Networking and is presently working as Associate Professor at Asia-Europe Institute, University of Malaya. He is currently the Programme Co-ordinator for International Masters in ASEAN Studies program. He is the founding Managing Editor of AEI Insights (an official AEI peer reviewed journal) since 2014. His current research and teaching interests are in the field of Social Networks, Digital economy in Asia-Europe, Academic network, and History of Southeast Asia. He has several papers published in ISI-Web of Science indexed journals (publishers include Springer, Emerald, Wiley, McMillan Palgrave, Elsevier and others). He has regularly reviewed for top ISI journals including JMIR, PlosOne, JASIST, Scienometrics, and several others and supervises candidates at both Masters and PhD levels.