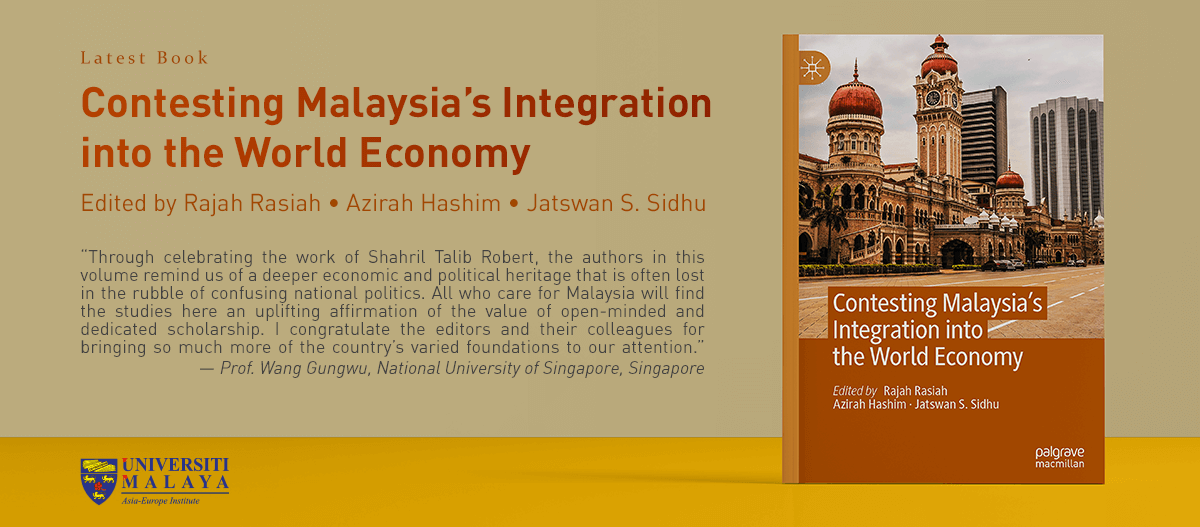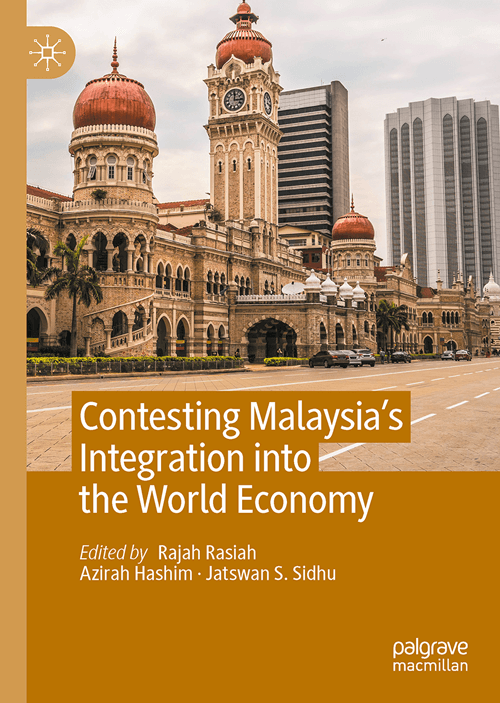 AEI's latest publication
Contesting Malaysia's Integration into the World Economy
Editors: Rajah Rasiah, Azirah Hashim & Jatswan S. Sidhu
eBook ISBN: 978-981-16-0650-2
DOI: 10.1007/978-981-16-0650-2
Hardcover ISBN: 978-981-16-0649-6
Number of pages: XIX, 268
Publisher: Palgrave Macmillan

This book brings together a set of incisive essays that interrogate Malaysian history and social relations which began during pre-colonial times, and extended to colonial and post-colonial Malaysia. It addresses economic misinterpretations of the role of markets in the way colonial industrialisation evolved, the nature of exploitation of workers, and the participation of local actors in shaping a wide range of socioeconomic and political processes.
In doing so, it takes the lead from the innovative historian, Shaharil Talib Robert who argued that the recrafting of history should go beyond the use of conventional methodologies and analytic techniques. It is in that tradition that the chapters offer a semblance of causality, contingency, contradictions, and connections. With that, the analysis in each chapter utilises approaches appropriate for the topics chosen, which include history, anthropology, sociology, economics, politics, and international relations. The collection of chapters also offer novel interpretations to contest and fill gaps that have not been addressed in past works. The book is essential reading for history students, and those interested in Malaysian history in particular.
Get the book here Download front matter
About the editors
Rajah Rasiah is Distinguished National Professor of Economics at the Asia-Europe Institute, Universiti Malaya. He is the 2015 recipient of the Celso Furtado prize from the World Academy of Sciences for advancing the frontiers of social science thought. He was made Distinguished Professor of Economics in 2017 by Malaysia's Ministry of Higher Education, and awarded the Merdeka Prize for scholastic excellence in 2018.
Azirah Hashim is a Senior Professor in the English Language Department, Faculty of Languages and Linguistics. Her previous positions include Executive Director of the Asia-Europe Institute, Director of the Centre for ASEAN Regionalism, Dean of the Humanities Research Cluster, and Dean of the Faculty of Languages and Linguistics. She is also Fellow of the Alexander von Humboldt Foundation, Germany.
Jatswan S. Sidhu is an Associate Professor in the Department of International and Strategic Studies, Faculty of Arts and Social Sciences, Universiti Malaya in Kuala Lumpur. He is also Executive Director of the Asia-Europe Institute (AEI), Universiti Malaya and Director, Centre for ASEAN Regionalism, University of Malaya (CARUM).
Table of contents
Introduction: Problematizing Historicization
Rajah Rasiah, Azirah Hashim, and Jatswan S. Sidhu
Revisiting Colonial Industrialization in Malaya
Rajah Rasiah
The Anthropology of the Malay Peasantry: Reflecting on Colonial and Indigenous Scholarship
Zawawi Ibrahim
Colonial Knowledge and the Construction of Malay and Malayness: Exploring the Literary Component
Shamsul Amri Baharuddin
Analysing Pre-modern Malay Political Systems: From Raffles to Shaharil Talib
Anthony Milner
Homage to Shaharil Talib and His Question of Divide in Malay Society: Merchants, Weavers and Specialists as the 'Middle-Class' of an Old Malay World
Maznah Mohamad
Malay Aristocrats' Participation in Business in Colonial Malaya
Sivachandralingam Sundara Raja
Malaysia's South Indian 'Coolies': Legacies of Imperialism, Colonial Capitalism and Racism
Viswanathan Selvaratnam
Sustaining the Hakka Chinese Identity in Sabah: The Role of the Basel Church
Danny Tze Ken Wong
Hegemonic Instability in the Evolving Geopolitics of Southeast Asia
Johan Saravanamuttu
The Legacy of Colonialism: Malaysia's Foreign Policy Under Tunku Abdul Rahman
Rahul Mishra and Peter Brian M. Wang