Reasons for Denmark - a small country with an open economy - joining the European collaboration in 1972. What is the EU- cooperation and how has the organisation evolved?. How does APEC cooperation compare to that of the EU?
EU and Denmark in Malaysia. Benefits and challenges! Experiences from the Pandemic in terms of EU-cooperation in Europe and beyond.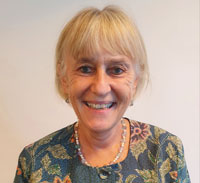 Ambassador Kirsten Rosenvold Geelan (born 1956) assumed her position as Ambassador of Denmark to Malaysia in September 2020 with a mission to continue to strengthen the good bilateral relations between Denmark and Malaysia.
Ambassador Geelan has served as Ambassador to a series of countries including Nepal (2013-2016), Republic of Cyprus (2011-2013), Bosnia and Herzegovina (2009-2011) and Republic of Estonia (2005-2009). Prior to her assignment in Malaysia, she served as Ambassador to Hungary (2016-2020).
She is also a recipient of the Knight of Dannebrog, 1st Order and Order of the Cross of Terra Mariana First Class (Estonia).
Ambassador Geelan has three sons and one daughter.