REPORT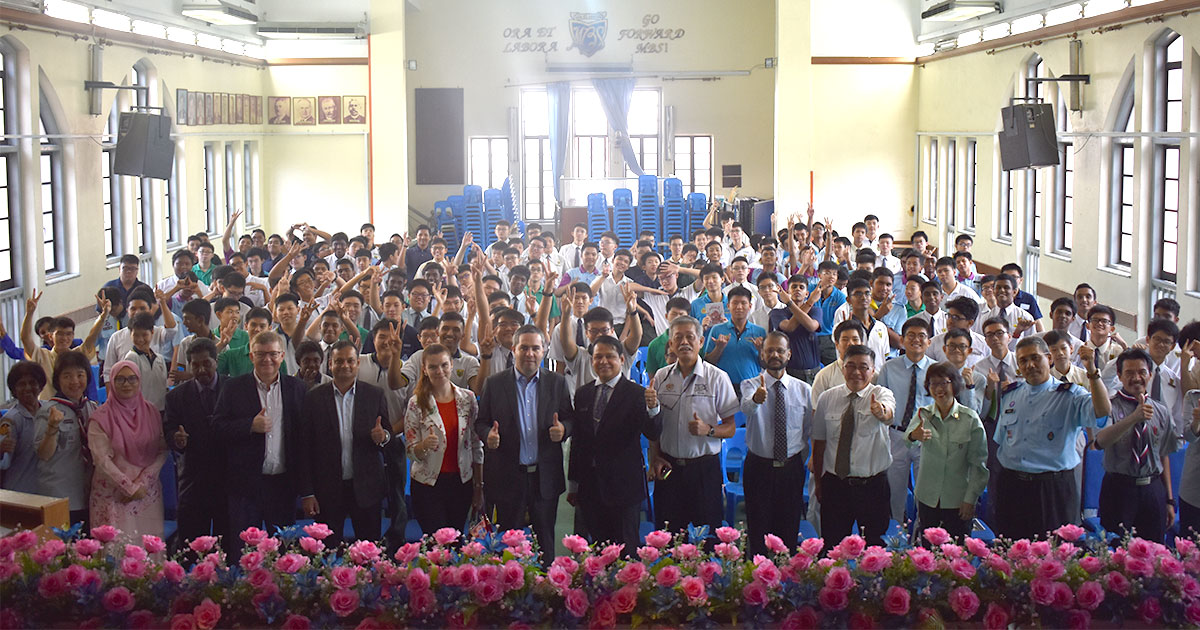 The Asia-Europe Institute (AEI), University of Malaya had an opportunity to organize the second Europe Day High School Outreach at the Methodist Boys' Secondary School Kuala Lumpur (MBSSKL) on Wednesday, 10 July 2019. The outreach was organized as part of AEI's activities as a Jean Monnet Centre of Excellence with support from the Embassy of Hungary in Kuala Lumpur and the Embassy of Ireland in Kuala Lumpur. The objective of this programme is to create awareness about the European Union and ASEAN among students in Malaysia.
The event started as early as 8:00 am with an introduction from Ms. Flora Grace Jeevamoney to a crowd of more than 100 students in the school's hall. She welcomed the invited guests including His Excellency Attila Káli, Ambassador of Hungary to Malaysia and Dr. Titanilla Tóth Deputy Head of Mission from the Embassy of Hungary in Kuala Lumpur, Senior Education Consultant – ASEAN Education in Ireland, Mr Cormac Kavanagh, the school's board of directors and also the AEI team led by Dr. Nurliana Kamaruddin, the Project Advisor. Ms. Jeevamoney later invited the school principal, Mr. Brendan Ravi Chandran to deliver the opening remarks. He enlightened the audience with the school's history and past achievements.
The first lecture and presentation for the students was an introduction to Hungary and study opportunities in Hungary by His Excellency Attila Káli, Ambassador of Hungary to Malaysia. According to the Ambassador, Hungarians are responsible for some popular creations we use today including the ball pen, colour tv and Rubik cube among others. This was followed by another presentation by Mr. Cormac Kavanagh, Senior Education Consultant – ASEAN, Education in Ireland. According to him, foreign students in Ireland are allowed to work for two years in Ireland upon completion of post-graduate education.
Dr. Rahul Mishra, Senior Lecturer of AEI gave the closing remarks on behalf of Professor Azirah Hashim, Executive Director of AEI. He highlighted some current issues involving the European Union and general knowledge about the regional organization. The event was concluded at 9:15 am with souvenir exchanges from MBSSKL's Principal to the AEI team and the foreign dignitaries.
Prepared by Hakim Nizam