REPORT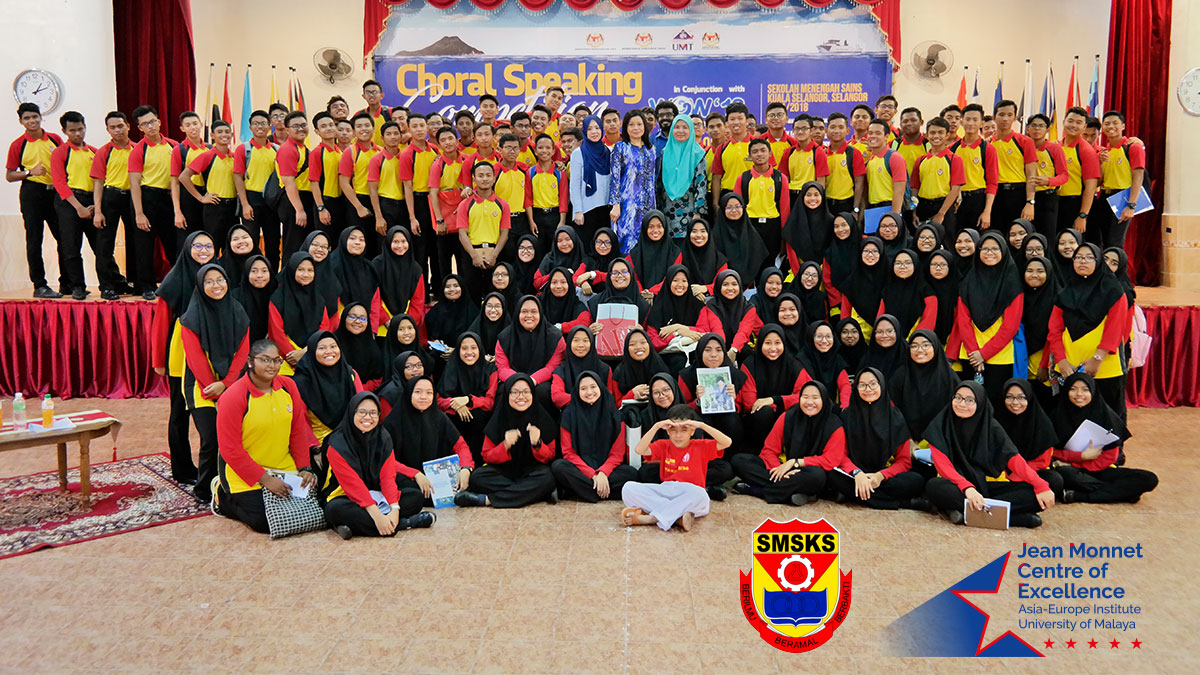 On 5 May 2018, the Asia-Europe Institute (AEI), University of Malaya in collaboration with the European Union (EU) Delegation to Malaysia organized the Europe Day High School Outreach Progam at Sekolah Menengah Sains Kuala Selangor (KUSESS) as part of its activities as a Jean Monnet Centre of Excellence. The high school outreach was organized with the aim of creating awareness among the high school students about the European Union (EU). It was also organized to promote the EU member states as a destination for their studies in the future as well as promoting the values of the European Union. A total of 130 students attended the program, which was held at the school hall. Mr Francisco Guerra Pires, a representative from the EU Delegation to Malaysia held an info session with the students by explaining the history of the European Union, the institution within the regional organization as well as the member states.
In addition to that, he talked about the Erasmus+ Exchange Program and the Erasmus Mundus Scholarship for higher education. Mr Francisco also shared his experiences of studying in Europe and what they could expect while pursuing their studies in Europe. There were a few questions by the students about the courses offered and universities that they should apply to. After the info session, the students were divided into groups and were entertained with some games and trivia prepared for them. They were asked to name their groups according to any European country before the games and trivia commenced. The game "Guess the Flag" tested their knowledge about the EU member states. This game also gauged what they knew about the EU member states by guessing the flag of the EU member state and answering a few questions about a particular EU member.
This was followed by a trivia about the European Union based on the info session by Mr Francisco. The students were given a few sets of questions to be answered according to their respective groups. After the games and trivia, Prof Dr Azirah Hashim, the Executive Director of the Asia-Europe Institute, University of Malaya delivered her closing remarks. She hoped that the students enjoyed their experiences and would grab the opportunity to study in Europe after they graduate from high school. The day ended with a prize-giving ceremony to the winning groups of the games and trivia and a group photo session.
Prepared by Aaron Denison Deivasagayam