REPORT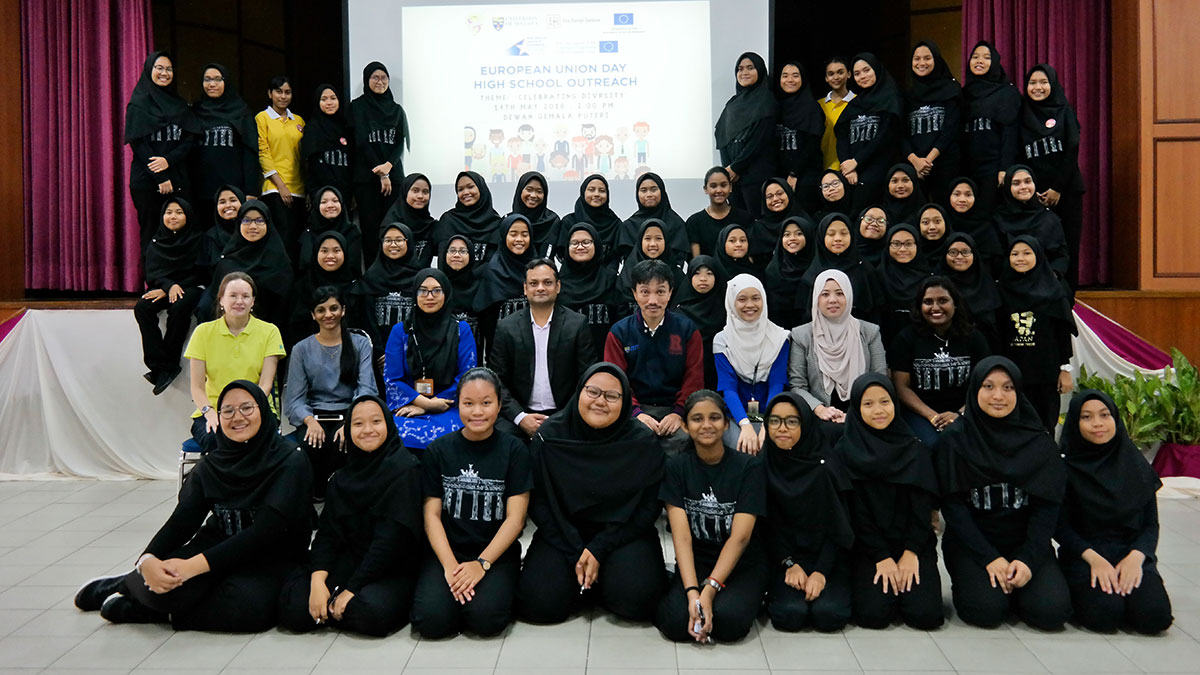 The second school visit for the Europe Day High School Outreach Program took place on the 14th May 2018 at the Sekolah Menengah Sains Seri Puteri (SESERI) Kuala Lumpur. The team consisted of the Activity Coordinator, led by Dr Nurliana Kamaruddin and the Jean Monnet Centre of Excellence team. The Asia-Europe Institute (AEI) continued its collaboration with the European Union Delegation to Malaysia with the aim to raise awareness of Europe Day to the Malaysian public schools, thus promoting Europe Day as part of the activities under the Jean Monnet Centre of Excellence. A total of 60 students from the school's German language program participated in the event.
The program kicked off with a presentation from Dr Nurliana on European regionalism and the formation of the European Union. This was followed by a Question and Answer session, including a brief student-sharing moment with the Jean Monnet Centre of Excellence Project Managers, Aaron and Sufi, on pursuing studies in the field of social sciences. A "Guess the Flag" game was organized for the students who were divided into groups of five. The students' groups were named based on the European Union member states and each group was required to guess the country name of several pictures of flags from the European Union member states. Points were collected based on the correct answers.
This was followed by closing remarks by Dr Rahul Mishra, Senior Lecturer at AEI where he and the students discussed some of the knowledge that the students have learned about the European Union and Europe. A prize giving session was then held for the top scorers during the game. This Europe Day High School outreached ended with a group photo session as well as the distribution of brochures and pamphlets with information concerning study opportunities in various EU member nations.
Prepared by Muhammad Sufi bin Muhamad Khirul Bahri