About the ASEM Summer School Project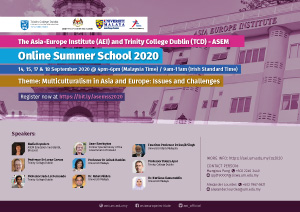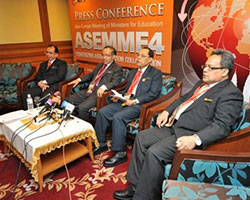 The 4th ASEM Meeting of Ministers for Education (ASEMME4) held in Kuala Lumpur in May 2013 welcomed the willingness of Malaysia and the Asia-Europe Institute of the University of Malaya to develop, in cooperation with other interested ASEM members, a programme that could share what Asia has to offer with students, academicians, and researchers from Europe and other parts of the world.
In response to this decision of ASEMME4, the Ministry of Education Malaysia, in collaboration with the Asia-Europe Institute, initiated the Asia-Europe Institute-ASEM Summer School (AEI-ASC). The AEI-ASC is designed to be a two-week programme that involves participants in educationally oriented field trips paired alongside relevant lectures to compliment the outdoor experiences.
The inaugural theme for the AEI-ASC in August 2015 was "Biodiversity and Cultural Heritage". The second theme of the Summer School held in the summer of 2016 was "Multiculturalism and Multiethnicity in Asia and Europe". For the third Summer School in 2017, the theme was "Cultural Plurality in Asia and Europe" and "Cultural Diversity in Asia and Europe" was the theme for the fourth one in 2018.
In 2020, the theme will be "Multiculturalism in Asia and Europe: Issues and Challenges".
The Asia-Europe Institute (AEI) and Trinity College Dublin (TCD) - ASEM Online Summer School 2020 on 'Multiculturalism in Asia and Europe: Issues and Challenges' explores issues related to multiculturalism and diverse societies in Southeast Asia and Europe. It includes modules that discuss increasing diversities arising from migration and greater mobility in the regions as well as the rise of identity politics and polarization within societies. Both ASEAN and the EU face common and differing challenges in their regional and global environment, and EU and ASEAN member states are also confronted with these issues within their own societies. This raises interesting questions and comparisons on how these issues are being addressed at the national and regional level. This summer school enables discussions of some of these issues with case studies provided for comparison to share best practices and ideas.
Due to the pandemic, the AEI/TCD-ASEM summer school this year will be held virtually via zoom. The second part of the summer school including field trips will be held in 2021 in Malaysia subject to the corona virus situation.
Certifications will only be given to the participants who have completed the whole SUMMER PROGRAMME (online lectures and field trips next year)
Contact persons:
Mengxue Peng (qqd190007@siswa.um.edu.my) +603 2246 3440
Alexander Lourdes (alexander.lourdes@um.edu.my) +603 7967 6921
Platform: Zoom
Asia-Europe Institute (AEI), Universiti Malaya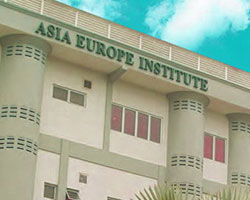 Located at the edge of the Botanical Garden of the centre of the Universiti Malaya's campus, the Asia-Europe Institute (AEI) serves Malaysia as one of Southeast Asia's leading institutions for social science postgraduate research and teaching.
AEI was established to enhance relations between Asia and Europe and encourage student and scholarly exchanges to increase knowledge and understanding of the two regions.
To learn even more about AEI, its vision, mission, and objectives, please visit our website.
Trinity College Dublin, Republic of Ireland and the Trinity Centre for Asian Studies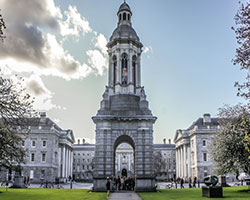 Trinity College Dublin, the University of Dublin is Ireland's premier university, with a proud tradition of excellence stretching back to its foundation in 1592. The oldest university in Ireland, and one of the oldest in Europe, today Trinity sits at the intersection of the past and the future, and is ideally positioned as a major university in the European Union.
Located in a beautiful campus in the heart of Dublin's city centre, Trinity is Ireland's highest ranked university and is ranked joint-101st in the world (QS 2020-21). It is home to 17,000 undergraduate and postgraduate students across all the major disciplines in the arts and humanities, and in business, law, engineering, science, and health sciences.
Trinity's tradition of independent intellectual inquiry has produced some of the world's finest, most original minds including the writers Oscar Wilde and Samuel Beckett (Nobel laureate), the scientists William Rowan Hamilton and Ernest Walton (Nobel laureate), the political thinker Edmund Burke, and the former President of Ireland and UNHCR Mary Robinson. This tradition finds expression today in a campus culture of scholarship, innovation, creativity, entrepreneurship and dedication to societal reform.
At Trinity we provide a liberal environment where independence of thought is highly valued and all are encouraged to achieve their potential. We promote a diverse, interdisciplinary, inclusive environment that nurtures ground-breaking research, innovation, and creativity through engaging with issues of global significance.
The Trinity Centre for Asian Studies acts as a focal point for Asian Studies at Trinity College Dublin, and brings together teaching and research in Chinese, Korean and Japanese Studies as well as other regionally-based scholarship and pan-Asian research. Our activities focus on contemporary society and culture, language learning, diaspora studies, and comparative studies including Asian-European studies. The centre's aim is to promote Asian Studies nationally and internationally, and in so doing, to be the leading knowledge centre in Ireland for policy-makers, business leaders and scholars in the field. The centre organises regular seminars, public lectures and events. The Trinity Centre for Asian Studies was formally opened in October 2015 by the Minister for Foreign Affairs and Trade, Charlie Flanagan, T.D.
Websites:
https://www.tcd.ie
https://www.tcd.ie/Asian
AEI/TCD-ASEM Online Summer School

Theme: Multiculturalism in Asia and Europe: Issues & Challenges
Lectures Online (Malaysia & Ireland)
Programme Duration:
Dates: 14, 15, 17 & 18 September 2020
Time: 4pm - 6pm (Malaysia Time - MYT) / 9am - 11am (Irish Standard Time - IST)
Programme Format: Each Lecture - 2 hours session, consists of:
1 hour: Presentation for Each Lecture (30mins for each speaker)
1 hour: Break-up Time & Group Discussion & Q&A
Monday, 14 September @ 4pm MYT / 9am IST
Welcoming Remarks by:
Assoc. Prof. Dr. Jatswan Singh, Executive Director, Asia-Europe Institute, Universiti Malaya
Prof Lorna Carson, Director of the Trinity Centre for Asian Studies, Trinity College Dublin
Opening Address by Datin Noorazah Binti Omar, Ministry of Higher Education Malaysia.
Introduction to ASEM Education by Nadia Reynders, ASEM Education Secretariat, Brussels.
LECTURE 1:
ASEAN: The Past, Present and Future by Dr. Nurliana Kamaruddin, Universiti Malaya
The Evolution of the European Idea: The Collapse of the Austro- Hungarian Empire in Central Europe by Professor Balazs Apor, Trinity College Dublin
Moderator: Prof. Dr. Sarinah Wah Yun Low
Tuesday, 15 September @ 4pm MYT / 9am IST
LECTURE 2:
Multilingualism in ASEAN by Professor Dr Azirah Hashim, Universiti Malaya
Multilingualism in Europe by Professor Dr Lorna Carson, Trinity College Dublin
Moderator: Dr. Nurliana Kamaruddin
Thursday, 17 September @ 4pm MYT / 9am IST
LECTURE 3:
Religious Pluralism in Asia by Dr. Roy Anthony Rogers/Emeritus Professor Dr Ranjit Singh, Universiti Malaya
Religious Pluralism in Europe by Professor Jude Lal Fernando, Trinity College Dublin
Moderator: Prof Lorna Carson
Friday, 18 September @ 4pm MYT / 9am IST
LECTURE 4:
Crisis-Migration in Asia by Dr. Rahul Mishra, Universiti Malaya
Ireland's Successful Bid to Join the UN Security Council for the 2021-22 Term by Anne Barrington, former Special Envoy of the Government of Ireland
Moderator: Prof Azirah Hashim
Speakers
Registration
Registration can done here: https://bit.ly/asemss2020
Once registered, you will receive Zoom join link in your email.
Warm Prompt: The Certification will only be given to the Participants who have completed the Whole SUMMER PROGRAMME ( "Online Lectures" and "Field Trips" ).