Event Programme
9.30 am: Registration
10.00 am: Welcoming address by Acting Director of AEI, Assoc. Prof. Dr. Jatswan Singh
10.05 am: Public Lecture by H.E. Prof. Krzysztof Dębnicki, Ambassador of Republic of Poland to Malaysia
11.00 am: Comments & discussion by Dr. Rahul Mishra
11.30 am: Q&A
12.00 pm: Launch of the Exhibition on Polish Citizens during WWII
12.15 pm: Lunch
Abstract
In November 1918, after more than 150 years of colonial domination by Poland's neighbouring states Russia, Prussia and Austria, Poland emerged again as an independent state. It was a painful but ultimately a successful process. Twenty years later, in September 1939 its two neighbours, Germany and Soviet Union jointly attacked and dismembered Poland again. The Second World War in Europe had begun. In the world's most bloody conflict Poland lost close to 7 percent of its population which was probably the highest loss among all the belligerents as compared to the size of the population. The country was devastated, the capital city of Warsaw lay in ruins. Units of the Polish Army fought the Germans in North Africa, Italy, France, Soviet Union, Poland and Germany, liberated Holland. Polish fighter squadrons flew missions during the Battle of Britain. Unfortunately, while in 1945 the liberation of Western Europe brought democracy and economic development, Poland, like other Central and Eastern European states was occupied by Soviet troops and forced to accept the Soviet domination, the communist economic model and the membership of the Warsaw Pact. It took the Polish people close to half a century of constant struggle to finally free itself from the Soviet communist yoke and join the community of free nations.
About H.E. Krzysztof Dębnicki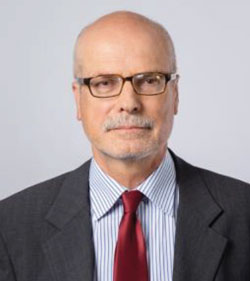 H.E. Prof. Krzysztof Dębnicki is a Polish scientist and diplomat serving as a Poland Ambassador to Malaysia (since 2018), to Pakistan (2007–2010) and Mongolia (2001–2005). He studied at the University of Ghana from 1968 to 1970. He earned his Master of Arts degree in History from the University of Warsaw in 1975. In 1983 he defended his Ph.D. thesis on political transitions in Nepal between 1950 and 1980. In 2008 he gained his post-doctoral degree – habilitation – on political system of India. He speaks Polish, English, Russian languages.
Dębnicki specializes in history and politics of Central Asia and South Asia. In 1975 he started working at the University of Warsaw Department of Oriental Studies. He has been doing his research at the University of Delhi (1985/1986) and New York University (1990/1991). In the 1970s and 1980s he carried out several road journeys to Central Asia, Pakistan, India, Nepal, Sittim, China (including Tibet and Xinjiang) and Mongolia. Apart from scientific publications, he has also been publishing in newspapers, e.g. Gazeta Wyborcza, Rzeczpospolita, Tygodnik Powszechny, National Geographic, The Guardian.
Dębicki joined the Polish diplomatic service in 1993 and became desk officer responsible for Iran and the Persian Gulf countries. In 1995 he was appointed Counselor in the Poland Embassy in New Delhi, managing Poland-India political relations. For nine months he was chargé d'affaires there. In 1999 he ended his term. He went back to Poland on motorbike, travelling through Central Asia and Russia. In 2001, following work for the Asia and Australia Department, he was nominated Ambassador to Mongolia whose purpose was to reopen the embassy. He returned to Warsaw in 2005. For the next two years he worked as a lecturer at the University of Warsaw and Collegium Civitas. Between 2007 and 1 September 2010 he was an Ambassador to Pakistan.
In January 2018 Dębicki was nominated Poland Ambassador to Malaysia. He took the post in September. He presented his credentials to Sultan Nazrin Shah of Perak on 7 November 2018.