Multiculturalism in ASEAN – Online Course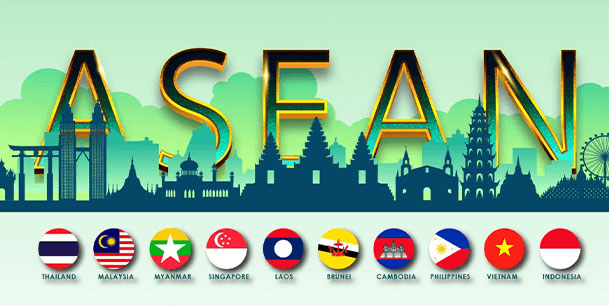 The AEI is proud to present the 4-week online course Multiculturalism in ASEAN. The course explores, firstly, aspects of multiculturalism at the regional level and analyses the various approaches towards understanding cultural diversity and multiculturalism in the ASEAN context. In addition, it examines societal multilingualism and the contexts and use of languages in different societies and communities in the region. It also investigates the management of cross-cultural diversity in the workplace which is so essential for work productivity, and finally, assesses, multiculturalism around the world.
Enroll for free at FutureLearn : Multiculturalism in ASEAN
---
AEI Events
Throughout January to June, the Asia-Europe Institute actively hosted various webinars, workshops and online events that were open not only to Universiti Malaya students but also to the general public.
Asia-Europe Institute, UM & ANU Malaysia Institute Webinar: "Where to Next for Malaysia's Social Cohesion Model?"
The Asia-Europe Institute, in conjunction with the ANU Malaysia Institute, began the year 2021 with a Webinar on January 20, 2021, themed "Where to Next for Malaysia's Social Cohesion Model?". Prof. Johan Saravanamuttu, Adjunct professor at the AEI moderated this webinar, which also featured three other speakers: Dr. Amrita Malhi of the Australian National University, Prof. Terence Gomez of the University of Malaya, and Dato' Sri Nazir Razak of Ikhlas Capital. This webinar explored the pandemic and recession that have both devastated Malaysia, about a year after the country's tumultuous racial and religious politics toppled a short-lived government.
Asia-Europe Institute (AEI), Centre for Law and Ethics in Science And Technology (CELEST) & UM Research Ethics (UMREC) Webinar: Vaccine Allocation Strategies in Malaysia: Ethics and Social Justice"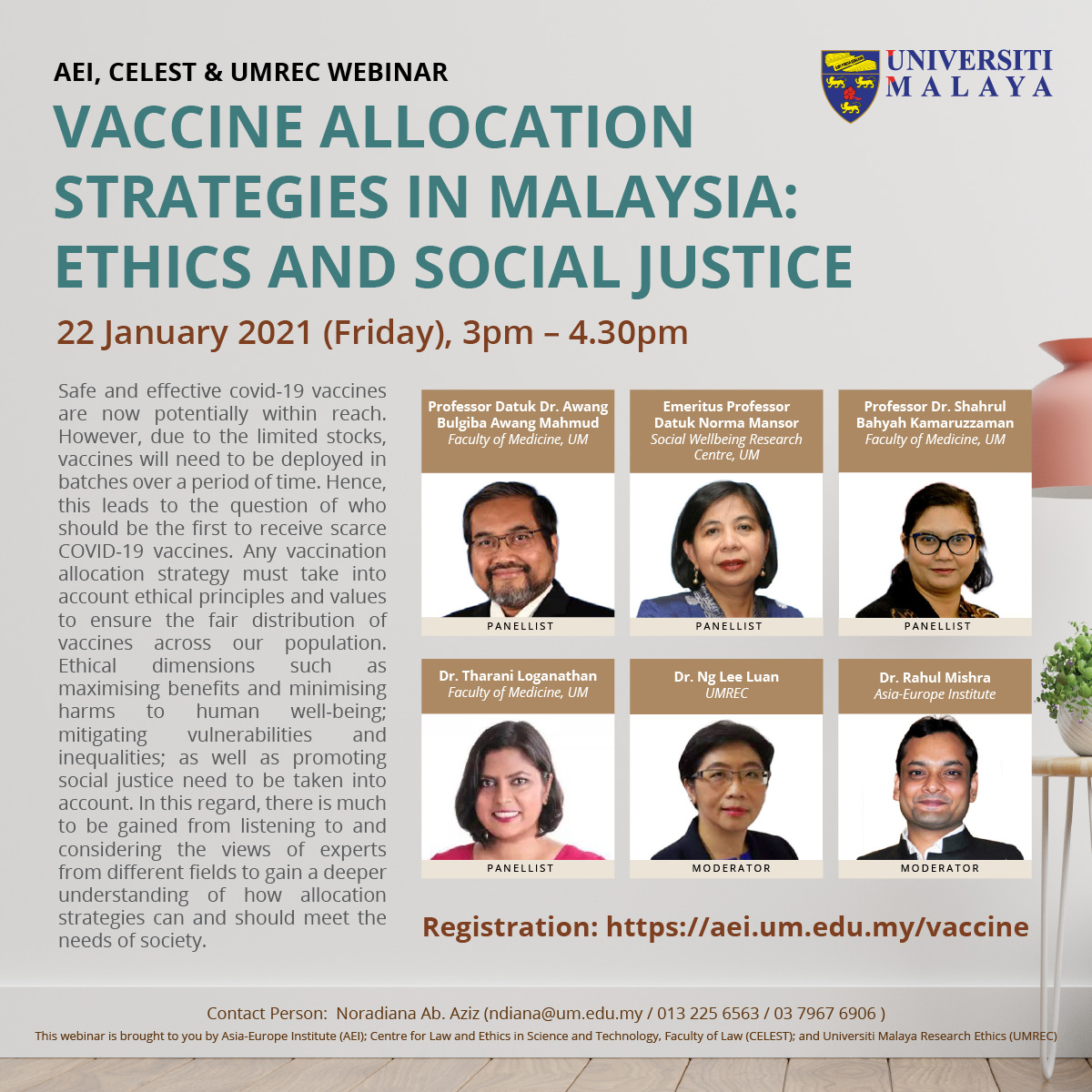 On 22 January 2021 (Friday), 3 pm - 4.30 pm AEI, in collaboration with the Centre for Law and Ethics in Science and Technology (CELEST) and UM Research Ethics (UMREC), discussed the Government of Malaysia's Vaccine Immunization Program, which began in early 2021. Due to a scarcity of vaccines, vaccines will have to be distributed in batches over time. The speakers in this series of Webinars addressed some of the common topics, such as who should get the COVID-19 vaccine first. To ensure a fair distribution of vaccines throughout our population, all vaccination allocation strategies must take ethical principles and values into account.
Affirmative Action in Malaysia and South Africa: Preference for Parity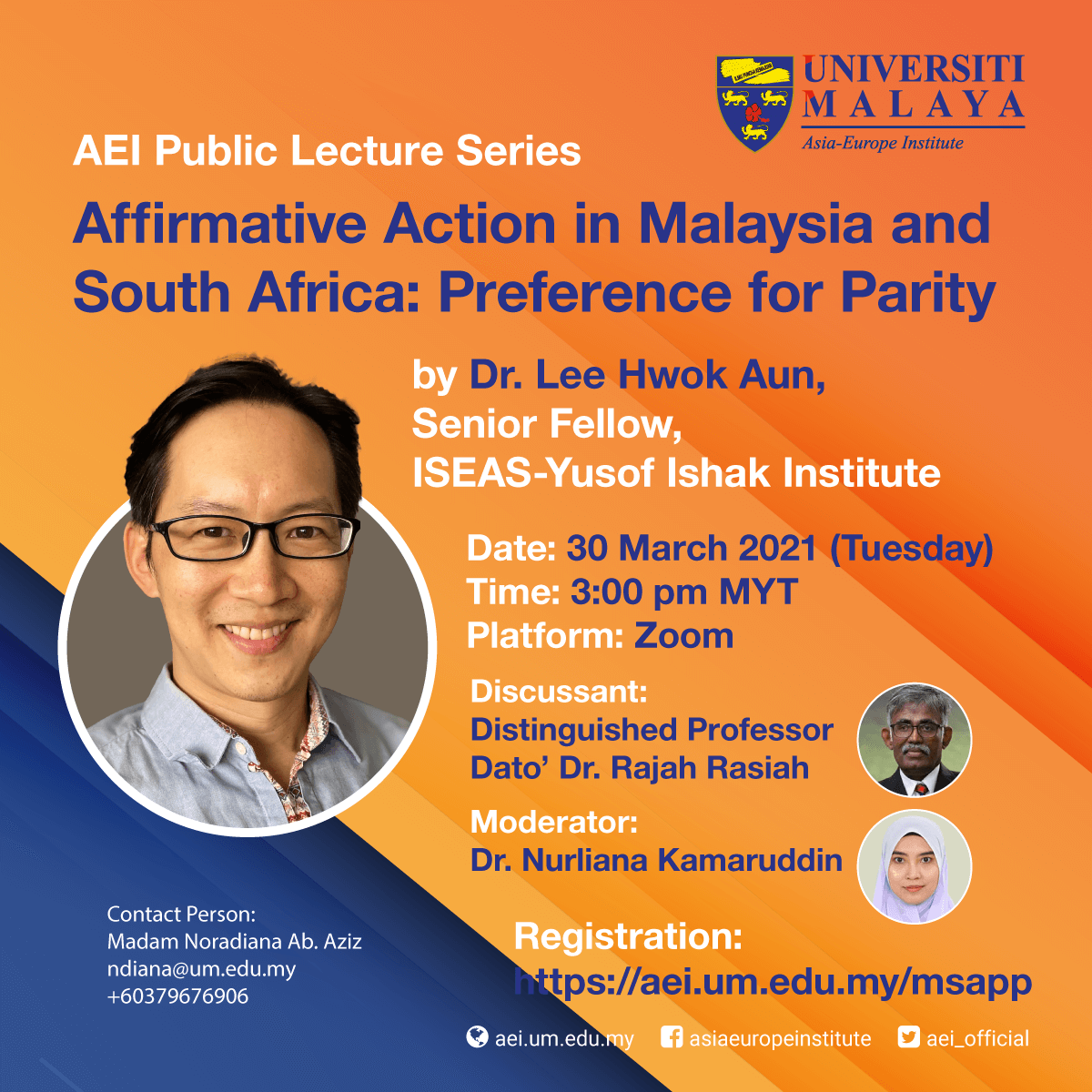 Dr. Lee Hwok Aun, Senior Fellow at the ISEAS-Yusof Ishak Institute, gave the first AEI public lecture on March 30, 2021 (3:00 pm) on the topic "Affirmative Action in Malaysia and South Africa: Preferences for Parity." According to Dr. Lee's research, Malaysia and South Africa have the world's most comprehensive and ambitious affirmative action programmes, employing preferential selection to increase the representation, upward mobility, and capacity of the disadvantaged and politically dominant majority groups. He compared the settings, programmes, and effects of both countries' affirmative action policies. He also points to differences in constitutional foundations, political-economic dynamics of ethnicity and governance, and minority power size. In Malaysia, affirmative action is characterised by discretionary decision-making and centralised, quota-based programmes, whereas in South Africa, affirmative action is characterised by centralised, quota-based programmes. In terms of policy achievements, he also noted that both Malaysia and South Africa have made measurable advances in broadening participation and aiding upward mobility of Bumiputeras in Malaysia and blacks in South Africa.
Responsible Conduct of Research
A two-day workshop on "Responsible Conduct of Research" was held on April 6 and 7, 2021, co-hosted by the UM Research Ethics Committee (UMREC) and the Asia Europe Institute (AEI). The workshop was attended by research experts with extensive research backgrounds as speakers in fields such as Medicine, Sports Science, Social Science, Language, and many others. During the two days of workshops, lectures and small group discussions were held to provide participants with practical information on the protection of their human rights and interests based on various case studies, particularly in the social and behavioural domains.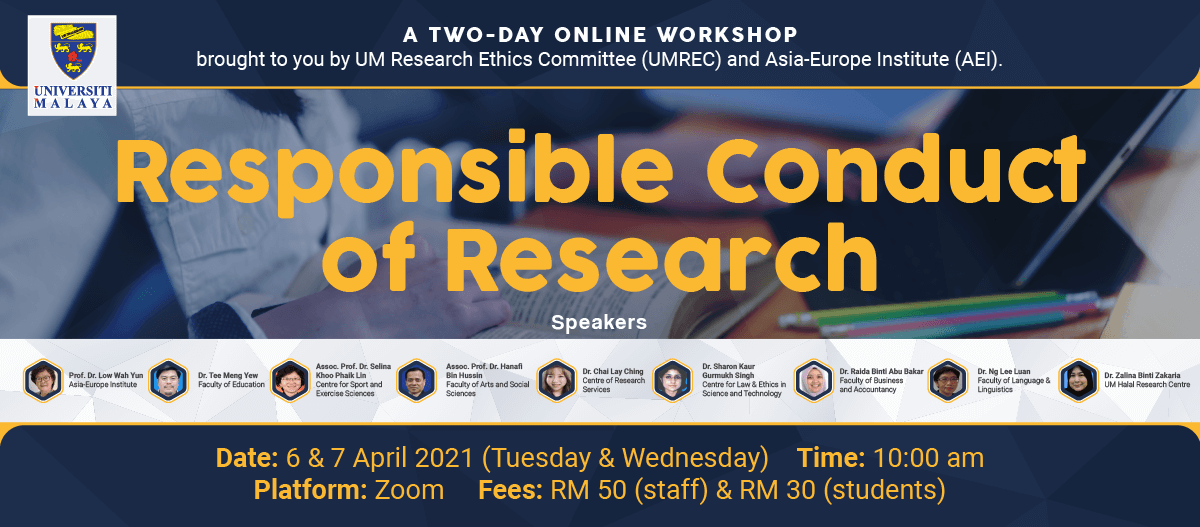 AEI-HUAWEI Industrial Panel Session: Digitalization and Regionalism: Challenges faced by SMEs in Malaysia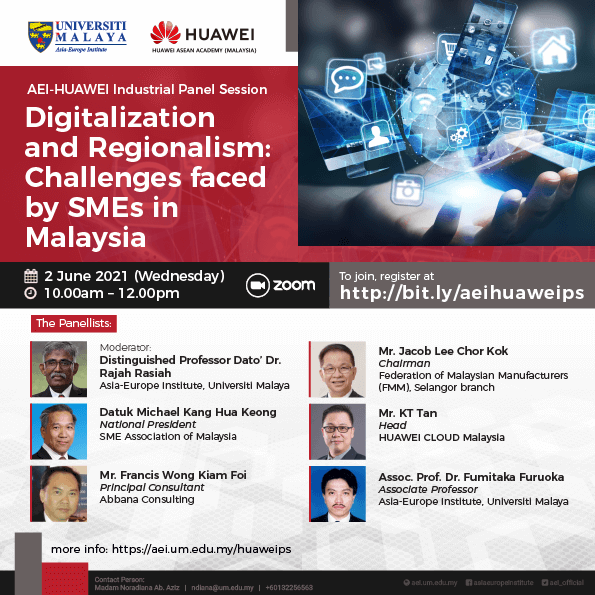 AEI, in collaboration with HUAWEI hosted its first Industrial Panel Session titled "Digitalization and Regionalism: Challenges Faced by SMEs in Malaysia," with Distinguished Prof. Dato' Dr. Rajah Rasiah from AEI as the moderator. The panel composed of Datuk Michael Kang Hua Keong (National President of the SME Association of Malaysia), Mr Francis Wong Kiam Foi (Principal Consultant, Abbana Consulting), Mr Jacob Lee Chor Kok (Chairman, Selangor Branch, Federation of Malaysian Manufacturers), Mr KT Tan (Head, Huawei Cloud Malaysia), and Associate Prof Dr Fumitaka Furuoka from the AEI.
---
The AEI has also successfully concluded the Erasmus+ 'Building Social Research Capacities in Higher Education Institutions in Lao PDR and Malaysia' (BRECIL) and the Jean Monnet Centre of Excellence (JMCoE) projects in the first half of 2021.
Erasmus+ 'Building Social Research Capacities in Higher Education Institutions in Lao PDR and Malaysia' (BRECIL) Conference
The Building Social Research Capacities in Higher Education Institutions in Lao PDR and Malaysia (BRECIL) is an Erasmus+ CBHE initiative that ran from 2017 to 2021, headed by the Asia-Europe Institute, Universiti Malaya with three EU partners, two Laos partners and another Malaysian partner higher education institutions. This marked the conclusion of the project, and the two-and-a-half-hour conference session featured a variety of discussion topics shared by several speakers from all of the participating universities. The project's primary goal is to train and empower social science researchers to design, prioritise, and conduct research, as well as write up and publish research findings and inform policy, through training and peer learning. The second goal was to improve research governance by increasing the capacity of university research departments and teams to fund, administer, and maintain themselves. The final goal was to develop a long-term research capacity-building programme in the social sciences that included the use of ICTs and resulted in high-quality research that could be sustained. It was hoped that by the end of the project, the Lao PDR's research capability would have improved and that the project would have contributed to greater intra-ASEAN mobility among higher education institutions.
Jean Monnet Centre of Excellence Ambassador Lecture Series 2021 Webinar
This year AEI concludes the activities of the Jean Monnet Centre of Excellence (JMCoE) in the first half of 2021. As the only Jean Monnet Centre of Excellence in the region, the AEI's focus is to conduct activities and research based on joint learning between the EU and ASEAN. The Ambassador Lecture Series is part of the flagship lecture series hosted by the AEI and in the first half of 2021, the AEI was proud to showcase some of the eminent ambassadors from the EU.
Denmark and the EU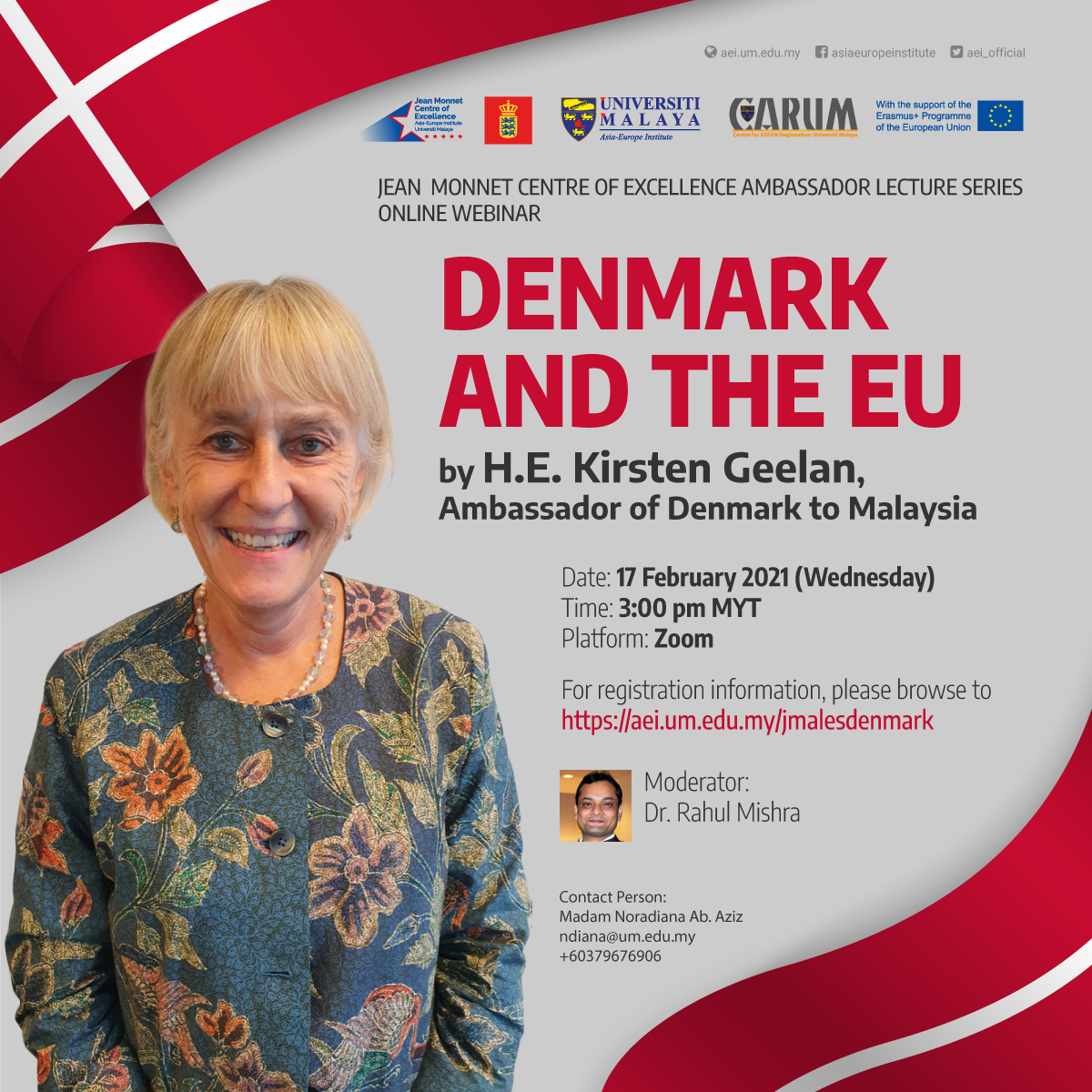 The first JMCoE Ambassador Lecture Series of the year began on February 17, 2021 (Wednesday) at 3:00 pm, with H.E. Kirsten Geelan, Danish Ambassador to Malaysia. Ambassador Kirsten Rosenvold Geelan was appointed as Denmark's Ambassador to Malaysia in September 2020, to continue to develop the two countries' positive bilateral relations. During this lecture series, she discussed the reasons for Denmark's participation in the European collaboration, as well as how the organisation evolved. She also discusses the similarities and differences between EU and APEC cooperation. She also spoke about the EU's and Denmark's cooperation in Malaysia. Benefits and challenges, as well as lessons learned from the pandemic in terms of EU cooperation in Europe and elsewhere. Read the rapporteur's Report here.
Managing in a Pandemic: View from Hungary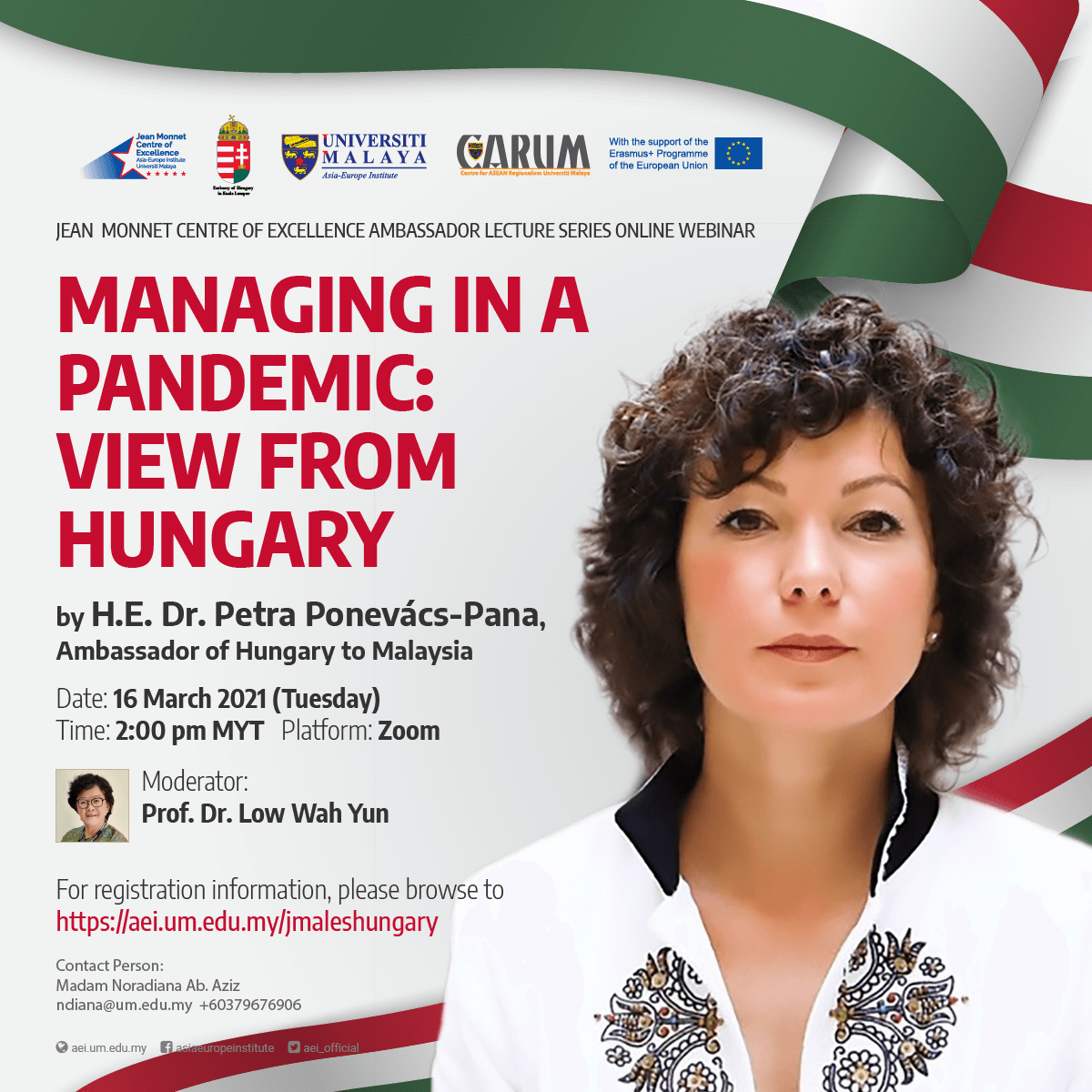 The second JMCoE Ambassador lecture series was held on March 16, 2021 (Tuesday) at 2:00 p.m, and was presented by H.E. Petra Ponevács-Pana, Hungarian Ambassador to Malaysia, who discussed the topic "Managing in a Pandemic: Perspectives from Hungary." She has discussed how the Hungarian Government has successfully managed the Vaccination Program in the country since pre-registration of the Covid-19 vaccine began on 8 December and has started an immunization program from December 26, 2020. She also discussed the steps taken by the Hungarian government to deal with the economic pressures caused by the Covid-19 pandemic. Hungary's government has devised an economic strategy with a primary focus on job preservation (instead of providing subsidies to the unemployed). These measures were proven to be effective because, in December 2020, the same number of people were employed as before the pandemic. The Prime Minister announced in January that the economy-restarting action plan would be implemented in three stages. Aside from that, she also spoke on Hungary's Family Benefits System. Hungary, as a Christian-democratic government, has implemented a family-centred policy. It aims to restore Hungarians' trust in the future by refocusing on families and meeting their long-term needs. The goal is to reverse negative demographic trends by allowing Hungarians to realise their potential.
The Nordic Model: Swedish and Norwegian Perspectives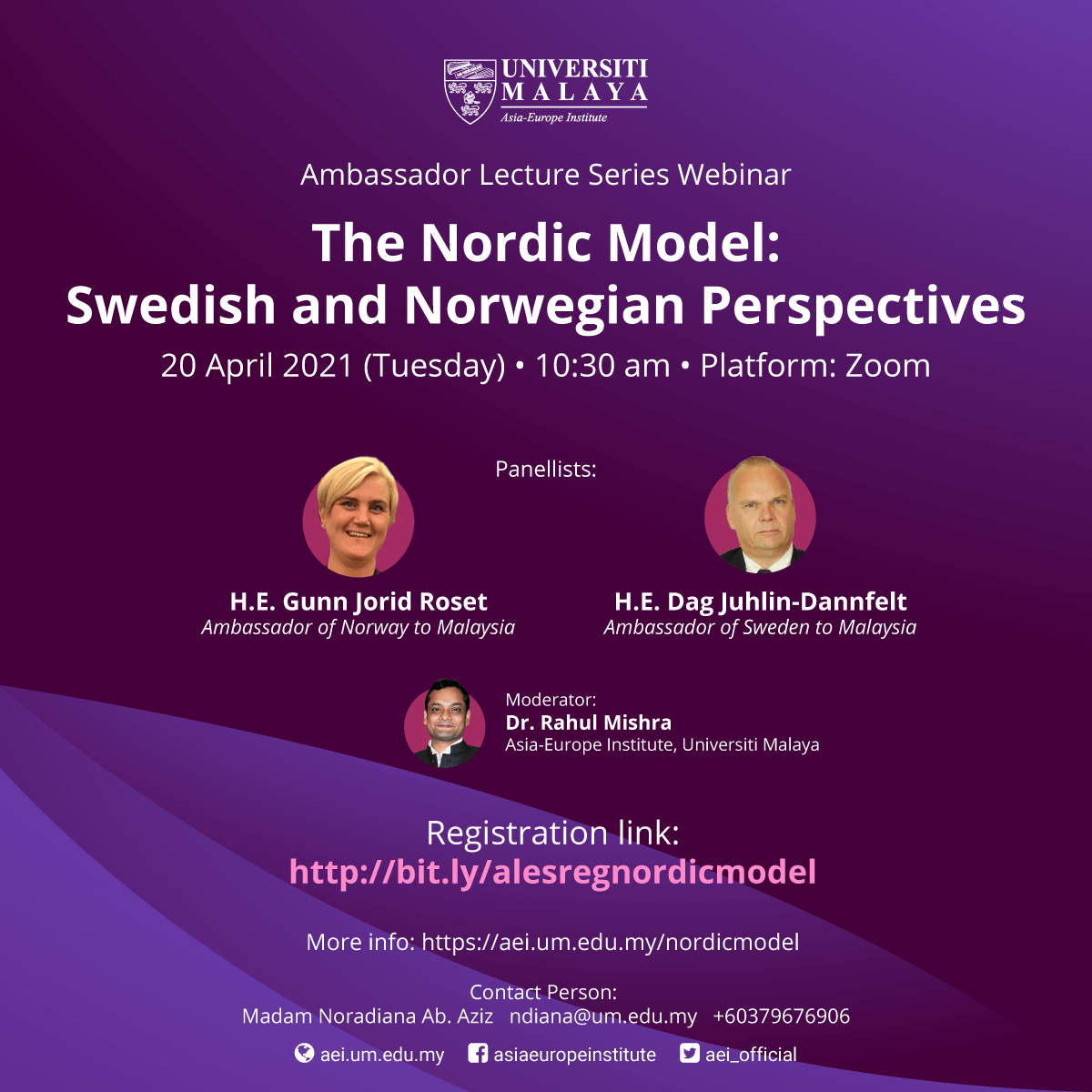 H.E Dag Juhlin-Dannfelt Ambassador of Sweden to Malaysia and H.E Gunn Jorid Roset Ambassador of Norway to Malaysia, as well as moderator Dr Rahul Mishra Senior Lecturer at AEI, gave a JMCoE Ambassador lectures series on April 20, 2021 (10:30 am). The two speakers in this lecture series discussed the Nordics, a group of countries linked together not only by formal cooperation but also by shared values and history. The two ambassadors also discussed their perspectives on Nordic cooperation in general and in Malaysia during the talk. The topics of sustainability, gender equality, green growth, and the Nordic imprint are highlighted. They also discussed how Malaysia could use this model to conduct cooperative relations with other countries.
Video Lecture: Global Ireland in Asia and Europe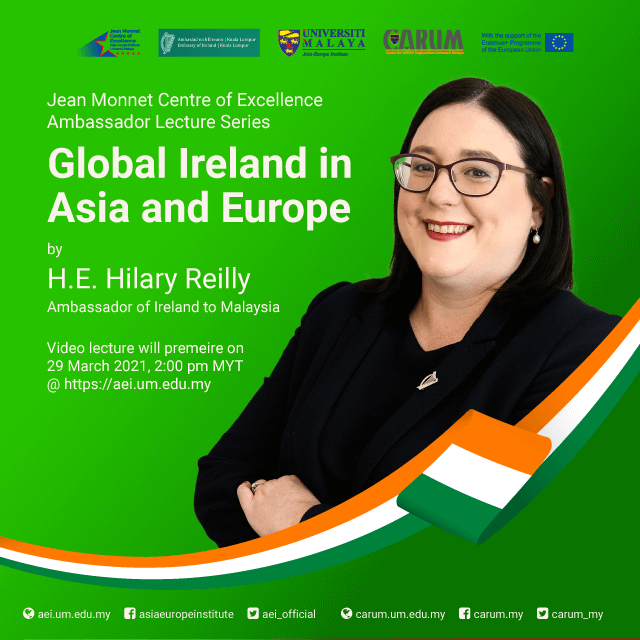 H.E Hilary Reilly, the Ambassador of Ireland in Malaysia, gave a recorded lecture that was premiered on 29th March 2021 at the AEI official website . In her lecture, the Ambassador of Ireland to Malaysia, H.E. Hilary Reilly, discussed Ireland's "Global Ireland" initiative, the aim of which is double Ireland's global footprint, and its global impact, by 2025. In this context, she looked specifically at Ireland's new national strategy for engaging with the Asia-Pacific region, "Global Ireland: Delivering in the Asia Pacific Region to 2025", and the roadmap it sets out for Ireland's relationship with the region over the coming years. The Ambassador's lecture also explored Ireland's role in Europe, as a member of the European Union, and also looked briefly at Ireland's relationship with ASEAN and ASEM. The lecture can be viewed here.
---
Publications
The first half of 2021 has been a busy period for the AEI and AEI is proud to share information on the books published recently by the AEI Academic Staff.
Climate Change Mitigation and Sustainable Development


Edited By Rajah Rasiah, Fatimah Kari, Yuri Sadoi, Nazia Mintz-Habib

Governing Corporate Tax Management: The Role of State Ownership, Institutions and Markets in China


Authors: Chen Zhang, Rajah Rasiah, Kee Cheok Cheong

From Free Port to Modern Economy: Economic Development and Social Change in Penang, 1969 to 1990


Edited by Chet Singh, Rajah Rasiah, Yee Tuan Wong

Governing Enterprises in China: Corporate Boards, Ownership and Markets


Authors: Zhang Cheng, Rajah Rasiah, Kee Cheok Cheong

Driving Development: Revisiting Razak's Role in Malaysia's Economic Progress


Editors: Rajah Rasiah, Kamal Salih

Contesting Malaysia's Integration into the World Economy


Editors: Rajah Rasiah, Azirah Hashim & Jatswan S. Sidhu

Getting Started with Research: A Guide to Research Methodology


Editors: Jens Allwood, Elisabeth Ahlsén, Azirah Hashim

Contemporary Issues in ASEAN-EU Socio-Cultural Cooperation


Edited by Sameer Kumar, Nurliana Kamaruddin and Azirah Hashim

Asia and Europe in the 21st Century: New Anxieties, New Opportunities


Edited By Rahul Mishra, Azirah Hashim, Anthony Milner

AEI Insights, Vol 7, Issue 1, 2021


Contributors: Alexander G. Savelyev, M.Miandy Munusamy, Azirah Hashim, Mario Arturo Ruiz Estrada, Anis H. Bajrektarevic, Li Jingyi, Beatrice Lim, Khairul Hanim Pazim, Fumitaka Furuoka, Wah Yun Low, Aliyyah Nuha, Bouasavanh Keovilay, Vong Deuan Osay, Bounthieng Vongsouangtham & Latsanyphone Soulignavong
---
Congratulations!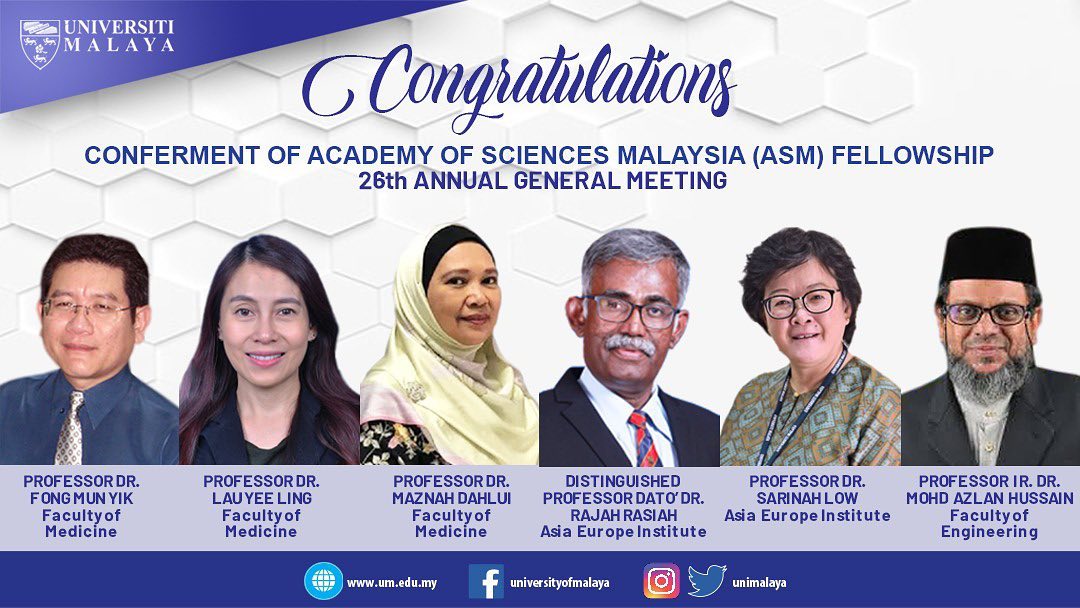 Congratulations to Distinguished Professor Dato' Dr. Rajah Rasiah and Professor Dr. Sarinah Low Abdullah @ Low Wah Yun for being conferred the Academy of Sciences Malaysia (ASM) Fellowship in 2021.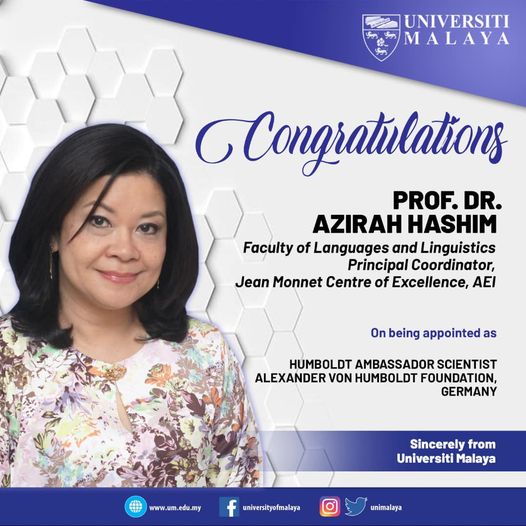 The AEI extends its heartiest congratulations to Professor Dr Azirah Hashim for receiving the Marie Sklodowska-Curie FCFP Award and appointed the Humboldt Ambassador Scientist by the Alexander von Humboldt Foundation, Germany.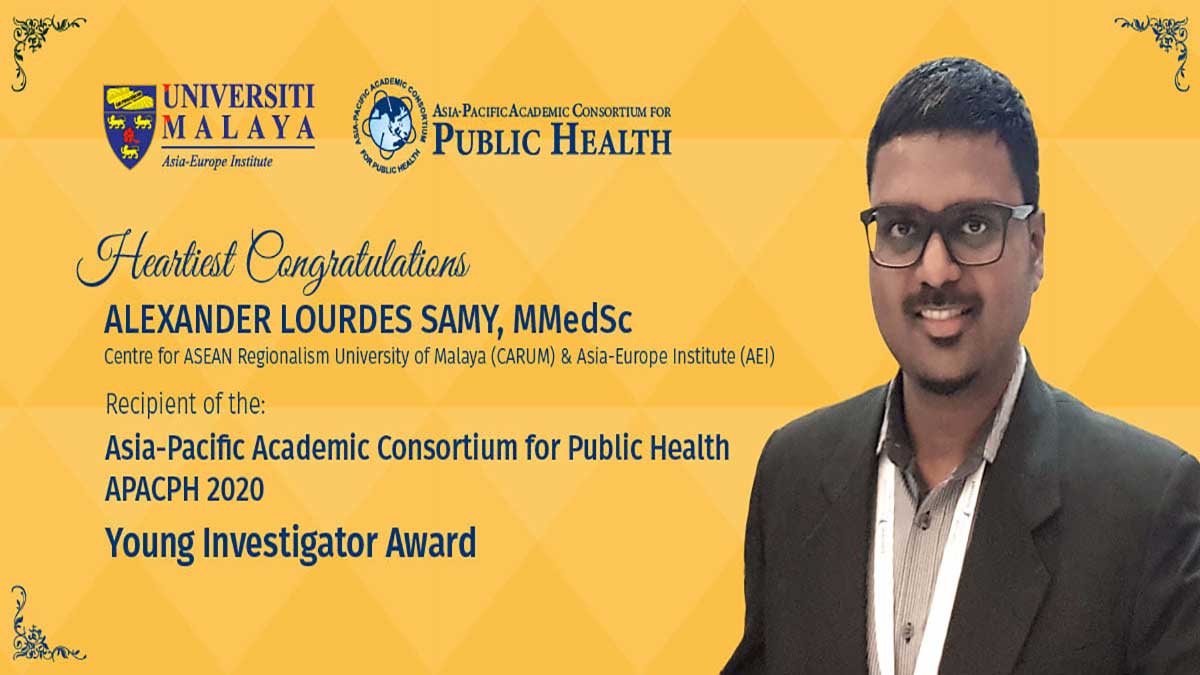 A hearty congratulations to AEI-CARUM Assistant Registrar, Mr. Alexander Lourdes Samy, who was awarded the prestigious Young Investigator Award during the recent 15th World Congress of Biological Psychiatry, organised by the World Federation of Societies of Biological Psychiatry (WFSBP).
- end -